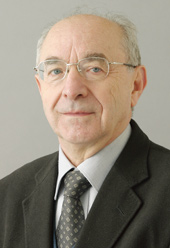 Professor Milan Brach.
Professor Milan Brach of Kyoto College of Computer Science and Graduate Institute of International Studies (KCGI), Professor at Charles University and Professor Emeritus at Charles University in the Czech Republic, has been selected as one of the four editors of The Czech Economic Review, an authoritative economic research journal based in the Czech Republic.Professor Brach will be in charge of selecting and reviewing the papers for publication.Professor Brach, who teaches courses such as "Advanced Systems Theory" and "Network Optimization" at the university, will also use his experience and achievements in editing economics papers.
About "The Czech Economic Review
The Czech Economic Review is published three times a year with the aim of publishing logical and empirical research papers on economics.
The journal's main emphasis is on mathematical and quantitative methods applied in a variety of fields, including leading microeconomics, public economics, and industrial organization theory.The geographical name of the journal merely indicates that it was started by Czech scholars.The share of international papers in the journal is about 74%, which is utilized by researchers all over the world.The editors are researchers from Japan and abroad.
In addition to publishing full-length articles, the journal features notes, reviews, and surveys.In particular, we encourage young researchers to submit their research results, and our editors ensure a rigorous, fair, and prompt review process.The approval rate for the paper is 58%.
From Czech Economic Review, Charles University in Prague
Web site of the journal "The Czech Economic Review
http://auco.cuni.cz/page/index/editorial