On Friday, September 28, the 2012 fall entrance ceremony of The Kyoto College of Graduate Studies for Informatics (KCGI) and Kyoto Computer Gakuin (KCG) was held at the main hall of the satellite in front of Kyoto Station, where new students took their first steps into student life.
The ceremony began with a speech by Wataru Hasegawa, KCGI/KCG general director, who said, "I am very honored to have been selected as the first KCGI/KCG general director.Timed to coincide with our 50th anniversary next year, we are on the threshold of new developments such as satellite development and DotKyoto.We hope that you will be very active as members of our university.Let's create a great school together," he urged.
In his address, KCGI President Toshihide Ibaraki offered the following words of encouragement: "I hope that you will gain experience in learning about your own country and other countries through exchanges with people from different countries and cultures at KCGI, and that you will make good use of this experience in your future.
In response, the representative of the new students, Mr. Zhu Ying (graduate of Dalian Neusoft Institute of Information Technology and Kyoto Japanese Language Training Center), said, "Our mission is to make effective use of the abundance of information and to realize an ideal information society that is fair and open.I will work hard and cooperate with many friends I meet at the university, and at times, I will work hard and compete with them as rivals.
Congratulations to all the new students!I pray that your student life will be fruitful.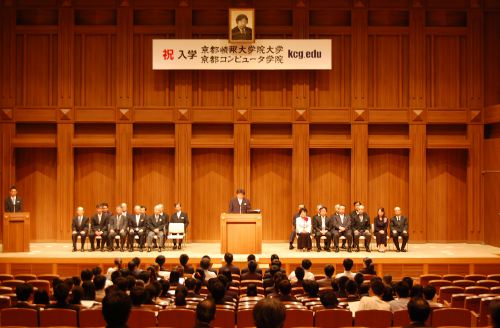 President Hasegawa delivers the ceremonial address.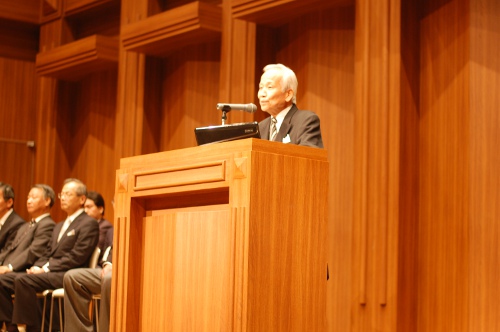 President Ibaraki sends words of farewell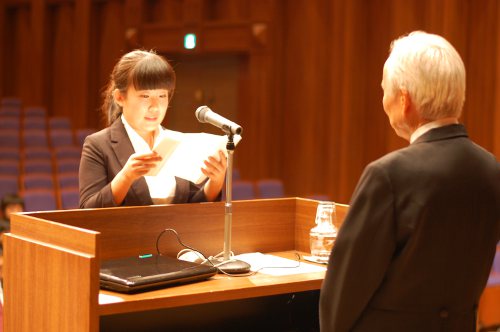 Zhu Ying, representative of new students, taking the oath of office.