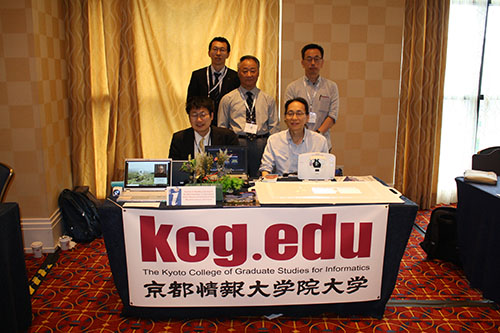 All KCGI faculty members who participated in the World Convention in the U.S.
Associate Professor Keiji Emi of Kyoto College of The Kyoto College of Graduate Studies for Informatics (KCGI) and Professor Shinzo Kobayashi of Green Color Planet, a part-time lecturer at KCGI, made a presentation on practical examples of "Blended Learning" using wearable cameras at the Learning Impact Awards (LIA), a world conference of advanced education and research case studies using ICT, held in Baltimore, U.S.A. from May 21 to 24.LIA is the IMS Global Learning Consortium, Inc.This year will be the 12th World Congress organized by IMS-GLC (IMS-GLC, established in 1997).This year, a total of 26 projects from universities and companies in the U.S., Japan, Singapore, Australia, and other countries were presented, having won in the preliminary rounds in various regions around the world.
Dr. Emi and Dr. Kobayashi developed an efficient method for learning agricultural work using ICT, and presented their research entitled "Practice of Blending Learning for the Next Generation of Agricultural Human Resource Development Using Wearable Cameras and Drones".In this learning method, novice farmers receive instruction in cultivation techniques and know-how from experienced workers who wear wear wearable cameras on their heads. After completing this hands-on training, the video recorded by the camera at eye level is projected on a horizontal projection electronic blackboard (developed by Maxell Corporation), and the cultivation procedures and know-how are confirmed through the video.By taking advantage of the features of the electronic blackboard, which also allows writing on the projection board, students can learn effectively and efficiently by reviewing the key points of the work while tracing them with their fingers along with a skilled person, rather than simply watching a video.In a practical example of strawberry cultivation, it was reported that cultivation techniques that normally take three years to master were mastered in one year.
In the booth at the presentation venue, the videos used in the strawberry cultivation training were actually projected on an electronic blackboard, and a wearable camera was also displayed for visitors to experience the system and its utilization.Although KCGI unfortunately did not win a prize at the announcement of the selection results on the final day, it was a good opportunity for KCGI to show the world the high level of its research.The significance of this research has also been recognized by European conferences, and Dr. Emi is scheduled to present at OCCE.2018 (Open Conference on Computers in Education), to be held in Linz, Austria, from June 24 to 28.KCGI's curriculum has an "Agriculture" field in the "Industry Field Study Model" and offers courses on agricultural IT to promote research on the use of ICT in this field.If you are interested, please join us at KCGI and challenge yourself to develop new applications of agricultural IT with Dr. Emi and Dr. Kobayashi.
This project was partially supported by JSPS Grant-in-Aid for Scientific Research 16H03087.
2018 Learning Impact Awards Selection Results
https://www.imsglobal.org/winners-2018-learning-impact-awards
OCCE.2018 Presentation Program
http://icms.schule.at/index.php?PHPSESSID=33015234d925ea2a80ab1216b7a301a4&CONF_ID=11&TITLE=Conference %20Program&module=conference_program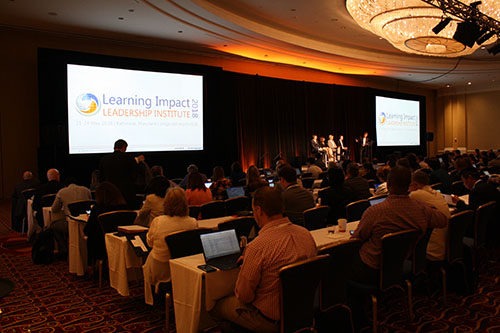 The main venue for the Learning Impact Awards, Baltimore City, USA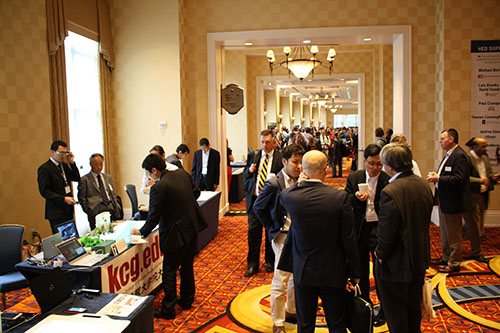 Exhibition booths crowded with participants and visitors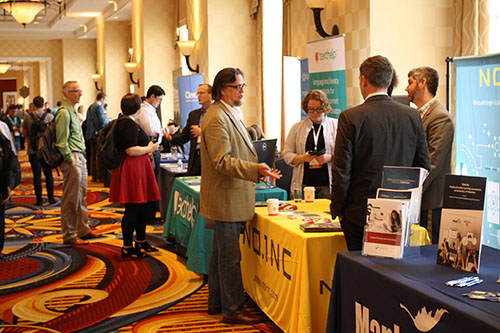 Exhibition booths of various organizations presenting various educational examples of ICT use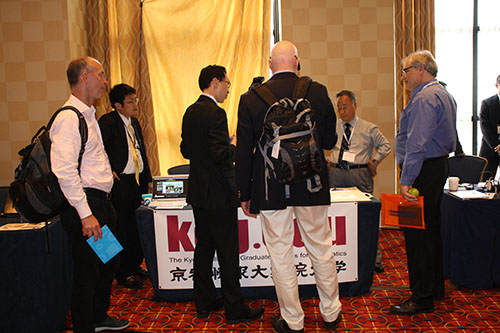 KCGI's exhibition booth attracted a high level of interest.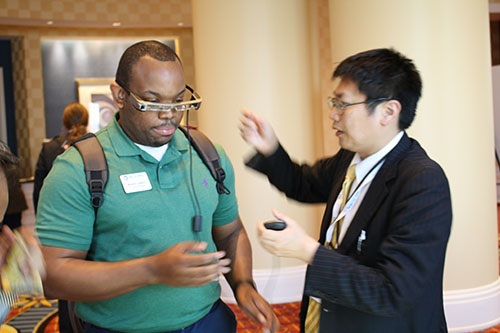 Dr. Emi explaining about wearable cameras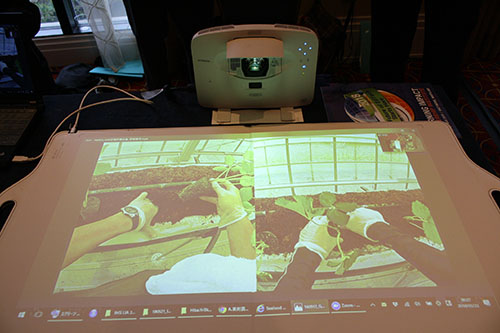 Horizontal projection type electronic blackboard that projects videos recorded by wearable cameras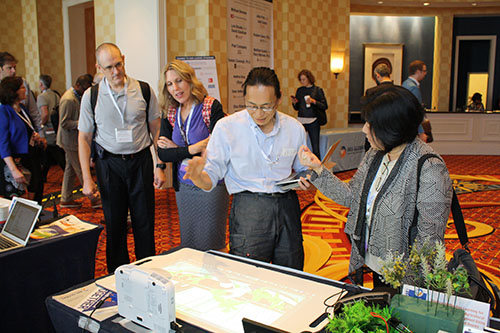 Dr. Kobayashi explains about the horizontal projection type electronic blackboard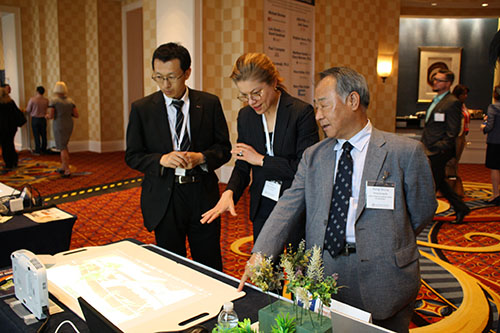 Prof. Noboru Takahiro (right) and Associate Prof. Ming Hu (left) explain to participants