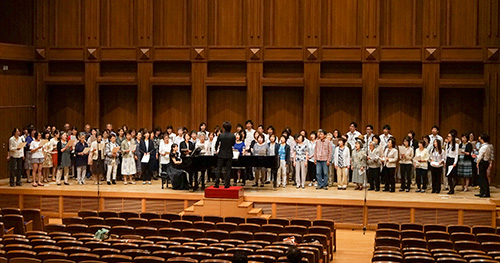 Let's Sing Together at KCG Summerfest 2015!Participants chorus "Kimi wa Hana Boku wa Kaze (You are the flower, I am the wind)" at the Kyoto Ekimae Satellite Concert Hall of Kyoto Institute of Information Science on July 4, 2015.
Let's Sing Together!" of KCG Summer Festa 2015, a summer event of KCG Group (The Kyoto College of Graduate Studies for Informatics, Kyoto Computer Gakuin, Kyoto Computer Gakuin Automobile School, etc.)was held on Saturday, July 4, at the Kyoto Station Satellite Concert Hall of the Kyoto Institute of Information Science.About 150 people participated, enjoying the music and singing together.
The first part of the program was "A Palette of Sound, Performed by Two Flute Players," featuring Riho Sano on flute and Tomomi Hirose on piano.Between songs, there was a commentary, and we enjoyed the lighthearted performance by the two young musicians.
The second part was "Let's Sing Together!"All participants sang "Kimi wa Hana wa Boku wa Kaze (You are the flower, I am the wind)" under the guidance of Mr. Yohei Yoshimura.They sang songs such as "History Never Gave Up," "Kimi yo, Be a Bridge to Connect the World," and "Ai yo, Transcend Words and Reach the World," while chewing on the "message of a world without strife" written in the songs.The song was written and composed by singer/songwriter Shuhei Umehara for KCG's chorus circle, U-Choir, and the video recorded in Japanese and Chinese has been uploaded to an Internet video site for worldwide distribution.At the beginning of the concert, U-Choir performed the Chinese version of the song, which was translated by an international student from TUFS, and received a big round of applause.
KCG Summer Festa 2015
http://kcg.edu/summer-festa/2015/