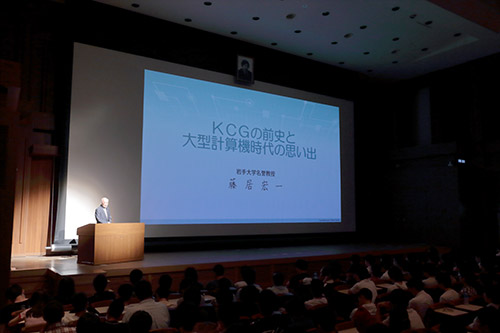 July 2 is the anniversary of the death of Shigeo Hasegawa, the founder and first president of Kyoto Computer Gakuin (KCG).On July 1, 2017, various events were held in anticipation of that day.In the main hall of the satellite in front of Kyoto Station of Kyoto Institute of Information Science, Dr. Koichi Fujii (Professor Emeritus of Iwate University), who had been a staff member of the Kyoto University Student Parents Association (KUPSA), which was officially recognized by the university authorities when KCG had its roots in the Wakayama Culture Study Group, gave a memorial lecture, introducing how the Wakayama Culture Study Group was in the education business with Kyoto University at the time.Although both Dr. Shigeo Hasegawa and Dr. Yasuko Hasegawa, the current president of KCG, are graduates of Kyoto University, Dr. Fujii's explanation proves that KCG is a private educational institution born out of Kyoto University in terms of its educational activities.
Dr. Koichi Fujii's presentation title was "KCG's Prehistory and Memories of the Large Computing Era.Dr. Fujii, who was working part-time at the Kyoto University Parent Association at the time, was assigned to Wakayama, where he met Dr. Shigeo Hasegawa and Dr. Yasuko Hasegawa, who were also his seniors at the university.Mr. Shigeo Hasegawa and Ms. Yasuko Hasegawa were focusing on expanding the use of the "Achievement Test," a mock high school entrance examination administered by the Kyodai Oyagakkai, with the aim of improving and understanding the academic ability and performance of students in Wakayama.
According to Professor Fujii's explanation, the Kyoto University Parents Association was a "circle" authorized by the university authorities, but it also developed mock examinations and correspondence courses for junior high and high school students mainly in western Japan, while building an extensive student network in cooperation with other associations such as Nagoya University, Osaka University, and Kyushu University.This explanation makes it clear that KCG's roots, the Wabun Kenkyujo, were part of an educational business with economic activities authorized by Kyoto University, proving that KCG is a private educational institution born of Kyoto University.
Dr. Fujii said, "I am sorry to be rude, but Dr. Shigeo Hasegawa and I got along well and he took very good care of me.I think she understood that I was from a single-parent family and had to earn my living expenses as well as pay for school," he said. "I commuted from Kyoto to Wakayama for many hours, taking different modes of transportation.
He was about 30 years old at the time, but he had the passion and sense of justice of a young man.He emphasized that he and Yasuko had devoted their lives to education in particular, and that they had not had a chance to meet for a long time.Although the Achievement Test was later discontinued because of its questionable centralized talent assessment, Waseda evaluates the test as an opportunity to learn about the academic abilities of students who entered the school and as a useful tool for talent development after they entered the school.
Prior to the lecture, Mr. Fujii visited the KCG Museum, which exhibits and preserves valuable computers from the past, guided by Mr. Katsunori Ishida, advisor of KCG Rakuhoku School, who was a classmate of Mr. Fujii's at junior high, high school, and university level.This collection is a unique historical heritage of computer education in Japan," he said.
Dr. Shigeo Hasegawa passed away on July 2, 1986 at the age of 56, 31 years after his death.Kando" is the pseudonym of Dr. Shigeo Hasegawa, and means "a quiet space to meditate away from the world.Students and faculty members visited Hyakumanben Chionji Temple, the family temple of Shigeo Hasegawa, to remember his legacy as a pioneer in information processing technology education, and to pray for the further development of the KCG Group.A booth set up by student volunteers in front of the Kyoto Ekimae School sold homemade takoyaki and other items, adding to the lively atmosphere of the event.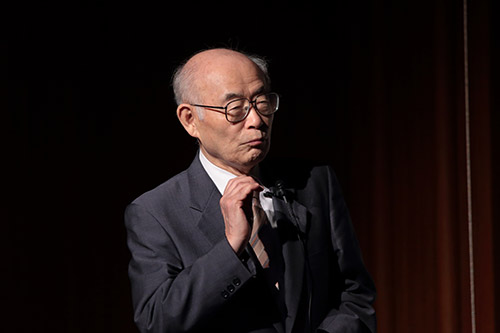 Dr. Koichi Fujii, Professor Emeritus of Iwate University, speaks on "The Prehistory of KCG and Memories of the Large Computing Era" at a memorial lecture on the Kando Memorial Day of Dr. Shigeo Hasegawa, the founder and first dean of KCG (July 1, 2017, KCGI Kyoto Station Satellite Main Hall)