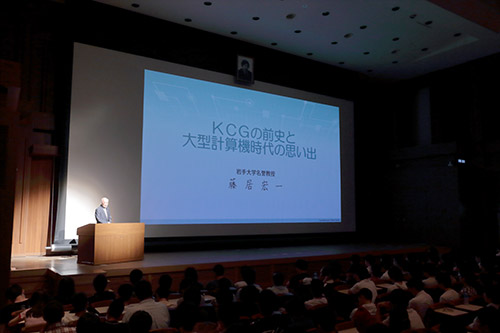 July 2nd is "Kando", the date of death of Dr. Shigeo Hasegawa, founder and first director of Kyoto Computer Gakuin (KCG).Various events were held on July 1, 2017.As a staff member of the Kyoto University Parents' Society (Kyoto University Parents Association), approved by the university authorities at the Kyoto University Graduate School of Science, Kyoto Ekimae Satellite Hall Prof. Koichi Fujii (Professor Emeritus, Iwate University), who had a relationship with him, gave a commemorative lecture and introduced that Wanbunken was working with Kyoto University at the time.Prof. Shigeo Hasegawa and Prof. Atsuko Hasegawa are both from Kyoto University, but Prof. Fujii explained that KCG proved to be a private educational institution born from Kyoto University in terms of educational activities. Yes.
Prof. Koichi Fujii's title is "KCG's prehistory and memories of the large computer era".At that time, Prof. Fujii, who worked part-time at Kyoto University Parents Association, was in charge of Wakayama, and met the senior university teachers Shigeo Hasegawa and Prof. Atsuko.Prof. Shigeo Hasegawa and Prof. Etsuko focused on expanding the achievement test, which is a high school exam mock test at the Kyoto University Parents Association, with the aim of improving and understanding the academic ability and results of Wakayama students.
According to Professor Fujii's explanation, the Kyoto University Parent Society was a "Circle" that was approved by the university authorities, but in cooperation with other associations such as Nagoya University, Osaka University, and Kyushu University, an extensive student network. While constructing, we developed mock exams and correspondence courses for junior high and high school students, mainly in western Japan. In 1960, the business scale was 13 million yen (currently 250-300 million yen), and more than 100 students Was also a huge educational company.From this explanation, it is clear that Kbunken, the root of KCG, was part of the educational business with economic activities approved by Kyoto University, and proved that KCG was a private educational institution born in Kyoto University. It can be said that it was done.
Prof. Fujii said, "I am a senior and rude, but I am very happy with Dr. Shigeo Hasegawa.I think that I was a mother and child family and understood the situation where I had to earn not only tuition but also living expenses, "recalled," I transferred to Kyoto from Kyoto and went to Wakayama for hours. However, I was warmly welcomed by Dr. Atsuko Hasegawa serving food, etc. ".
"Dr. Shigeo Hasegawa was about 30 years old at the time, but he had a passion and a sense of justice like a youth who could not lose to youth.In particular, I think I was spending my life together with Prof. Atsuko. "Afterwards, there was no opportunity to meet for a long time, and recently Shigeo Hasegawa and Prof. Atsuko founded KCG by chance on the Internet. He learned that he had done so and that Shigeo-sensei passed away.The achievement test was later abolished because there was a question about centralized talent evaluation, but Wanbunken evaluated that it was an opportunity to learn about the academic ability of the students, and that it contributed to the development of talent after entering the school.
Prior to the lecture, Prof. Fujii visited the KCG Resource Center where precious computers were exhibited and preserved at the school in front of Kyoto Station, and was guided by Dr. Katsunori Ishida, an advisor to KCG Shohoku Campus, a junior high, high school, and university student. I was so excited that I couldn't help leaving.This collection is unique in the history of computer education in Japan. "
Mr. Shigeo Hasegawa passed away at the age of 56 on July 2, 1986, and this year will be 31 years since his death."Kandou" is the name of Shigeo Hasegawa, meaning "a quiet space away from the world and indulging in meditation".The students, faculty and staff visited the Tomb of Hyakuen Hachikawa, a Bodhi temple of Shigeo Hasegawa, praised the virtues of Shigeo Hasegawa, who was a pioneer in information processing technology education, and prayed for further development of the KCG Group .In addition, handmade takoyaki and other items were sold at a mock shop opened by a student volunteer at the school in front of Kyoto Station.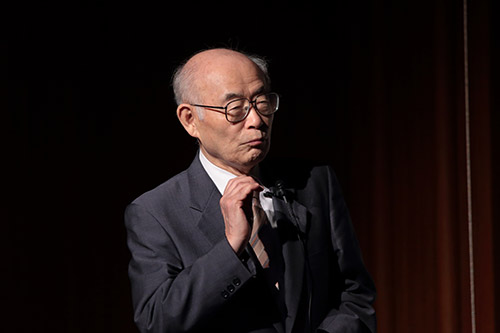 Prof. Koichi Fujii, Professor Emeritus of Iwate University, talks about "The Prehistory of KCG and Memories of the Large Computer Age" in the commemoration lecture of Shigeo Hasegawa, founder and founder of KCG July 1st, KCGI Kyoto Station Satellite Hall)