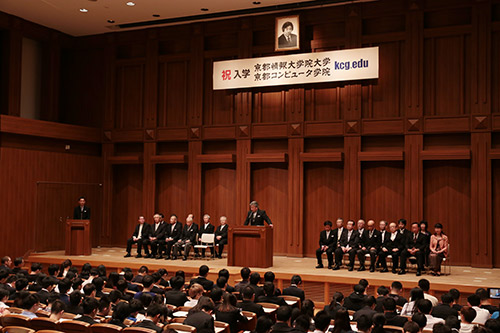 KCG, KJLTC, KCGI held at the 6th floor hall in front of KCG Kyoto Station.(October 1, 2018)
The entrance ceremony for the 2018 Fall Semester of Kyoto Computer Gakuin (KCG), Kyoto Japanese Language Training Center (KJLTC), and Kyoto Information Graduate University (KCGI) will be held on Monday, October 1 at the 6th floor hall in front of KCG Kyoto Station. It was.Many freshmen with the desire to acquire specialized knowledge and advanced skills have started their academic life as members of the KCG family.The ceremony was held in conjunction with KCGI Tokyo Satellite.Due to the impact of Typhoon No. 24, the original scheduled date was lowered by one day, but this day was held under the autumn blue sky.
After watching a video introducing the history of the KCG Group, which celebrated its 55th anniversary this year, all the new students attended the ceremony.After explaining the University's educational philosophy and achievements accumulated so far, Mr. Hasegawa, President, said, "I would like to study firmly and work with reliable seniors to further strengthen and expand the network of the KCG family. .That will surely be a great force for your future. "
Toshihide Ibaraki, President of KCGI, asked new students to "Please participate widely in classes, exercises and projects with a wide interest.""I sincerely hope that you will acquire a wide range of knowledge while studying at the University, and that you will grow greatly personally through exchanges with friends and teachers. "Said the congratulations.
In response, Ryo Miyahara (from Kinki University's Faculty of Economics) who entered KCGI on behalf of new students said, "Every day, we strive to acquire advanced knowledge and skills and to develop practical skills and creativity that lead the next generation. To do."I am committed to having a fulfilling student life, having awareness and responsibility as a student at the University, observing the rules and order, and helping, encouraging, and sometimes competing with new colleagues."
Congratulations to all new students.