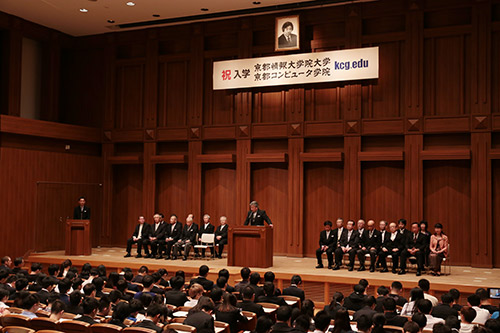 KCG, KJLTC, and KCGI's 2018 Fall Semester Entrance Ceremony held at the 6th floor hall of KCG Kyoto Ekimae School.(October 1, 2018)
The entrance ceremony for the 2018 Fall Semester of Kyoto Computer Gakuin (KCG), Kyoto Japanese Language Training Center (KJLTC), and The Kyoto College of Graduate Studies for Informatics (KCGI) will be held on Monday, October 1 at the 6th floor hall in front of KCG Kyoto Station. It was.Many new students, eager to acquire specialized knowledge and advanced skills, have started their academic lives as members of the KCG family.The ceremony was held in conjunction with KCGI Tokyo Satellite.Due to Typhoon No. 24, the originally scheduled date was moved back one day, but the ceremony was held under a blue autumn sky.
After all new students watched a video introducing the history of KCG Group, which celebrated its 55th anniversary this year, Mr. Wataru Hasegawa, President of KCG Group, gave a speech.After explaining the educational philosophy of the university and its accumulated achievements, President Hasegawa said, "I hope that you will study hard and work together with your reliable seniors to further strengthen and expand the KCG family network.This will surely be a great help for your future," he encouraged.
KCGI President Toshihide Ibaraki urged the new students to "broaden your interests and actively participate in classes, exercises, and projects.I sincerely hope that you will acquire a wide range of knowledge during your time at the university and grow as a person through interaction with friends and teachers, and that after graduation you will be able to explore new possibilities and expand your horizons in the world.
In response, Ryo Miyahara (Kinki University, Faculty of Economics), representing the new students, said, "I will work hard every day to acquire advanced knowledge and skills, and to develop practical ability and creativity to lead the next generation.I will strive to lead a fulfilling student life while being aware and responsible as a student of the university, complying with rules and order, and helping, encouraging, and sometimes competing with my new friends.
Congratulations to all the new students!