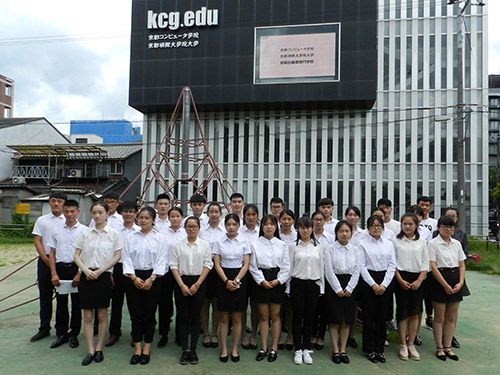 Students from Jiangsu Province and Changzhou Institute of Industrial Technology visited China for short-term training
August 23, 2017, KCGI short-term training was started by 30 students from Jiangsu Province, Changzhou Engineering College of Technology, which is affiliated with Kyoto University of Information Studies (KCGI).On the first day, there was an entrance ceremony and orientation at KCGI Kyoto Station Satellite (Kyoto Computer Gakuin Kyoto Station School), and students looked forward to studying IT for about 10 days and living in Kyoto, Japan.
Fifteen students from the school's interior design major and computer major visited the training.There was an entrance ceremony this morning and Yoichi Terashita, Vice President and Professor of KCGI, said, "Our University is affiliated with many educational institutions around the world, including China.In recent years, the relationship with schools in southern China has also deepened.Kyoto is the old capital of Japan.I hope that it will be a meaningful training, not only to study IT but also to experience Japanese culture, "he said.In the subsequent orientation, students studied Japanese traffic rules and lifestyles. In the afternoon, they visited the school building, including the KCG Museum, where valuable computers from the past were exhibited.The students plan to stay in Japan until September 2 and take lectures on web and video related technologies at KCGI and visit sightseeing spots in Kyoto.
In September, 50 students from Dalian University of Foreign Studies in China will visit KCGI for short-term training of about 3 months.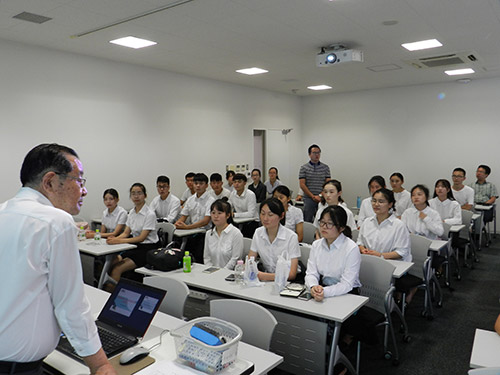 At the entrance ceremony, Vice President and Professor Terashita said welcome words
The group visited a valuable computer in the past at the KCG Museum