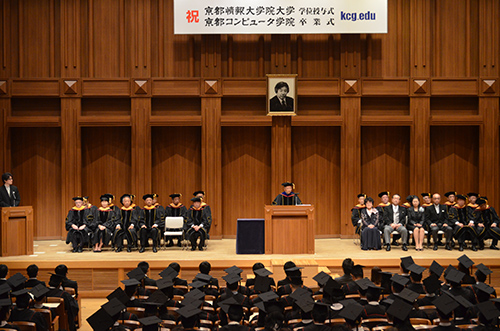 KCGI degree award ceremony and KCG graduation ceremony in the first half of 2016.The fellows who completed the academic work stood on the stage of the forefront with many memories (September 16, 2016, Kyoto Information Graduate University, Kyoto Ekimae Satellite Grand Hall)
The Kyoto University of Information Science (KCGI) Degree Ceremony and the Kyoto Computer Gakuin (KCG) Graduation Ceremony in the first half of 2016 were held at the Kyoto Information University of Kyoto Satellite Hall on September 16 (Friday).Graduates and graduates who completed their studies established themselves on the forefront stage with many memories.
Toshihide Ibaraki, President of KCGI, awarded the degree of "Master of Information Technology (Professional)" to graduates, and the principals of Shohoku / Kyoto Station in front of KCG graduates each received a diploma and a degree.Following this, awards and memorabilia were awarded to KCGI graduates who were selected for the best award, excellence award, and the best project award that left outstanding academic and research results.
In the ceremony, President Ibaraki introduced the progress of science and technology to date, especially the progress of communication technology that is rapidly changing society, and said, "It has become an era when we cannot escape from the globalization that spreads with the progress of ICT." Pointed out."A major challenge for everyone is how to create the future of ICT society and how to solve various problems of globalization.I hope you will take on the challenge. "
"It is said that the shortage of human resources in the ICT field is serious in Japan, but this is a proof that you have chosen the right course.The technology and knowledge gained at the KCG group will surely be a force for you to pioneer the future. ""You want to grow and develop together as a member of the largest" KCG family "in the ICT industry."
Next, on behalf of graduates and graduates, Ms. Mabuchi, Department of Web Business Technology, Graduate School of Applied Information Technology, KCGI, said, "We have been supported by faculty, friends, and family in different cultures since we entered the school. I was able to have a fulfilling student life.In the future, I would like to contribute to society by making full use of my wide-ranging vision and advanced specialized technologies that I have cultivated at the University.Finally, all attendees sang "Firefly Light".After the ceremony, a celebration was held at the RIHGA Royal Hotel Kyoto that surrounded KCGI graduates.
Congratulations to all graduates and graduates.I sincerely wish you success in the future.