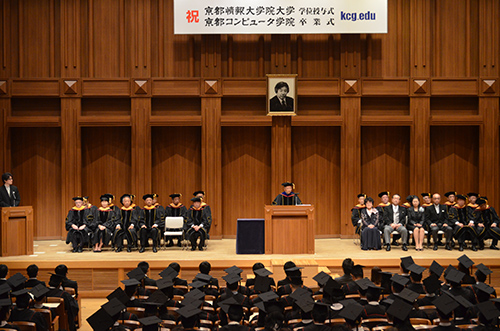 KCGI Degree Conferral Ceremony and KCG Graduation Ceremony for the first semester of 2016.The fellows who completed the academic work stood on the stage of the forefront with many memories (September 16, 2016, The Kyoto College of Graduate Studies for Informatics, Kyoto Ekimae Satellite Grand Hall)
The Kyoto University of Information Science (KCGI) Degree Ceremony and the Kyoto Computer Gakuin (KCG) Graduation Ceremony in the first half of 2016 were held at the Kyoto Information University of Kyoto Satellite Hall on September 16 (Friday).Graduates and alumni who have completed their studies have left for the front lines with many memories in their hearts.
KCGI President Toshihide Ibaraki presented each graduate with a "Master of Information Technology (Professional)" degree, while the principals of the Rakuhoku and Kyoto Ekimae schools presented each KCG graduate with a diploma and degree certificate.Afterwards, KCGI alumni who had achieved outstanding academic and research results were presented with certificates and commemorative gifts.
In his address, President Ibaraki introduced the history of science and technology up to the present day, especially the progress of communication technology, which is rapidly changing society, and pointed out that "we have entered an era in which we cannot escape globalization, which is spreading along with the progress of ICT.How to create the future of the ICT society and how to solve the various problems of globalization are the major issues that you are faced with.I hope that you will actively take on this challenge," he said.
Yoichi Terashita, principal of KCG Kyoto Ekimae School, said, "People keep saying that there is a serious shortage of human resources in the ICT field in Japan, and this proves that you have made the right choice in your career path.The skills and knowledge you have acquired at KCG Group will surely help you to pave the way to your future," he encouraged.As members of the largest 'KCG family' in the ICT industry, we hope to grow and develop together," he said.
Then, on behalf of the graduates and alumni, Mr. Ma, a student of KCGI's Graduate School of Applied Information Technology, majoring in Web Business Technology, said, "Since entering KCGI, we have enjoyed a fulfilling student life with the support of faculty members, friends, and family in a different culture.In his "Graduation Address," he stated emphatically, "From now on, I will not forget my original intention and will contribute to society by utilizing my broad perspective and the highly specialized skills I have cultivated at this university.At the end of the event, all attendees sang "Hotaru no Hikari" (Light of Fireflies).After the ceremony, a celebration party was held at the Rihga Royal Hotel Kyoto with the KCGI graduates.
Congratulations to all graduates and alumni.We sincerely wish you continued success in your future endeavors.