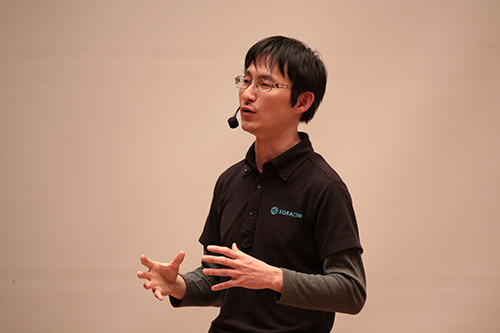 Mr. Shinpei Matsushita of SORACOM discussing various services in the IoT era
Kyoto University of Information Science and Technology (KCGI) and Kyoto Computer Gakuin (KCG) Chairman Wataru Hasegawa, Chairman of the Board, New Information Seminar of Kyoto Information Industry Association, January 23, Kyoto University of Information Sciences Kyoto University Mr. Shinpei Matsushita, a technology evangelist at SORACOM Co., Ltd. (head office: Setagaya-ku, Tokyo) and business development manager, said, The title of this presentation was an easy-to-understand lecture on the Internet of Things (IoT), which has been rapidly spreading in recent years.
Mr. Matsushita regards IoT, in which "things" such as sensors and devices are connected to the cloud and servers via the Internet for exchanging information as "technology that transforms things into service entrances". Now that we are able to use the cloud, we have introduced the various services provided by SORACOM to boost this business opportunity, as it is an opportunity to provide new services using IoT.
As an example, Mr. Matsushita picked up SORACOM Air, which provides connectivity for IoT, and this service changed the concept of "Mono-Cloud-Internet" instead of the normal connection of "Mono-Internet-Cloud". By connecting in this way, he explained that it would be possible to control information in real time through the API before the user himself / herself went out to the Internet, and that security would increase.Mr. Matsushita said that "things" are one of the parts of service realization, and in the future IoT era, the value of "things" will be lowered, and "things" will be supplied by cloud operators. In anticipation of this, we closed the lecture by sending a message to the students at the venue saying, "I hope that many IoT players will be born and will play an active role among you."
Soracom Inc.
https://soracom.jp/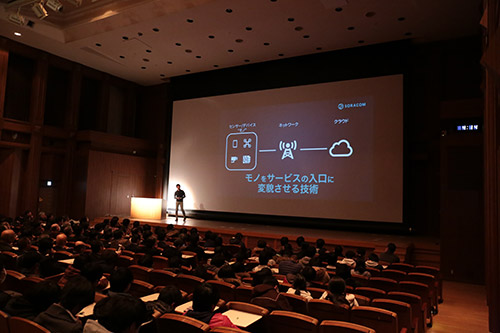 Satellite Hall in front of KCGI Kyoto Station where many students and citizens gathered