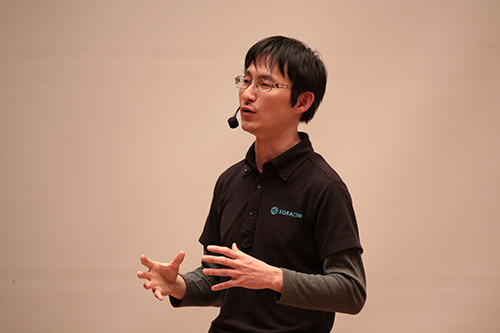 SORACOM's Tohei Matsushita discusses various services in the IoT era
Mr. Kohei Matsushita, Technology Evangelist and Business Development Manager of Solacom Corporation (headquartered in Setagaya-ku, Tokyo), gave a lecture titled "IoT Case Study Seminar - How to Construct an IoT System Using SORACOM" on the overall picture and issues of the Internet of Things (IoT), which has spread rapidly in recent years, based on actual examples.
Mr. Matsushita viewed IoT, in which "things" such as sensors and devices are connected to the cloud and servers via the Internet to exchange information, as "a technology that transforms things into service gateways." Now that anyone can use the Internet and cloud, it is an opportunity to provide new services using IoT, and introduced various services SORACOM offers to support this business opportunity.
As an example, Matsushita discussed SORACOM Air, which provides connectivity for the IoT, and explained that this service changes the conventional connection from "thing - Internet - cloud" to "thing - cloud - Internet," enabling users to control information in real time through APIs before it goes out to the Internet, and also increasing security.Mr. Matsushita concluded his lecture with a message to the students in the audience, "I hope that many IoT players will be born among you and play an active role in the future.
SOLACOM Corporation
https://soracom.jp/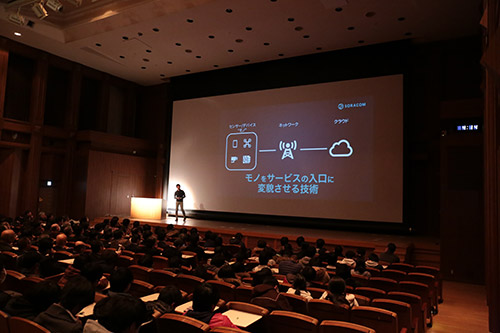 KCGI Kyoto Ekimae Satellite Main Hall where many students and citizens gathered