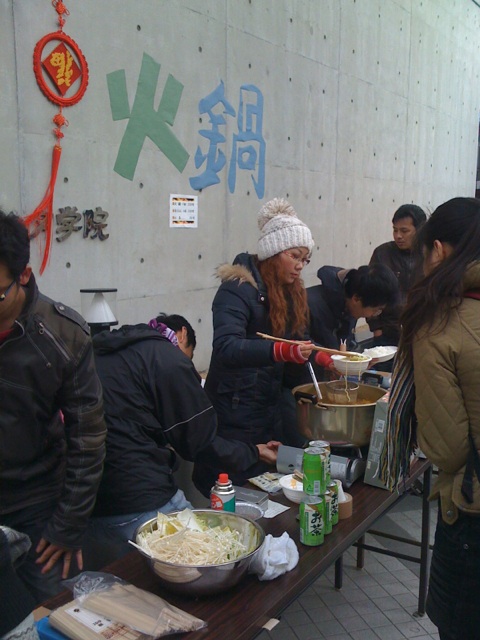 On Friday, January 22, before the Chinese New Year (February 14), students from China at Kyoto Computer Gakuin (KCG) Kyoto Ekimae School, led by students from the Kyoto Japanese Language Training Center at KCG Kamogawa School, cooked hot pot and sold it widely, including to the public, to introduce Chinese food culture to many people.In the cold wind, the hot hot pot was well received, and those who were served it were exhaling white breath and smacking their tastebuds.
Kyoto Center for Japanese Language and Culture holds a gyoza party every year in this season, and students and faculty members of The Kyoto College of Graduate Studies for Informatics (KCGI) and KCG, the parent organization of Kyoto Center for Japanese Language and Culture, enjoy it.This year, about 30 people cooked and sold hot pot, a widely known dish in Chinese food culture.
Hot pot is not limited to mainland China, but is also served in Taiwan, Singapore, and other overseas Chinese communities, as well as in Chinatowns and Chinese restaurants specializing in hot pot in Japan, the United States, and other parts of the world.This time, we used lamb, which is the mainstream meat, and a variety of vegetables.In China, hot pot is sometimes referred to as "dining sauna," and is said to be effective in expelling accumulated waste from the body, promoting metabolism, and restoring vitality to the body.