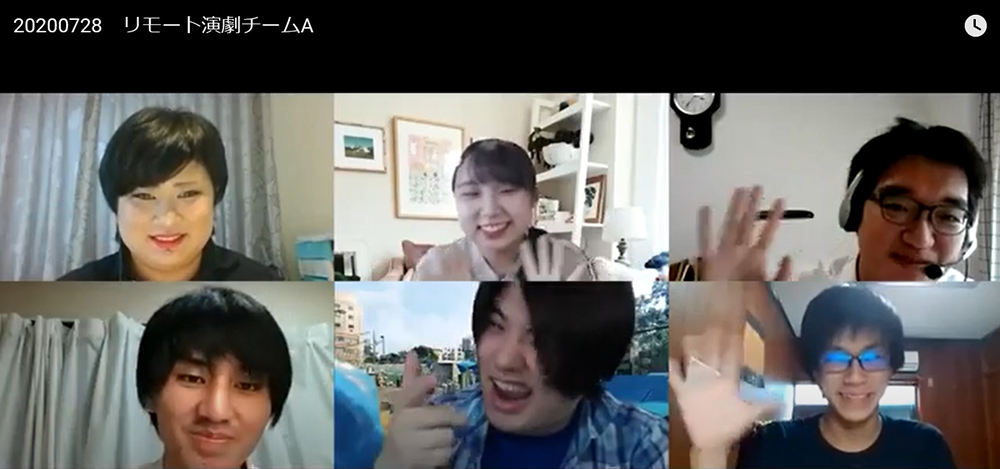 Ten students in the IT Voice Actor Course of the Information Processing Department at Kyoto Computer Gakuin (KCG) are currently divided into two groups, and under the guidance of instructors and TAs, including Mika Ishikura, the proponent of this project, they are challenging remote theater using the Zoom teleconference application.As a response to the nationwide spread of the new coronavirus, a rehearsal was held on July 28, 2020, with each member participating in the meeting via Zoom from home or other locations.
The students will perform "zoom numbers" ( https://www.youtube.com/watch?), which was released this year by writer Kengo Mizutani and has been shown and performed on YouTube and other media.(v=jgDsflXrz2A ).The story of five coworkers during a remote meeting who get caught up in an urban legend is a little over 10 minutes long, offering a glimpse behind the scenes of the human mind.This time, Mr. Mizutani kindly agreed to provide a script for the IT voice-over course, and the remote theater project at KCG was realized.
In the IT Voice Acting Course, students usually gather in a studio to practice their vocalization and glibness, and then practice and create their roles in person.The lecturer, Mayumi Hasui, said, "I was surprised that students who had never been out in the working world were able to put together a play in the setting of a remote meeting of working people, even though they were not satisfied with the actual face-to-face meetings.I think this is all due to the fact that each and every one of the students demonstrated their ambition and qualities to the fullest," he said.
Prior to the rehearsal, Mr. Hasui gave strict instructions, saying, "If you don't have enough understanding of the script and its background, you will not be able to play the role you are supposed to play and will appear as you are," and "Your voice and facial expressions will change depending on whether or not you are aware of what the character is trying to say and what his/her intentions are.The students carefully checked the character of each role and the emotions of each scene one by one.As a result, the same role was played as a timid and unreliable character in Group A, while the same character was played as an open and honest person in Group B. The interpretation of the story and the division of roles created an effect as if two completely different plays were being seen.
Final adjustments and production recording will take place on July 31, and after editing, a screening will be held in the fall semester.Kosuge, a first-year student in the IT voice-over course, said, "This was my first experience with remote theater, and it was difficult to practice because the Zoom screen is small and it is hard to see facial expressions.However, the remote communication made it easier for us to express our opinions to each other, and I think we were able to practice in a very good atmosphere," he recalled.Tomisaka, a first-year student, said, "Remote theater has a different ease than going to the theater.I hope you enjoy the screening with a feeling of 'I don't know this guy on the screen.
The IT Voice Actor Course was established in April 2014 to develop human resources for voice actors who make full use of computer technology. In addition to basic training in vocalization and smoothness, students are also in charge of hosting school events and recording voice-overs for works requested by other departments.I am also studying IT-related topics, such as technology for digitizing one's voice and processing it on a computer.Since last year, a major Tokyo-based voice actor production company has been holding auditions at the university.Several of our graduates have entered training schools as special students, and are now spreading their wings toward their dreams.