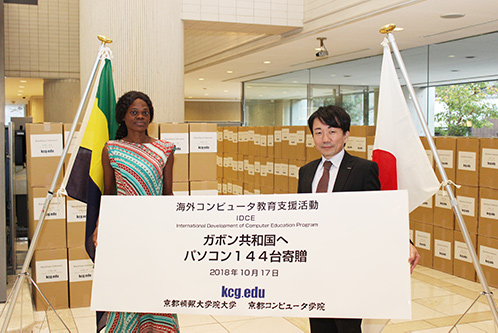 KCG President Akira Hasegawa (right) and KCGI alumnus Egangue Mireille, who works at the Gabonese Embassy in Japan
On October 17, Kyoto Computer Gakuin (KCG) donated 144 used PCs to the Republic of Gabon, located on the Atlantic coast of western Central Africa.As part of its overseas computer education support activities (IDCE), KCG donates used PCs to developing countries, etc. This time, Gabon will be the 25th IDCE country, including technical guidance.
Gabon, with a population of approximately 2.03 million, is one of the highest per capita income countries in Africa due to its abundant oil resources, and the whole country is currently working to promote computer education.The PCs donated by KCG are expected to make a significant contribution to ICT in the country.Ms. Egange Mireille, a student at The Kyoto College of Graduate Studies for Informatics (KCGI) from Gabon, who will be working as a project assistant at the Embassy of the Republic of Gabon in Japan (Meguro-ku, Tokyo) after completing her studies in March 2018, also contributed to this donation.In addition, His Excellency Joseph Giro Effangon Obagué, Ambassador Extraordinary and Plenipotentiary of the Embassy of the Republic of Gabon, will be present as a guest of honor at the KCG Group 55th Anniversary Celebration to be held on November 1, 2018 at the 6th floor main hall of KCG Kyoto Ekimae School and will deliver a congratulatory address.
IDCE (International Development of Computer Education) is an international educational activity in which KCG supports computer education by donating used PCs to developing countries and Eastern European countries.Through IDCE, KCG promotes the creation and dissemination of computer culture on a global scale.