The late 2014 admission ceremony for Kyoto Information Graduate University (KCGI) and Kyoto Computer Gakuin (KCG) was held on September 30 (Tuesday) at the Kyoto University Graduate School of Satellite Large Hall. Human resources newly joined the KCG family.
After all the enrollees watched over 50 years of the KCG Group's history video, Wataru Hasegawa, President of KCGI / KCG General Manager gave a ceremony."In recent years, IT has expanded its base to fields such as conventional electronics, networks, games, and design, automobiles, home appliances, and other things that are close to us, as well as ships and agriculture.In other words, it means that information processing engineers are needed in the entire society and in all industries. "" New students are studying about the future while pursuing computer and IT studies with their neighbors. Please let me think about.Follow the excellent graduates and open up your own path.To that end, the faculty and staff of the University will back up with all their strength. "We also introduced a number of initiatives for the next generation of the KCG group, such as our educational philosophy, ".kyoto" business, and enhancement of content business related education.
Next, Toshihide Ibaraki, President of KCGI, emphasized that "Our University wants to provide a place to acquire something important to your life by directly interacting with people, not just absorbing knowledge." They are human resources who can find new applications of ICT.Please try new things without losing vigorous curiosity and fresh imagination. "
In response to this, Mr. Takashi Murakami (from Kinki University) who entered KCGI on behalf of new students said, "We have a wealth of creativity, along with expertise and technology to contribute to the realization of an ideal information society. I will make an effort to grow up with many of my friends every day, aiming to cultivate. "Freshmen took a new step as members of the KCG group.
Congratulations to all students.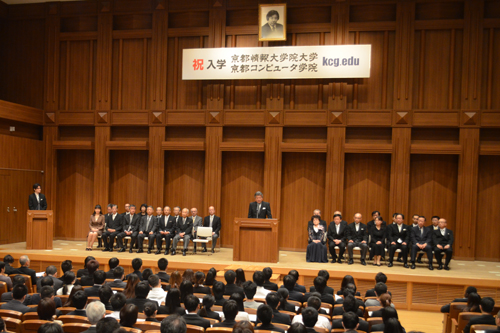 KCGI, KCG held at Kyoto University Graduate School of Science Kyoto University Hall in the second half of 2014 entrance ceremony (September 30)