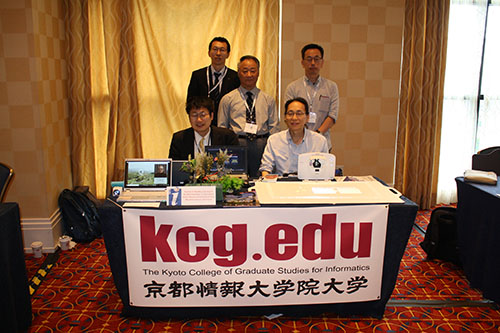 Mr. K. K. Emi, Mr. Kobayashi, and other KCGI teachers at the IMS conference in Baltimore, U.S.A. from May 21 to 24, 2018.
The Kyoto College of Graduate Studies for Informatics (KCGI) Associate Professor Keiji Emi and Lecturer Shinzo Kobayashi, a member of Green Color Planet, Japan, made a presentation of a new "Blended Learning" method utilizing ICT at the IMS Learning conference held in Baltimore , Maryland, USA, from May 21 to 24, 2018. This conference was called "Learning Impact 2018" and was held by IMS Global Learning Consortium (established in U.S.A. in 1997) that promotes the development and standardization of new teaching and learning digital technology. In this 12th annual competition, 26 projects from U.S.A, Japan, Singapore, Australia and other countries were nominated.
Professor Emi and Mr. K. K. Krishnamoorthy Kobayashi developed a new teaching/learning method to acquire agricultural skills using ICT titled "Practice of Blending Learning for the Next Generation of Agricultural Human Resource Development Using Wearable Cameras and Drones." In this method, a skilled worker wears a wearable-camera and teaches a new worker how to cultivate in the field while taping it through his viewpoint. After this on-the-job training, teacher and student review the training contents using the "Projector and Touch Screen System," developed by Maxell Ltd. The video is projected to a horizontal screen, which allows persons to communicate face-to-face, and one can write in the screen by a pen and/or a finger. While projecting video footage recorded by the camera to this screen, teacher and student go through cultivation techniques once again via video (off-the-job training). This is a very effective and efficient way to learn agricultural skills.
In the case of strawberry farming, it is reported that agricultural workers usually need more than 3 years to master cultivation skills but by using this method the workers can acquire the skills for a year. At the conference, KCGI displayed a wearable camera and "Projector and Touch Screen System" and projected an actual footage recorded in a farm to the screen. Visitors had a great interest in this instructional method and asked how this system worked.
At the conference, KCGI's project won an Honorable Mention award. The conference was also a good opportunity to showcase KCGI's high-level research capacity. The significance of the project was also recognized by an academic conference in Europe as well. Professor Emi will make a presentation at OCCE 2018 (Open Conference on Computers in Education)to be held in Linz, Austria from June 24 to 28, 2018.
KCGI's curriculum is designed for the application of ICT for various industries uses such as IT agriculture. We welcome students from all over the world who are interested in studying IT agriculture as well as other ICT related fields.
This project has been partially supported by JSPS KAKENHI (Grants-in-Aid for Scientific Research): Grant Numbers 16H03087.
Winners of the 2018 Learning Impact Awards
https://www.imsglobal.org/winners-2018-learning-impact-awards
OCCE.2018 Conference Program
http://icms.schule.at/index.php?PHPSESSID=33015234d925ea2a80ab1216b7a301a4&CONF_ID=11&TITLE=Conference %20Program&module=conference_program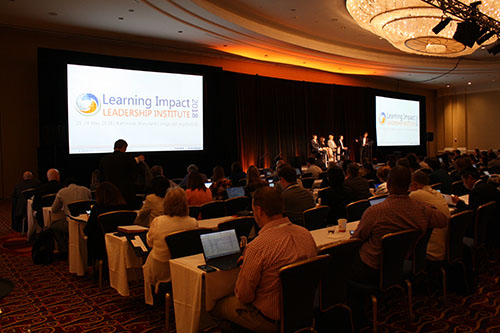 Main conference hall for "Learning Impact Awards"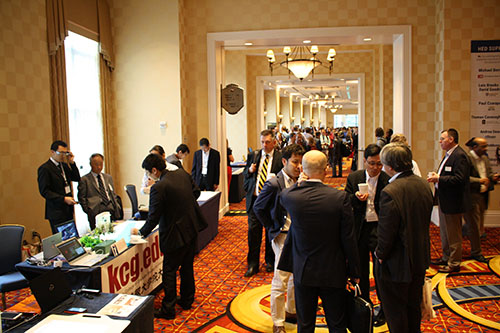 Hall for presentation booths crowded with attendees and visitors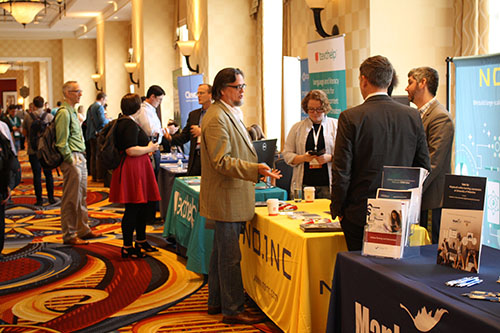 Various kinds of new instructional methods were presented in this conference.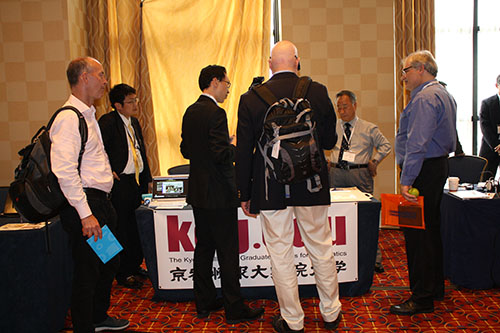 KCGI booth attracted many visitors.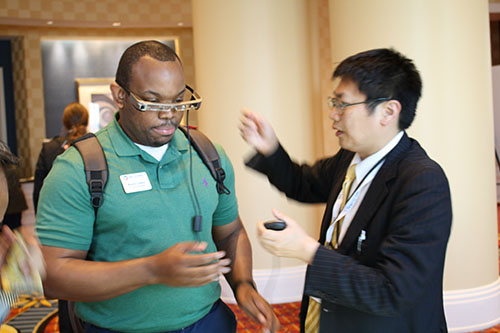 Associate professor Emi explains how to use a wearable camera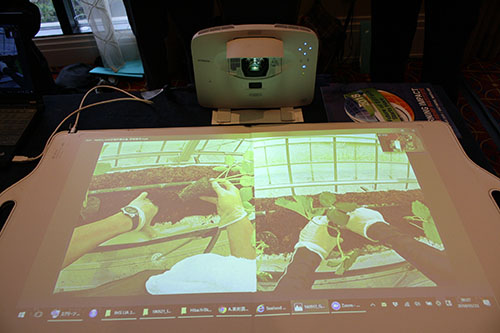 "Projector and Touch Screen System" to which an actual footage was projected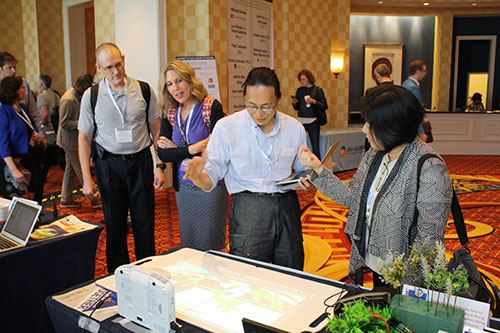 Lecturer Kobayashi explains how "Projector and Touch Screen System" works.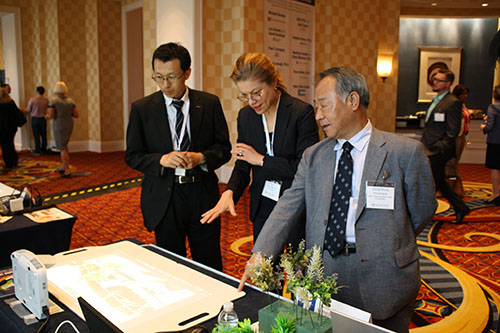 Professor Hong Seung Ko (right) and Associate Professor Ming Hu (left) explain to a visitor