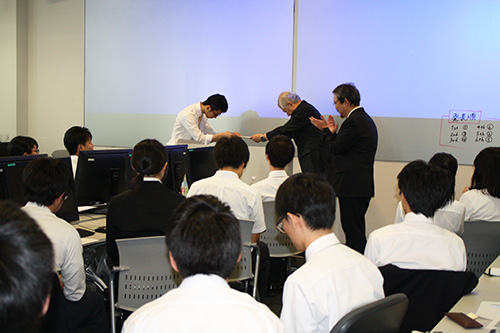 Kyoto Computer Gakuin (KCG) Kyoto Station Front School / Kyoto Information Graduate University (KCGI) Kyoto Station Front Satellite held as a venue for member companies of the Kyoto Prefectural Information Industry Association (Kyoto Kyodo), training for new employees in 2019 The closing ceremony and social gathering were held on January 18th.
Kyokyo is an industry group chaired by KCG Group Chairman Hiroshi Hasegawa, who aims to contribute to improving the lives of the citizens of Kyoto using IT.The training started on April 10th, and 24 new employees from 4 member companies participated. The guidance of KCG group teachers, manner training as a member of society, IT-related specialized skills such as programming training and database training, etc. , 294 hours of training.
From mid-May, a team of four people will develop six applications: an employee referral system, a consultation reservation system, a movie theater reservation system, a train route guidance system, a recipe introduction system, and a book review system. The bosses of the company to which they belonged also attended and showed their results.At the completion ceremony, Yutaka Takahashi KCG Group Career Center Director gave each trainee a certificate of completion, and a social gathering was also held after that, raising expectations for his future success in the real world.