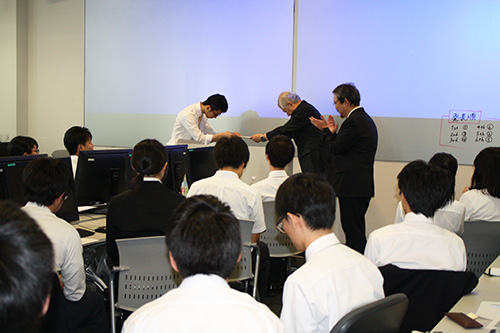 Kyoto Computer Gakuin (KCG) Kyoto Station Front School / The Kyoto College of Graduate Studies for Informatics (KCGI) Kyoto Station Front Satellite held as a venue for member companies of the Kyoto Prefectural Information Industry Association (Kyoto Kyodo), training for new employees in 2019 The closing ceremony and social gathering were held on January 18th.
KCG is an industry organization chaired by KCG Group President Wataru Hasegawa, and its purpose is to contribute to the improvement of the lives of Kyoto residents through the utilization of IT.The training began on April 10, and 24 new employees from four member companies participated. Under the guidance of KCG Group faculty members, they received 294 hours of training in IT-related specialized skills, such as programming and database training, as well as in manners as members of society.
From mid-May, each team of four developed six applications: an employee introduction system, a medical appointment system, a movie theater reservation system, a train route guidance system, a recipe introduction system, and a book review system.At the completion ceremony, Yutaka Takahashi, Director of the KCG Group Career Center, presented each trainee with a certificate of completion, which was followed by a reception, where the trainees expressed their expectations for their future activities in the real world.