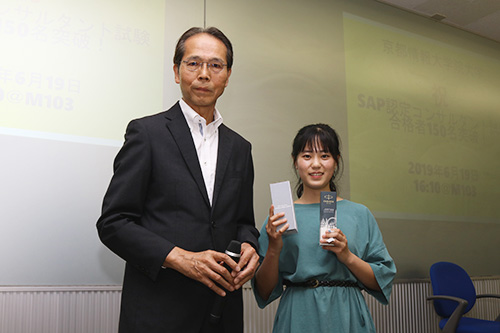 The total number of Kyoto College of Guraduate Institute of Informatics (KCGI) students who have passed the ERP certification exam of SAP of Germany has exceeded 150.The number of successful applicants has steadily increased since the first one in 2005, reaching the 100th in June 2017, and recently, Mr. Hu, an international student from China, became the 150th.To commemorate this event, a ceremony was held on June 19, 2019, in a classroom at KCGI Kyoto's main Hyakumanben campus, attended by students in the ERP program and faculty in charge of ERP education.After Ms. Hu, there were more successful applicants, and as of the same day, the number of successful applicants reached 158.
At the ceremony, Prof. Harufumi Ueda, who supervised the project, presented Mr. Hu with a commemorative gift.SAP Japan (President and Representative Director Yuzuru Fukuda) also presented a commemorative gift, which was handed over by Professor Masaki Fujiwara.Mr. Hu said, "I am really happy.I studied ERP with the help of KCGI professors and received a job offer from a good Japanese company," he said happily.In closing, Professor Fujiwara said, "SAP certification is now a global standard.Qualification is a starting point.I hope you will continue to study hard, become a full-fledged consultant, and contribute to the world.
Enterprise Resource Planning (ERP) is a planning method that increases management efficiency by optimizing the allocation of people, goods, and money, which are the basic elements of corporate management.SAP's ERP software has been adopted by many global companies, and the need for qualified ERP consultants is increasing day by day.
KCGI's ERP education has a strong lineup of experienced faculty members.From the first semester of enrollment, systematic lectures and practical training are conducted to help students pass the SAP certification examination.The number of companies implementing SAP ERP in Japan continues to increase, and this ERP consultant certification is a powerful weapon for employment.More than 20 of those who have passed the exam have been hired by listed companies and are active as leaders in the IT field at companies in Japan and abroad.KCGI is the only university in Japan that offers systematic SAP ERP education.Next, we will focus on SAP ERP education in order to reach our 200th successful candidate.