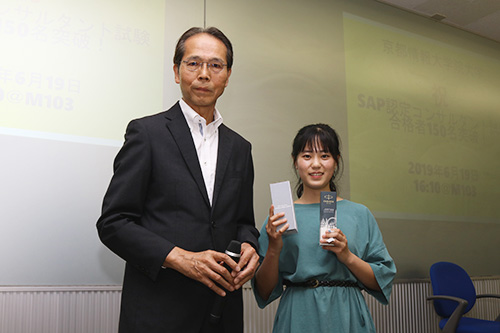 A total of over 150 students from the Kyoto University of Information Studies (KCGI) who passed the ERP certification examination of SAP Germany.The number of successful applicants, the first one in 2005, has been increasing steadily since then, and in June 2017, the 100th was successful.In commemoration of this event, on June 19, 2019, students from the ERP program and teachers in charge of ERP education attended the ceremony at the KCGI Kyoto Main School's Baiyunkan Campus.The number of successful applicants came out after Mr. Hu, and the number has reached 158 as of the same day.
At the ceremony, souvenirs were given to Mr. Hu by Professor Harufumi Ueda who taught.Souvenirs were also given by SAP Japan (President and CEO: Joe Fukuda) and handed by Professor Masaki Fujiwara.Hu said, "I 'm really happy."Thanks to KCGI teachers for studying ERP and getting a job offer from a good Japanese company," he said.Finally, Professor Fujiwara said, "SAP qualification is now a global standard.The starting point is to qualify.I will continue to study and become a full-time consultant and contribute to the world. "
ERP (Enterprise Resource Planning) is a planning method that improves management efficiency by optimizing the distribution of people, goods, and money, which are the basic elements of corporate management.SAP's ERP software is being adopted by many global companies one after another, and the need for human resources with the company's ERP consultant qualification is increasing day by day.
KCGI's ERP education is a powerful lineup of experienced teachers.Aiming to pass the SAP certification exam by conducting planned lectures and practical training from the first semester.The number of companies introducing SAP ERP in Japan continues to increase, and this ERP consultant qualification has become a powerful weapon for employment.Successful applicants have been able to find jobs across the board, and more than 20 people have been hired by some listed companies. They are active as leaders in the IT field at companies in Japan and overseas.KCGI is the only university that offers systematic SAP ERP education in Japan.Next, we will focus on SAP ERP education with the aim of becoming the 200th successful candidate.