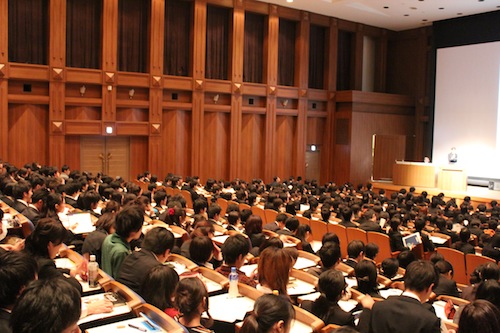 Many students came from all over western Japan.
The "Media and Video Industry Job Hunting Seminar," sponsored by the Visual Industry Promotion Organization (VIPO), Imagica Digital Scape, and Kurihakunabi 2014, was held at the Kyoto Ekimae Satellite of the Kyoto Institute of Information Science on December 8 (Sat) and 9 (Sun).
On both days, many students from the Kinki region and other parts of western Japan visited the exhibition to learn about careers in the game, animation, film, advertising, music, and broadcasting industries.
On Saturday the 8th and Sunday the 9th, executives from well-known companies in the video game, animation, and television industries took the stage in the hall for 30 minutes each to talk about the state of the industry.The students who filled the hall listened with interest.
In the afternoon of the 9th, Yasuhiro Takeda, Director and General Manager of Animation Production Division of GAINAX Corporation, an animation production company, took the stage.Mr. Takeda, professor at The Kyoto College of Graduate Studies for Informatics (KCGI), talked about the history and corporate culture of Gainax.The students listened attentively to the presentation, as the company is popular among anime fans.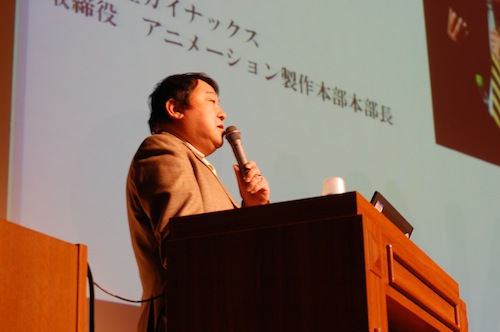 Professor Takeda discusses the history of Gainax and other topics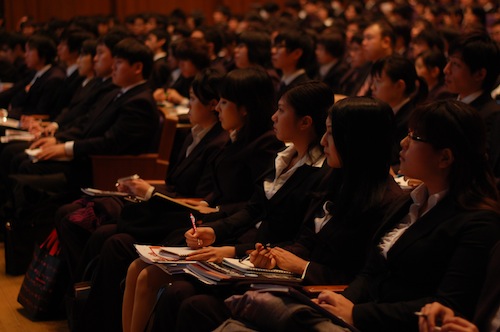 Students listening attentively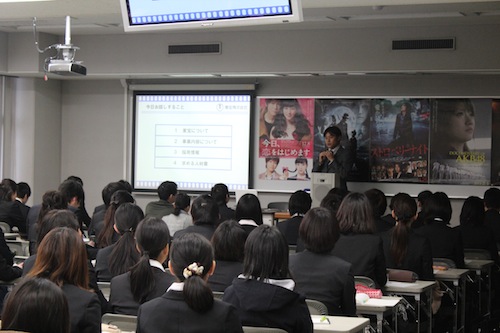 After the seminar, the students were divided into classrooms and each company gave a detailed explanation.