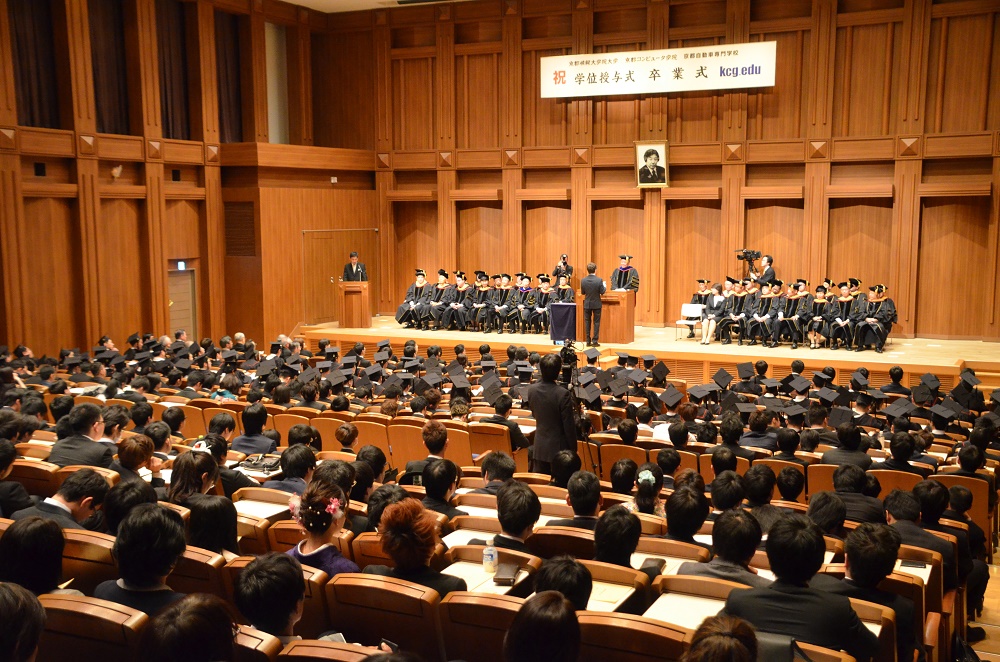 KCGI Degree Ceremony for 2017 held on March 18, 2018, KCG and KJLTC, and KCGM graduation ceremony (KCGI Kyoto Ekimae Satellite Grand Hall)
The Kyoto University of Information Science (KCGI) degree ceremony, the graduation ceremony of Kyoto Computer Gakuin (KCG) and Kyoto Japanese Language Training Center (KJLTC), and Kyoto Automobile College (KCGM) in March 2017, KCGI It was held at the Kyoto Ekimae Satellite Large Hall.While the lack of human resources related to IT and automobile maintenance has been screamed, the friends who have studied together at the KCG group have flung into society with confidence, with technology and knowledge, using the memories of student life as their chest. .Congratulations to all graduates and graduates.I wish you all the best.
Many graduates and alumni guardians visited the ceremony, filled the hall, and used the foyer as a ceremony hall.First, Toshihide Ibaraki, President of KCGI, awarded the degree of "Master of Information Technology (Professional)" to the alumni. KCG graduates are heads of Shohoku, Kamogawa, and Kyoto Station schools. The KCGM graduates were awarded a diploma and a degree book respectively.After this, KCGI / KCG / KCGM's best award, award certificate and souvenir were awarded to graduates and alumni who were selected for the award.
Mr. Wataru Hasegawa, President of the KCG Group, said that the graduates and graduates needed to take advantage of their future opportunities. ▽ Two points of the "KCG family" human network created by more than 40,000 graduates and graduates, "KCG group and everyone aiming for the next 100th anniversary while building and expanding good networks from now on "It would be great if we could build tags and grow together and develop," he said.
President Ibaraki took up AI (Artificial Intelligence) as a representative example of new technology. "There is a voice that AI will be able to acquire all the abilities that humans have been good at in the near future. AI will not be able to cope with something unprecedented in the past, and our human role will not be so easily lost.The world you are going to ship is a wave of change.I look forward to discovering new possibilities and being actively challenged. "
I graduated from Spain as a government-sponsored student from Spain who studied at the Game Development Fundamentals Department and obtained numerous qualifications such as the Basic Information Engineer Examination, Information Security Management Examination, IT Passport Examination, and Japanese Language Proficiency Test N1.・ Beharano Carlos."With great expectations and some anxiety, thanks to teachers and seniors, I was able to challenge the experience and expectations beyond my expectations." We will make every effort to help create a prosperous society.I personally want to contribute to the friendship between Japan and Spain. "Finally, all attendees sang "Firefly Light".
After the ceremony, the venue was moved to RIHGA Royal Hotel Kyoto and a celebration was held.Graduates and graduates, together with faculty and staff who have shared joy and struggle, blossomed memories and vowed to make a leap forward.The event was filled with events such as a lottery, and the student's last day was over with a smile.