Let's Sing Together!" at KCG Summer Festa 2014, a summer event by Kyoto Computer Guraduate Institute of Informatics (KCGI) and Kyoto Computer Gakuin (KCG)was held on July 13 (Sun.) at the Kyoto Ekimae Satellite Concert Hall of Kyoto Institute of Information Science.More than 100 people attended and enjoyed the music in the main hall, which is regarded as one of the best in western Japan in terms of acoustics.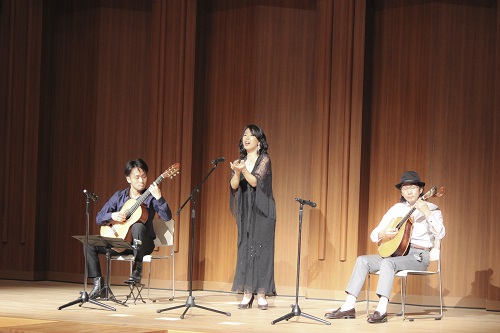 The first part with powerful and deep "Fado" and guitar solo echoed
The first part is Portuguese music "Fado" & guitar solo "Saudade and the Sea.Fado" is to Portugal what "chanson" is to France and "canzone" is to Italy.We enjoyed the powerful and deep performance of songs and guitar by Fadista Kumiko Tsumori, who is also active in Portugal, and guitarists Tamotsu Kamikawa and Kazuhiro Mizutani.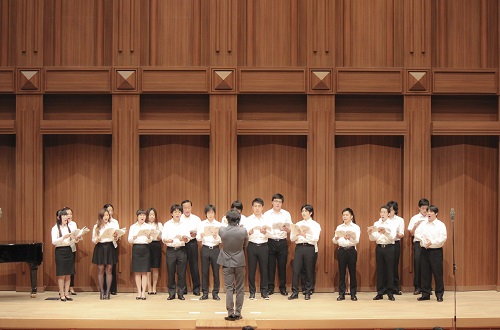 In the second part, KCG's chorus circle U-Choir sang "Niji" and "Origami Crane
In the second part, KCG's chorus circle U-Choir sang "Niji" and "Origami Tsuru" with great enthusiasm, and then all participants practiced Hibari Misora's famous song "Kawanawa no Nagare ni yoniwa" under the guidance of Mr. Yohei Yoshimura.After confirming their vocalization, the students were divided into high and low tones, and received instruction on the key points for singing well.At the end, all the participants went up on stage and filled the hall with their spacious harmonies.Ms. Tsumori, Ms. Kamikawa, and Ms. Mizutani, who performed in the first part, joined the chorus and enjoyed the joy of singing together with the participants.

At the end, the participants filled the stage and echoed the song "Like a Stream of River".