The 2012 The Kyoto College of Graduate Studies for Informatics (KCGI) degree award ceremony and the Kyoto Computer Gakuin (KCG) graduation ceremony were held on March 20, 2013 at the Kyoto University of Information Sciences Kyoto Ekimae Satellite Grand Hall.On this day, the 50th anniversary of the university's founding, a number of graduates left the university.
After the opening remarks, the degree of "Master of Information Technology (Professional)" was awarded to the representative of KCGI graduates and the diploma was awarded to the representative of KCG graduates.Next, the representatives of the voluntary trainees were also awarded with certificates of completion.Certificates of commendation were also presented to the KCGI and KCG Grand Prize and Excellence Award winners for their outstanding academic achievements.
Mr. Wataru Hasegawa, President of KCGI and KCG, made a ceremonial speech.Citing the recent efforts of the KCG Group, including the opening of the Sapporo and Tokyo satellites and the launch of the ".kyoto" domain name, he said, "It is necessary to have one's own strengths as one works globally.I want you to find out what kind of person you are and make it your selling point.I hope that you will remember our university and become a member of a network of alumni who can help each other, strengthen ties, and cooperate in their work.
KCGI President Toshihide Ibaraki touched on the progress and changes in ICT (Information and Communication Technology) and the negative aspects it causes, saying, "It is the role of all graduates to think about how to lead ICT.All of you who are active in ICT change can influence change in the world.I hope that you will make use of the knowledge you have acquired at this university and make efforts to advance the ICT society in the right direction," he said in his farewell address.
In his graduation speech, Mr. Toru Mizutani (from KCG's Department of Information Technology), a representative of the graduating class of KCGI's Graduate School of Applied Information Technology, Department of Web Business Technology, reflected on his student life, including the experiences he gained during his practical training at Tianjin University of Science and Technology and Fujian Normal University in China, which are affiliated with our school.I will cherish my ties with my teachers and schoolmates, reaffirm the role that information technology should play in society, and devote myself to becoming a person who can contribute to society," he said.
After the graduation ceremony, a celebration party was held at the Kyoto Tokyu Hotel, where faculty members, graduates, and staff enjoyed chatting with each other, watching memorable videos, and having fun with a lottery.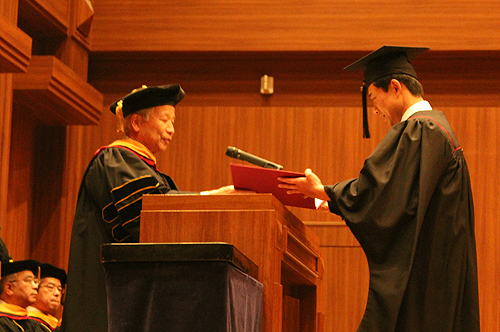 A representative of KCGI graduates receiving the degree of "Master of Information Technology (Professional)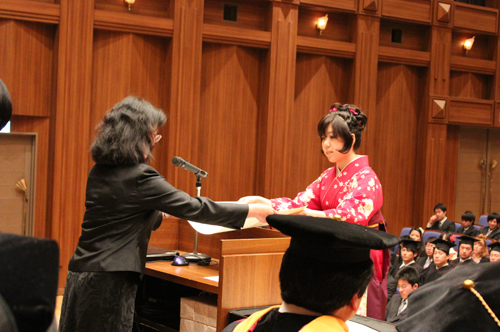 The principal handed each KCG graduate a diploma.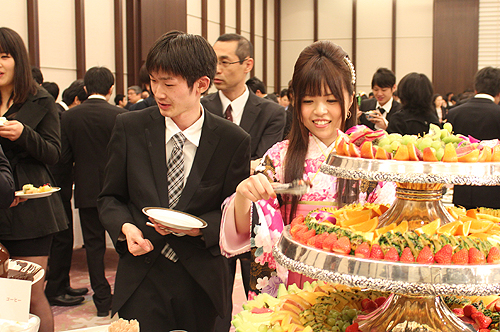 At the celebration, students enjoyed the aftermath of graduation with faculty and staff.