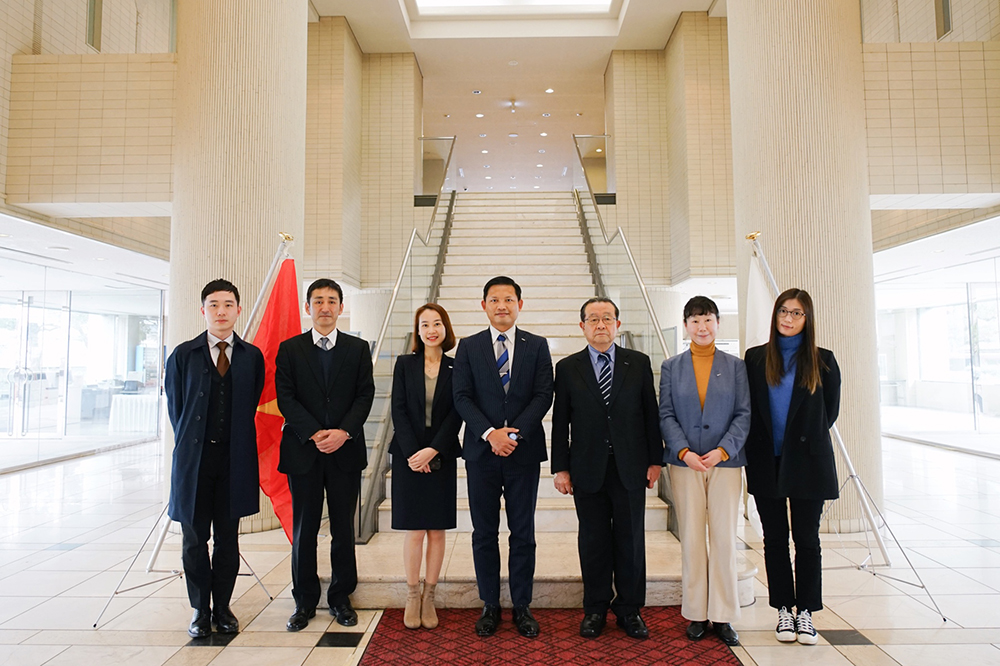 On January 12, 2022, Kyoto Computer Gakuin (KCG) concluded a cooperation agreement with VTI Education (headquartered in Hanoi), a member of the VTI Group, a leading offshore development company in the Vietnamese and Japanese IT industries, which is engaged in IT education in Vietnam, in order to jointly promote IT human resource development in Vietnam.The Department of International Applied Informatics (4-year correspondence course), which will be newly established at KCG this spring, will be utilized for human resource education in the joint project.The partnership between KCG, the first computer education institution in Japan that has produced excellent human resources, and a major Vietnamese IT company is expected to foster high-level, professional IT human resources with an international perspective and extensive knowledge who will be active in various industries in Japan and other countries in the future.
Each year, VTI Education trains thousands of students for careers in the IT field and introduces graduates to companies in Vietnam and abroad.Under this partnership, students will first study in Vietnam by enrolling in KCG's correspondence course in International Applied Informatics, which will start in April, and then come to Japan in the future to continue their studies in a full-time course to improve their Japanese and IT knowledge and skills.After graduation, students aim to work for Japanese IT companies or VTI, which operates both in Japan and Vietnam.
The signing ceremony of the agreement was held at KCG Kyoto Ekimae School on January 12, attended by Mr. Nguyen Hai Dung, Chief Operating Officer of VTI Japan Inc. from the VTI side and Mr. Yoichi Terashita, Principal of KCG Kyoto Ekimae School from the KCG side.Online from Vietnam were Mr. Tran Xuan Khoi, Chief Operating Officer (CEO) of VTI Headquarters and VTI Japan, and Mr. Nguyen Quet, President of VTI Education.Principal Terashita greeted the students, saying, "I am very honored to be participating in an educational project for the young people of a country famous for its diligence, and I feel that this is a very rewarding job for me as an educator.President Kwet said, "We would like to go beyond educating students in this international human resource education project and aim to become an open university of Kyoto Computer Gakuin in the future.
KCG's newly established Department of International and Applied Informatics uses the latest learning management system to allow students to study from anywhere in the world at any time of their choosing.Upon graduation, students can obtain an "Advanced Specialist" degree, equivalent to a college degree, and can also enter the Kyoto Computer Graphics Graduate Institute (KCGI) for further advanced knowledge and skills.KCG/KCGI is developing distance learning from a new perspective of university-company collaboration (Taisha koryu).
The KCG Group is expanding and enhancing its educational network overseas.KCGI has also been active in exchanges with Vietnam, concluding a business partnership with FPT, a leading software company, in January 2005, an inter-university exchange agreement and an academic joint planning agreement with FPT University (FPTU) in April 2014, with Hanoi National University of Technology (VNU-UET) in December 2019, and with National Hue University (HU) and National University of Danang (UD) in April 2020.In June of the same year, KCG and KCGI signed an inter-university exchange agreement with the University of Humanities and Social Sciences of Hanoi National University (VNU-USSH).