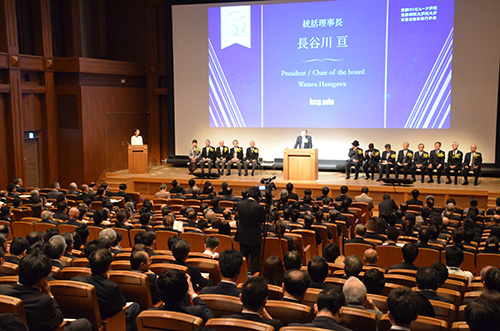 Kyoto Computer Gakuin Foundation 55th Anniversary and Kyoto Information Graduate University 15th Anniversary Ceremony held on November 1, 2018, Kyoto Information Graduate University Kyoto Station Front Satellite (Kyoto Computer Gakuin Kyoto Station Front School) Large Hall
Japan's first computer educational institution Kyoto Computer Gakuin (KCG) 55th anniversary, Japan's first IT professional graduate school Kyoto Information Graduate University (KCGI) 15th anniversary commemorative ceremony November 1, 2018, Kyoto Computer Gakuin Kyoto Station (Kyoto Information Graduate University Kyoto Station Satellite) It was held in a large hall.A large number of attendees from inside and outside the country, including industry-government-academia officials, alumni, and current students.Looking back on the progress of the KCG Group over the past 55 years, we have set "Activity of Society 5.0", "Development of global human resources" and "Expansion and enhancement of industry-academia collaboration" as the pillars of our activity policy for the next 100th anniversary. We renewed our determination to take the lead in IT education.Subsequently, a celebration party was held at RIHGA Royal Hotel Kyoto, and it was exciting with eating and drinking and live performances.
The commemorative ceremony begins with a video reviewing the history of the 55 years of the KCG Group.Next, Wataru Hasegawa, President of KCG Group, gave a ceremony.After following the history of the KCG group, President Hasegawa said, "We are grateful for the warm support we received from many people in our 55-year history. We are.The pioneering spirit that should be said to be the DNA of the University that created Japan's first computer education institution and Japan's first IT professional graduate school, current students, graduates, faculty and staff have inherited the foresight and challenge of over 40,000 KCG families I am convinced that shining the spirit in each field will be the cornerstone of the next era.The University is determined to continue to take on new challenges in order to respond to support while making the best use of its past achievements. "
Congratulatory congratulatory letters were honored by Eritrean Special Ambassador Ambassador Estifanos Afolki Haile, Gabon Republic Special Ambassador Ambassador Joseph Giro Efangon Mr. Obage, then Vice Governor of Kyoto Prefecture, Masamasa Yamashita, President of RIKEN, former President of Kyoto University, Satoshi Matsumoto, President of Osaka University, Shojiro Nishio, President of Information Processing Society, Nihon Unisys, Ltd. Received from Akira Hiraoka, President and CEO of CHO.Lastly, KCGI President Toshihide Ibaraki thanked him.
After the greetings by President Hasegawa, Mr. Daisaku Kadokawa congratulated Kyoto City Mayor.The banquet started with a toast from Masao Kitano, Vice President of Kyoto University.The attendees blossomed for a chat while eating and drinking.The video performance of the president of Rochester Institute of Technology and the principal of the partner school in China, live performance by world music singer / songwriter, Cirque du Soleil's main vocalist and KCGI professor Nitza Melas were also exciting.Finally, President KCGI Toshihide Ibaraki gave a greeting.
Thank you very much for your attendance.
◇ ◇ ◇
In 1963, a computer study group "FORTRAN Study Group" was established near Kyoto University, and an "electronic programming class" was held.This is the first computer education in the private sector in Japan, and is the first step in activities as a KCG group.Later, the scope of the workshop expanded, and in August 1969, the first full-time computer education institution in Japan, "Kyoto Computer Gakuin" was born.In 2004, "Kyoto Information Graduate University", Japan's first IT professional graduate school, was opened as a group school. In 2012, graduate satellites were opened in Sapporo and Tokyo.Furthermore, in 2013, "Kyoto Automotive College", which has the longest history and tradition in Kyoto, joined the KCG group.
To date, the KCG Group has always developed the pioneering spirit that is the University's identity, and has always strived to develop the human resources required by the times in the rapidly developing IT field. In addition to producing more than alumni and building networks with overseas educational institutions, we have made steady progress.
I would like to express my gratitude to the many people who have supported me to this day while looking back on the 55 years so far.Taking this year of milestone as the first step of further leap forward, we will pledge to further develop so that we can meet the expectations of various industries and other industries, and we will aim for new horizons with students and graduates for the next era. is.
* "Society 5.0" = The Cabinet Office recently announced "Society 5.0" as the future society that Japan should aim for.This is a content that aims to realize a human-centered society (Society) that achieves both economic development and solutions to social issues by a system that highly integrates cyber space (virtual space) and physical space (real space). It is the pillar of the theme in the 5th Science and Technology Basic Plan of the country following Society (Society 1.0), Agriculture Society (Society 2.0), Industrial Society (Society 3.0), and Information Society (Society 4.0).This direction is common and consistent with the future vision of IT human resource development that the KCG Group should aim to expand and enhance the learning area of the "next-generation industry / applied information field" that is necessary for the future society. Yes.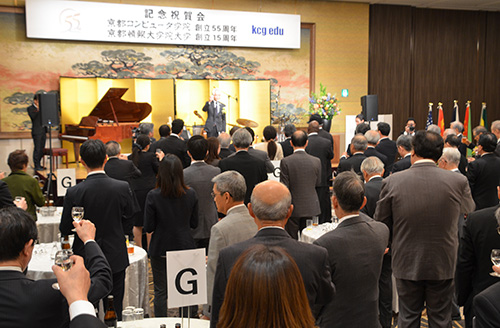 The celebration was held at RIHGA Royal Hotel Kyoto.Many people came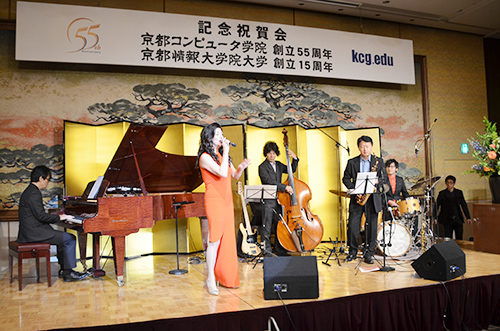 Live performance by Nitza Melas (Cirque du Soleil main vocalist, Professor KCGI)