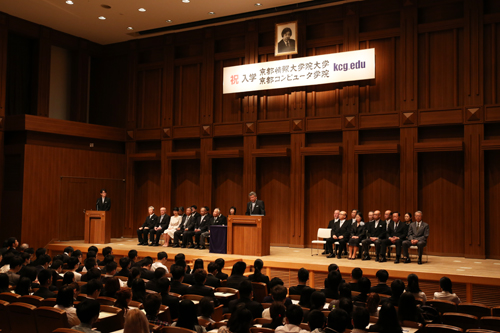 KCGI and KCG held at Kyoto University Graduate School of Science Kyoto Hall in front of the Kyoto University Graduate School entrance ceremony (September 30)
The late 2016 entrance ceremony of Kyoto Information Graduate University (KCGI), Kyoto Computer Gakuin (KCG), and Kyoto Japanese Language Training Center was held on September 30 (Friday) at the Kyoto Information University University Kyoto Station Satellite Large Hall. Many people who are willing to create a safe and comfortable advanced information age have joined the KCG family.
After attending a video introducing the history of the KCG Group over 50 years with all enrolled students, Wataru Hasegawa, President of the KCG Group, gave a ceremony.While introducing the University's educational philosophy, past steps, and a number of initiatives for the next generation, "To create the future by yourself, a pioneering spirit and a challenging spirit that are not bound by existing concepts and stereotypes are essential.Please make many friends and become a true global human resource. "
Next, Toshihide Ibaraki, President of KCGI, talked about automatic driving of automobiles as an example of ICT advancement. I have both.I hope that you will fully understand the various aspects of technology, absorb knowledge in the widest possible field, and grow greatly at the University. "
In response to this, Mr. Yu Yutaka (from Dalian University of Foreign Studies, China) who entered KCGI on behalf of new students said, "We have expertise and technology to contribute to the realization of an ideal information society. With the aim of cultivating rich creativity, we will work with many colleagues and strive to grow day by day, sometimes working hard. "Freshmen took a new step as members of the KCG group.
Congratulations to all students.