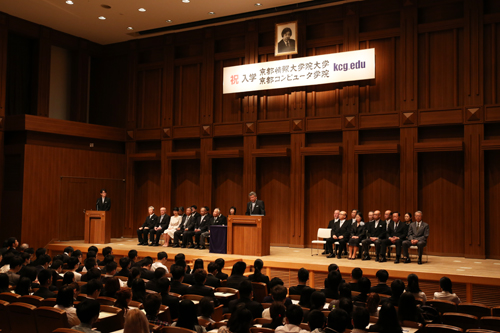 KCGI and KCG 2016 Second Semester Entrance Ceremony held at Kyoto Station Satellite Main Hall, Kyoto Graduate University of Information Sciences (September 30, 2016)
The late 2016 entrance ceremony of The Kyoto College of Graduate Studies for Informatics (KCGI), Kyoto Computer Gakuin (KCG), and Kyoto Japanese Language Training Center was held on September 30 (Friday) at the Kyoto Information University University Kyoto Station Satellite Large Hall. Many people who are willing to create a safe and comfortable advanced information age have joined the KCG family.
After all the students watched a video introducing the history of KCG Group for more than 50 years, Mr. Wataru Hasegawa, President of KCG Group, made a ceremonial speech.While introducing the educational philosophy of the university, its history, and its many initiatives for the next generation, he said, "In order to create the future on your own, it is essential to have a pioneering spirit and a challenging spirit that is not bound by preconceived notions or stereotypes.I hope you will make many friends and become a true global human resource," he encouraged.
KCGI President Toshihide Ibaraki then spoke about automated automobile driving as an example symbolizing the progress of ICT, and said, "Advanced technology has both aspects of making our lives more convenient and affluent and aspects of causing harm if used in the wrong way.I hope that you will be aware of the various aspects of technology, absorb knowledge in as wide a range of fields as possible, and grow greatly at this university," he said in his message to the new students.
In response, Mr. Gao Yuchen (Dalian University of Foreign Languages, China), who entered KCGI as a representative of the new students, made a strong pledge: "We will strive to grow every day in cooperation with our many friends, sometimes in friendly competition, with the aim of cultivating a rich creativity as well as specialized knowledge and skills to contribute to the realization of an ideal information society.The new students took a new step forward as members of the KCG Group.
I would like to extend my sincere congratulations to all incoming students.