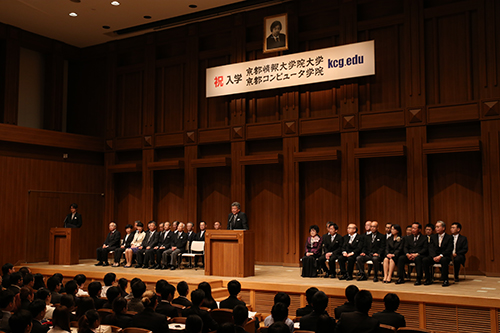 KCGI and KCG 2015 Second Semester Entrance Ceremony held at Kyoto Station Satellite Hall, Kyoto Graduate University of Information Science and Technology (September 30, 2015)
The Kyoto College of Graduate Studies for Informatics (KCGI) and Kyoto Computer Gakuin (KCG) 's late 2015 admission ceremony was held on September 30 (Wednesday) at the Kyoto Ekimae Satellite Large Hall and willing to take on the IT industry in the future A lot of talented people have joined the KCG family.
After all the students watched a video introducing the history of KCG Group for more than 50 years, Mr. Wataru Hasegawa, President of KCGI and KCG, made a ceremonial speech.While introducing the educational philosophy of the university, its history, and the many initiatives of the KCG Group for the next generation, such as the ".kyoto" business and the enhancement of education related to the content business, he said, "There are great possibilities for your future.While studying computers and IT in friendly competition with your friends sitting next to you, think about your future.I hope you will follow in the footsteps of our outstanding graduates and carve out your own path.The faculty and staff of the university will do their utmost to support you in this endeavor.
Mr. Toshihide Ibaraki, President of KCGI, then pointed out that the progress of ICT is very fast and new technologies are being born and integrated one after another.I hope that you will never forget this duality, that you will study a wide range of fields, and that you will grow greatly at this university," he said in his message to the new students.
Shota Fukuyama (Bukkyo University), who entered KCGI as a representative of the new students, made a strong pledge: "We will strive to grow every day with our many friends, aiming to cultivate a wealth of creativity as well as specialized knowledge and skills to contribute to the realization of an ideal information society.The new students took a new step forward as members of the KCG Group.
I would like to extend my sincere congratulations to all incoming students.