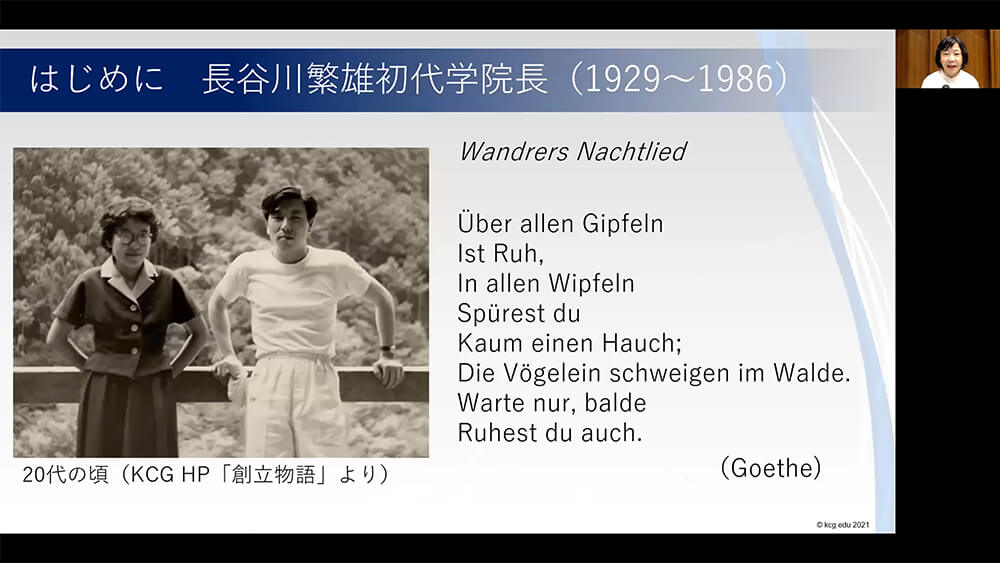 On July 2, the anniversary of the death of Prof. Shigeo Hasegawa, the founder and the first president of Kyoto Computer Graduate School (KCG), KCG Group delivered a commemorative lecture "Prof. Shigeo Hasegawa, the First President of Kyoto University and Kyoto University: Searching for the Origin of the Philosophy" online.Every year on this day, the KCG Group holds a graveside service at its family temple, Hyakumanben Chion-ji, and various commemorative events on campus.
Dr. Shigeo Hasegawa passed away on July 2, 1986, at the age of 56. 2021 will be the 35th anniversary of his death.Kandō" is his pseudonym, and it means "a quiet space for meditation away from the world.
The commemorative lecture was given by Dr. Tomoko Tanaka, Associate Professor, Graduate School of Education, Kyoto University and part-time lecturer, Kyoto Institute of Information Graduate University.In September 1949, Mr. Shigeo Hasegawa entered Kyoto University as the first student of the new university system, and this was the place where he met Ms. Yasuko Hasegawa, the present Director of KCG, which can be said to be the source of KCG.Mr. Tanaka said, "I have never met Mr. Shigeo Hasegawa because I entered the school after he graduated," but he added, "I was his immediate junior in college (I would like to historically explore the days of a teacher who was about the same age as you (the students) and find the origin of the philosophy of the school where you also study." He explained in detail what kind of culture was being nurtured in Kyoto University at that time under the background of the times after the defeat in World War II, and explained the relationship between the experience of the young Shigeo Hasegawa and the philosophy of KCG.
In his lecture, Dr. Tanaka said, "What I think is characteristic of our relationship with Kyoto University is that (even after the graduation of Prof. Shigeo Hasegawa and the present Dean Yasuko Hasegawa) we have been connected with the younger generation of Kyoto University students and graduate students.I think that KCG is a place where Professor Shigeo Hasegawa embodied the culture he gained at Kyoto University and where he can freely develop what he has learned.