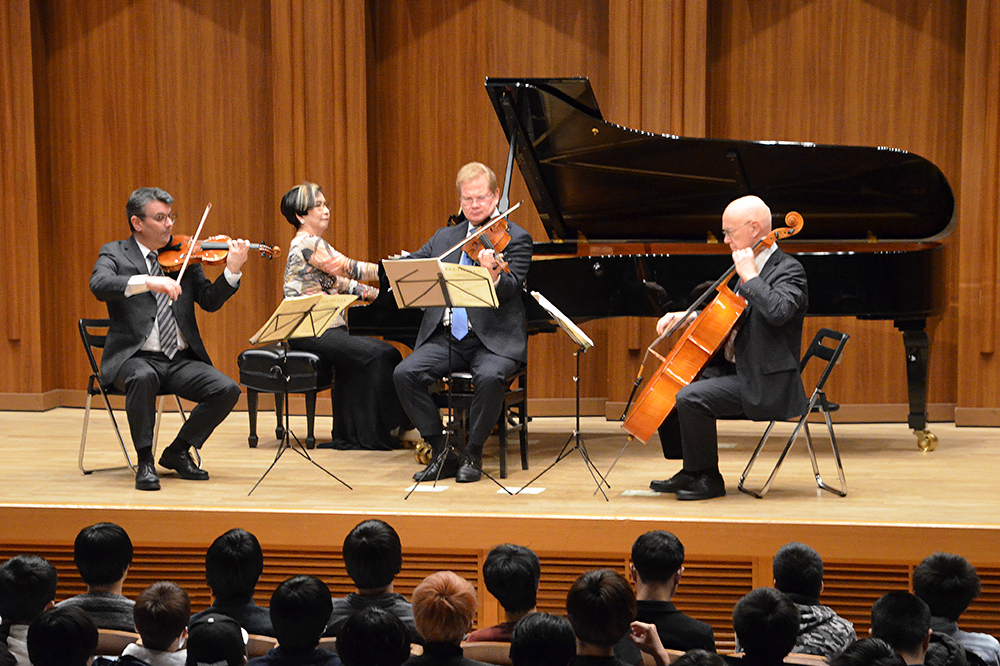 KCG Group including Kyoto Computer Gakuin (KCG) and The Kyoto College of Graduate Studies for Informatics (KCGI) held "Vienna Piano Quartet Concert" Part 1 and Part 2 by members of Vienna Philharmonic Orchestra and others at KCG Kyoto Ekimae School and KCGI Kyoto Ekimae Satellite Concert Hall on November 21, 2019.The concert is a commemorative event for the 150th anniversary of the friendship between Japan and Austria, and is supported by the Austrian Embassy and the Austrian Cultural Forum.The hall was filled with students as well as invited guests and the general public, who enjoyed performances by top-notch musicians from the city of music.
The quartet is composed of Yoko Foog (piano) and Joergen Foog (cello), Mr. Harald Klumpeck (violin) and Mr. Robert Bauernstatter (viola).Yoko graduated from the University of Music and Performing Arts Vienna with top honors.Together with Joergen and others, he continues to perform throughout Europe and in Japan.The cello, violin, and viola are members of the Vienna Philharmonic.
The first and second parts of the concert featured the piano quartet "Sasakia Karonda (Great Purple)," commissioned by the Austrian Foreign Ministry to commemorate the 150th anniversary of Japan-Austria friendship and composed by Gabriele Proy.Ms. Gabriele is one of Austria's most acclaimed contemporary composers.In addition, Beethoven's "Piano Quartet in E-flat major, Op. 16" was performed in the first section, and Brahms' "Piano Quartet in G minor, Op. 25" in the second section.
The KCG Group incorporates general education courses into its curriculum to cultivate the intellect and sensitivity of students, in addition to specialized skills.These events are open to the public for viewing.