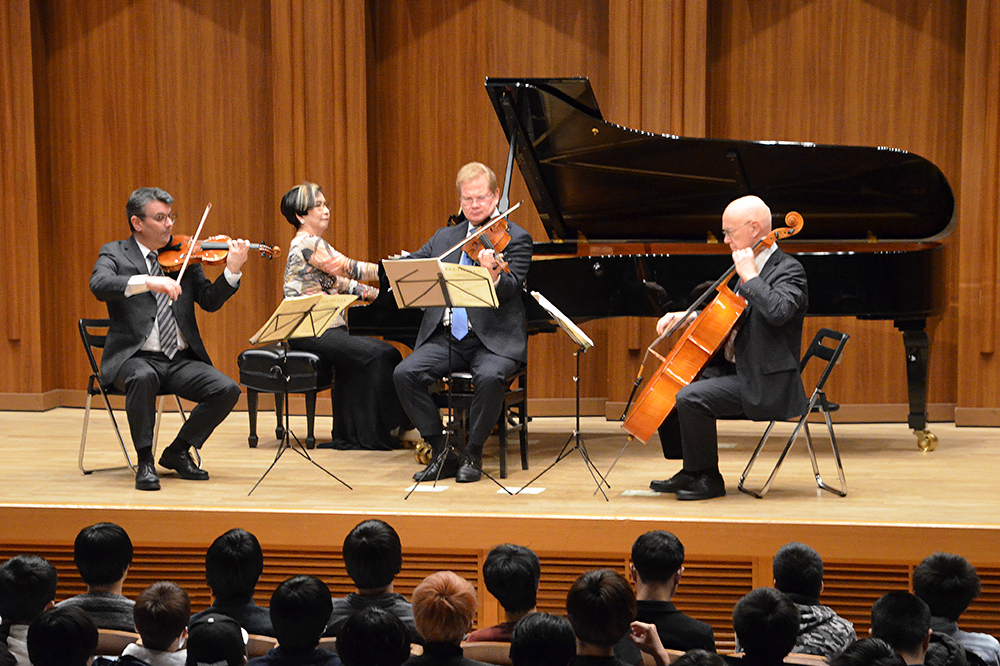 KCG groups such as Kyoto Computer Gakuin (KCG) and Kyoto University of Information Sciences (KCGI) were held on November 21, 2019 at the KCG Kyoto Station School and KCGI Kyoto Station Satellite Concert Hall. Group Concert "held the first part and the second part.The concert is supported by the Austrian Embassy and the Austrian Cultural Forum as a commemorative event for the 150th anniversary of friendship between Japan and Austria.The hall was open to students and invited guests, as well as general customers, and enjoyed performances by top performers who were active in the city of music.
The quartet consists of Yoko Fog (piano), Jawgen Fog (cello), Harald Krumpek (violin), and Robert Bauerstatter (viola).Yoko graduated from the Vienna State College of Music with the best results.I have been performing all over Europe and Japan with Mr. Jörgen.The cello, violin and viola are members of the Vienna Philharmonic.
Part 1 and Part 2 were performed by the Austrian Ministry of Foreign Affairs in commemoration of the 150th anniversary of the friendship between Japan and Austria. A piano quartet composed by Gabriele Ploy "Sasaakia Karonda (Daipur)" .Gabriele is one of Austria's most respected contemporary composers.In addition, Beethoven "Piano Quartet in E flat major, Op. 16" was performed in Part 1 and Brahms "Piano Quartet in G minor, Op. 25" was performed in Part 2.
The KCG Group incorporates not only specialized skills but also general education subjects into the curriculum to help students gain intellect and sensibility, and conducts music concerts such as classical music, various cultural lectures, and traditional art appreciation events.These events are also appreciated by the general public.