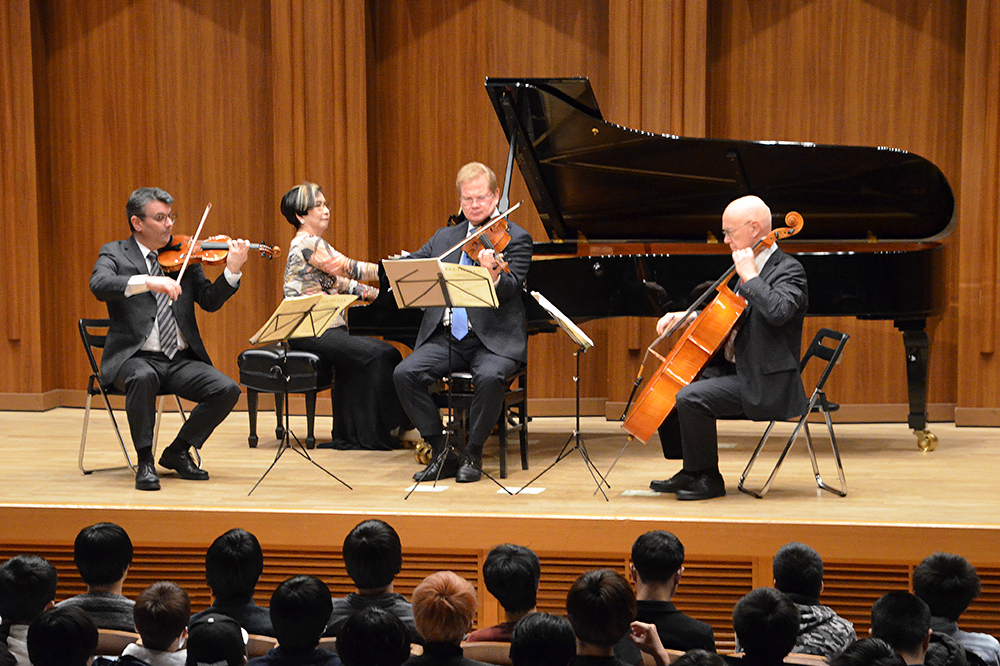 KCG Group including Kyoto Computer Gakuin (KCG) and Kyoto Graduate Institute of Information (KCGI) held "Vienna Piano Quartet Concert" Part 1 and Part 2 by members of Vienna Philharmonic Orchestra and others at KCG Kyoto Ekimae School and KCGI Kyoto Ekimae Satellite Concert Hall on November 21, 2019.The concert is held in commemoration of the 150th anniversary of the Japan-Austria friendship and is supported by the Austrian Embassy and the Austrian Cultural Forum.The hall was filled with students, invited guests, and the general public, who enjoyed performances by top-notch musicians active in the capital of music.
The quartet consists of Yoko Vogt (piano) and Jørgen Vogt (cello), Harald Krumpek (violin) and Robert Bauerstatter (viola).Yoko graduated from the University of Music and Performing Arts Vienna with top honors.Together with Jørgen and others, he has been performing all over Europe and Japan.The cello, violin, and viola are members of the Vienna Philharmonic.
The first and second parts of the concert featured the piano quartet "Sasakia Kalonda (Great Purple)," composed by Gabriele Plooy and commissioned by the Austrian Foreign Ministry to commemorate the 150th anniversary of the Japan-Austria friendship.Ms. Gabriele is one of Austria's most acclaimed contemporary composers.In addition, Beethoven's "Piano Quartet in E-flat major, Op. 16" was performed in the first part, and Brahms' "Piano Quartet in G minor, Op. 25" was performed in the second part.
The KCG Group incorporates general education subjects into its curriculum to cultivate students' intellect and sensitivity as well as specialized skills, and holds music concerts such as classical music, various cultural lectures, and appreciation of traditional performing arts.These events are open to the public for viewing.