One of the menus of the KCGI (The Kyoto College of Graduate Studies for Informatics) public lecture (late), the lecture "Music and Technology" by Mr. Ayame (Kyoto Institute of Information Sciences, Visiting Professor at Kyoto Computer Gakuin) The "Exploring the Future Lifestyle" series began at KCGI Kyoto Main School on November 15, 2014.
The first theme is "carrying sound".Ayame talked about technology for recording and playing music from the days of music boxes and gramophones to the current portable music players and mobile phones.Mr. Ayame has always been interested in the evolution of technology from the standpoint of musicians, and explained what it means.Although it was a long lecture of four periods with a break, the students who attended said, "It was a polite and good class that never gets bored because of the amount of content and the wide range of coverage."I was asked."
The first period of this lecture was held as a public lecture and was also distributed to the Kyoto University of Information Science and Technology Sapporo Satellite and Tokyo Satellite.
Lectures by Mr. Ayame are scheduled to be held on December 7th "From the birth of electronic musical instruments and synthesizers to future musical instruments" and on December 21st "Backstage of technology related to music business".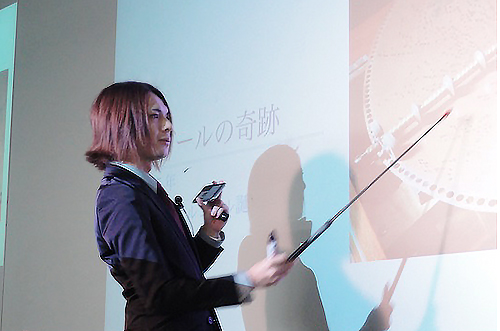 Ms. Ayame from the popular visual band "Matenro Opera" that lectures on "Music and Technology Exploring the Future Lifestyle" = KCGI Kyoto Main School