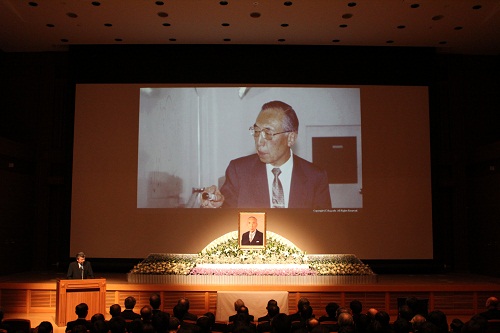 A school funeral and memorial service that quietly sent Hiroshi Sugawara.In addition to the KCG group, many people related to Kyoto University also attended.
Prof. Hiroshi Hagihara, the first president of Kyoto University of Information Sciences, who died on January 8, 2014 at the age of 87, is a world authority in computer development, electronic circuits, information theory, and communication systems research. KCG group such as Kyoto Information Graduate University (KCGI) and Kyoto Computer Gakuin (KCG), Kyoto Information Graduate University Kyoto, Kyoto Information Graduate University Kyoto A school funeral and memorial service was held in the satellite hall in front of the station.In addition to KCGI graduates, students including KCG, faculty and staff, many attended by Dr. Sugawara, including those from Kyoto University, attended and sent Mr. Sugawara quietly.
Prof. Sugawara made a great contribution as a pioneer of Japanese information engineering research, such as the development of the high-speed computer "TOSBAC-3400" (KCG Museum Collection, Information Processing Technology Heritage Certified Device). First IT Professional Graduate School As the first president of KCGI, he was instrumental in promoting education and research activities in a graduate school in a style that did not exist in Japan.
At the school funeral and memorial service, everyone first gave a silence.Wataru Hasegawa, President of KCGI and KCG, and President of Toshihide Ibaraki, KCGI President, Makoto Nagao, former President of Kyoto University (Former Professor Emeritus, Kyoto University, former Director of National Diet Library), Tomoji Tomita, Kyoto The professor / secretary general of the University Materials-Cell Integrated System Center expressed his condolences by looking back on the research and educational activities he has taken with Prof. Sugawara.Subsequently, Noboru Uemura, a professor at Kyoto City University of Arts and a visiting professor at Toho Gakuen University, performed Bach's unaccompanied cello suite as a dedication.
Thank you, Hiroshi Sugawara.And thank you for your hard work.Please sleep peacefully.I wish you all the best.
Hiroshi Sugawara's school funeral and memorial service