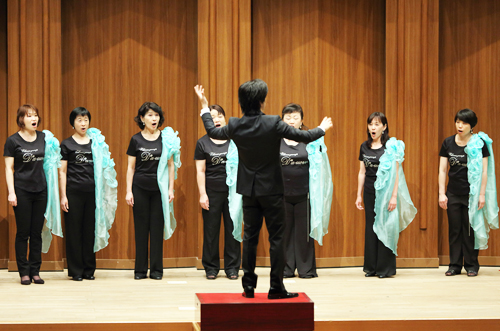 D'a-uovo, a female choir that plays harmonies such as "Dogwood"
On Sunday, July 28, KCG Summer Festa 2013 "of" Let's sing together Was held at the Kyoto Information Graduate University Kyoto Ekimae Satellite Concert Hall.This year's theme is "Peaceful time".There was a lot of participation from children to the elderly, with a clear singing voice and a single venue.
Part 1 is a concert by the female choir D'a-uovo.7 songs including "Kimi wo wo wo te wo" and "Daganuki" were performed.
In the second part, the chorus circle U-Choir of Kyoto Institute of Computer Science, Kyoto Computer Gakuin sang two songs "Please Wings" and "YELL".I tried to sing a part of "YELL" in Chinese.After that, under the guidance of the conductor Yohei Kashimura, all the participants practiced speaking and "folding cranes".On the way, Mr. Shimpei Umehara, who wrote and composed "Folding Crane", expressed his thoughts on this song that has been sung across borders.Subsequently, Mr. Kashimura read the letter of an 80-year-old woman addressed to the husband who died in war, and then about 170 people who participated sang together, and the hall was touched.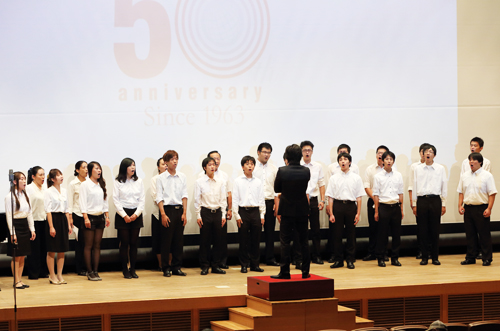 KCGI / KCG's chorus circle U-Choir performs two songs, "Please Tsubasa" and "YELL"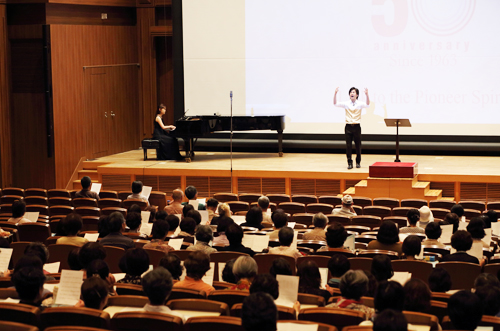 All participants sang "paper cranes" and the hall was touched