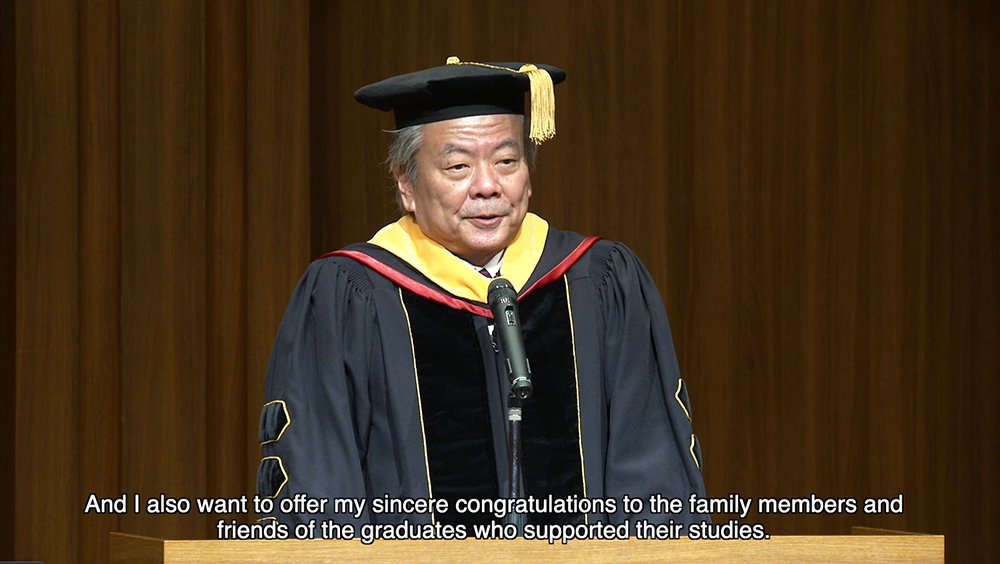 京都情報大学院大学(KCGI)と京都コンピュータ学院(KCG),京都自動車専門学校(KCGM)の2020年度学位授与式・卒業式が2021年3月20日(土),サイバースペースで挙行されました。新型コロナウイルス感染予防のため,学内大ホールでの開催を見合わせ,長谷川亘KCGグループ統括理事長と茨木俊秀KCGI学長が,動画配信を通じた式辞で一人ひとりにお祝いと励ましの言葉を贈りました。式典に続く祝賀会もオンラインで開催されました。先行き不透明な社会情勢にあっても,確かなIT・自動車整備の知識と技術,社会人となる高い資質を身につけた修了生・卒業生たちは,自信と希望に胸を膨らませ巣立ちました。みなさん,誠におめでとうございます。これからのご活躍を心からお祈りいたします。
The ceremony was held in cyberspace for the third time in March and September of 2020, using Zoom meetings and the latest systems to create a ceremony that is unique to a leading-edge IT institution.
式辞で長谷川統括理事長は,なお続く新型コロナウイルス感染症の拡大防止と,修了生・卒業生や関係者の健康・安全を考慮し,式典をサイバースペースで挙行したことを説明。そして「みなさんは本学において,社会の軸となり人々の助けとなるITに関連するさまざまな知識・技術を修得されました。みなさんが学んだこと,経験したことのすべては,これからの人生で苦難に立ち向かいながら未来を切り拓くための,確かな指針になることでしょう。IT分野は今後も目まぐるしく進歩すると思いますが,みなさんであれば進化に即応し,常に時代の最先端を走り続けることができると信じています」と激励。そして「みなさんは5万人以上の卒業生・修了生による人的ネットワーク,いわば『KCGファミリー』の一員でもあります。今後社会がどのように変化
茨木学長は,「この1年間, 教育機関ではオンライン授業, 企業ではリモートワークの経験を通してデジタル化が進み, 問題点と共に利点も広く認識されました。アフターコロナの社会では, DX(デジタルトランスフォーメーション)という言葉に代表される変革が, 確実に進行するでしょう。そこで活躍するにはICTの知識が不可欠です。みなさんは本学で,アフターコロナの時代のカギとなる, デジタル技術およびネットワーク技術を学んでこられました。本学で獲得した知識は, 卒業後の活動において大変有力な武器になることは間違いありません」と指摘。そのうえで「時代が変化するときには,大きなチャンスが生まれると言われています。ICTの世界は大変変化が速いですから, 本学で得た知識のみに安住しないで, 常に新しい知識を吸収するという態度を忘
On behalf of the graduating students, Mr. Sawada of KCG's Department of Information Science said, "We graduates will use what we have learned and experienced at this university to walk toward our own dreams and goals from today, and we will never forget the pioneering spirit of this university, and we will strive and grow to build a more prosperous society.
At the ceremony, students and graduates who have achieved outstanding academic and research results and have been selected for the Grand Prize and Prize for Excellence were announced, and presented with a certificate and a commemorative gift.
After the ceremony, an online celebration was held, where graduates and faculty members joined the "celebration venue" from their respective locations and burst into smiles at the raffle of graduation gifts donated by companies and other related organizations. Using Zoom's breakout room function, the venue was divided into small groups, where each group reminisced and discussed their dreams for the future.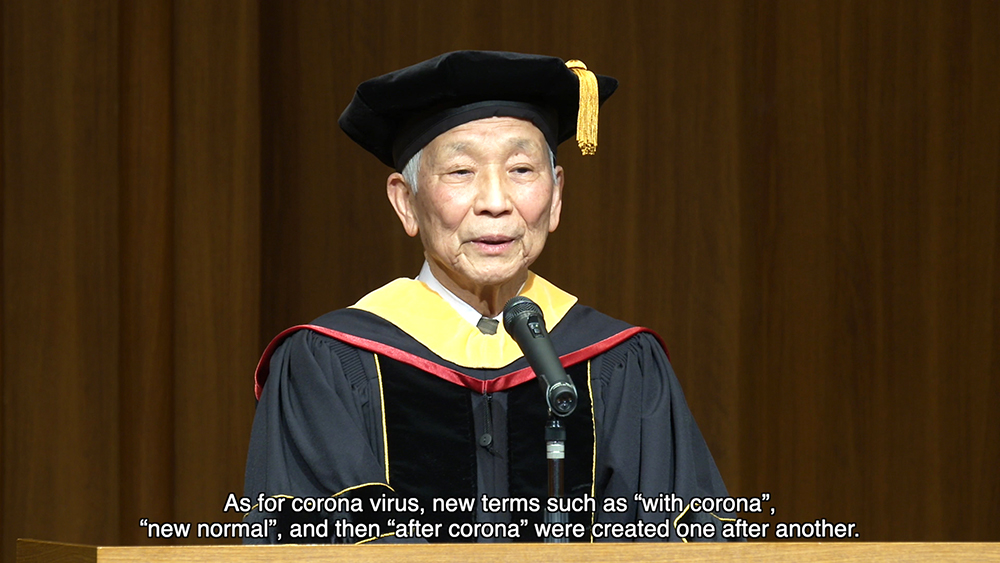 ◇ ◇ ◇ ◇ ◇ ◇ ◇ ◇ ◇ ◇ ◇ ◇ ◇ ◇ ◇ ◇ ◇ ◇ ◇ ◇
KCGグループは新型コロナウイルス感染症対策として,授業などの学校業務をサイバースペースに移転しています。2020年度秋学期の授業は,KCGI,KCGはeラーニング(インターネットにより自宅から受講できるシステム)形式で行うとともに,対面とオンラインのどちらでも受講できるハイブリッド型の授業も順次導入し,対面での受講を希望する学生の要望にも応えています。課題制作等については,予約制で実習機器を使用できるようにしたり,備品等の貸し出しを行うなど,学生の学修機会を確保しています。また,学習上の不安を解消できるよう,「オンライン」または「要望に応じて対面」で個別の質問や面談にも応じる体制を整えています。以上の措置は,校舎への入館者数,教室内の人数を制限し,学生同士の十分な距離を確保したうえで,館内の
In addition to the above, we also provide information on infection prevention and consultation services for students who feel unwell, and encourage students to contact the school office via email if they have any concerns.
With a few exceptions, office work on campus is also conducted in cyberspace, and faculty and staff are teleworking in principle, and these measures will be continued in fiscal 2021 while keeping a close eye on the infection situation and government announcements.