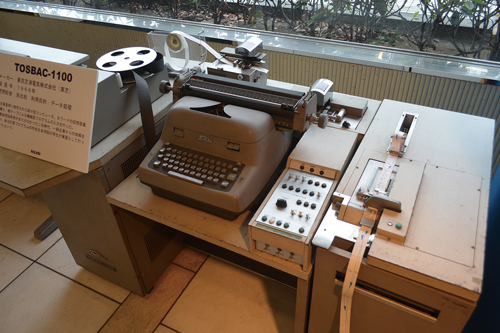 "TOSBAC-1100D" selected by the Information Processing Society of Japan as "Certified Equipment" in 2015 for "Information Technology Heritage" = Kyoto Station School KCG Museum
The computer "TOSBAC-1100D" manufactured by Tokyo Shibaura Electric Co., Ltd. (currently Toshiba), which is stored and exhibited by the KCG group such as Kyoto Information Graduate University (KCGI) and Kyoto Computer Gakuin (KCG) The 78th National Convention of the Society was selected by the Information Processing Society of Japan as the "Certified Equipment" of 2015 for "Information Technology Heritage" and held on March 10, 2016 at Keio University Hiyoshi Campus in Kohoku-ku, Yokohama So, Akira Hasegawa, President of Kyoto Computer Gakuin, received a certificate from Tatsuo Tomita, Chairman of the Information Processing Promotion Organization of the Society."TOSBAC-3400" and "OKITAC 4300C system" which received the first national certification in 2008 from the University, "NEAC-2206" in 2010, "NEAC system 100" in 2011, "MZ-" in 2012 This is the seventh model following the "80K" and "PDP-8 / I" in 2014.
"TOSBAC-1100D" was developed and announced in 1964, and KCG Shohoku has been using it for computer education since 1970.The association said that it was one of the early office computers, a valuable rental equipment that was easy to introduce even for small and medium-sized enterprises, and reduced costs and secured a working environment. I am evaluating.
The KCG Group preserves the past computers, etc. that have been used in education, practical training and research for more than 50 years since its establishment as the "KCG Museum" and makes them widely available to the public.In 2008, the KCG Museum was certified by the Information Processing Society of Japan as the "Distributed Computer Museum" for the first time in Japan.In order to pass on the technology that supported Japan's high-growth to the next generation, we are planning to develop the Kyoto Station School as a "computer museum" and make it widely used as a place for research and education. , Kyoto Prefecture, Kyoto City, academic societies, educational circles, companies, etc. are called for support and cooperation.
TOSBAC-1100D
One of the TOSBAC-1100 series models developed by Tokyo Shibaura Electric Co., Ltd.This series was positioned as an early office computer. The first model was announced in June 1963, and the TOSBAC-1100D model was announced the following year in April 1964.
A so-called external program method was adopted, in which a program punched in paper tape was read and executed one instruction at a time. Transistors, diodes, and magnetic cores were used as the main internal elements.The device configuration includes a typewriter, a processor, a program reader (paper tape reader), a data punch (paper tape punch device), and a data reader (paper tape / edge card reader).
Aiming for ease of introduction in small and medium-sized enterprises, the monthly rental fee was set at 77,000 yen, taking into account the labor costs of one clerk at the time.In addition, the usage conditions were wider than that of a general computer, the temperature was 20 ± 15 ° C, the power supply voltage was 100 ± 10 volts, and the frequency was 50 Hz / 60 Hz.
~ From "Information Processing Technology Heritage 2015" published by IPSJ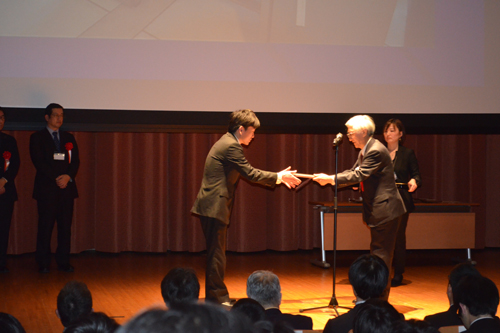 Director Akira Hasegawa (left) of Kyoto Computer Gakuin who received the certificate of "Information Technology Heritage" = March 10, 2016, Keio University Hiyoshi Campus, Kohoku Ward, Yokohama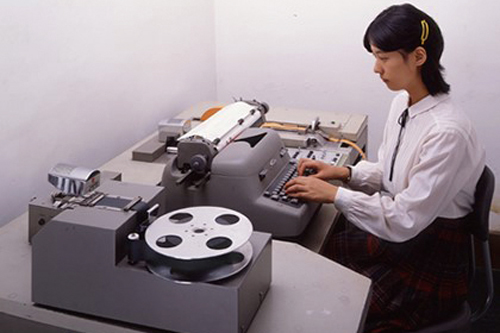 It has been used for computer education since 1970 at KCG Shohoku School