The Kyoto Informatization Seminar, co-sponsored by the Kyoto Prefectural Small and Medium Enterprise Technology Center and supported by Kyoto Sangyo 21, the Kyoto Institute of Advanced Technology, the Kyoto Chamber of Commerce and Industry and the IT Consortium Kyoto, was held at the Kyoto Station Satellite Hall of the Kyoto Institute of Information on October 17.Members of the association, students of KCGI and KCG, and the general public attended the lecture.
Mr. Isobe introduced himself and traced his own history up to the point of starting his own business, and then went on to the main topic. He first emphasized that system integration (SI, a service that provides all the necessary operations from planning to construction and operation of information systems) is changing drastically with the emergence of big data.He cited the following as examples of changes that could be brought about: business models (providing new services to customers), work styles (reducing management costs and resource waste through the use of IT in the company), and labor and motivation (making it possible to enforce rules on the use of IT and evaluate personnel based on labor productivity).
With the spread of smartphones and tablets, the popularity of social media, the evolution of corporate IT through the evolution of the cloud, the spread of automatic data collection using sensors, and the emergence of on-demand services using the Internet, the collection of big data is becoming possible in earnest.The current situation is that we don't fully understand how to use big data effectively," he pointed out.He touched on regional revitalization through the effective use of big data, saying, "I would like you to connect big data to business by utilizing the cloud.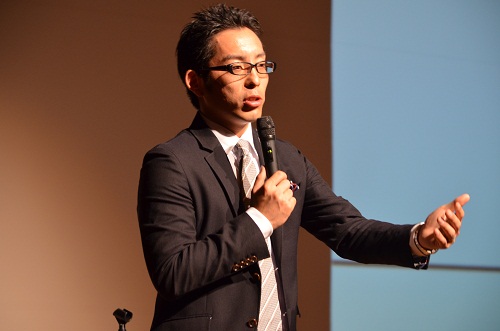 Mr. Ichiro Isobe, Representative Director of F-Beans System Agency, Inc. gives a lecture titled "How to Use Big Data to Revitalize Your Business.