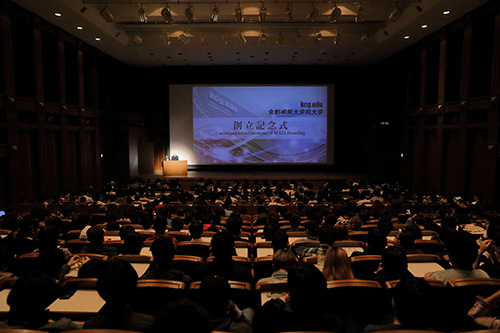 Satellite hall in front of KCGI Kyoto Station where the 14th KCGI Foundation Ceremony was held
Kyoto Information Graduate University (KCGI) will celebrate its 14th anniversary on November 1, 2017.Prior to this, on October 27th, a commemorative ceremony was held at the Satellite Hall in front of the KCGI Kyoto Station, and students and faculty members all celebrated and vowed to make a further leap forward.At the ceremony, KCGI President Toshihide Ibaraki first features two aspects: the global aspect of international students gathering from all over the world, mainly in Asia, and the domestic IT education institution by both Sapporo and Tokyo satellites. I have mentioned that there are two factors that have led to an increase in the number of students in recent years.
Next, Professor Yutaka Takahashi of KCGI gave a lecture on "energy sophistication through ICT" on energy efficiency and risk reduction that are progressing in various areas of society through the use of ICT.As an example, Professor Takahashi picked up smarter electricity and car traffic.For electricity, by attaching a "smart meter" that can measure the amount of electricity used every 30 minutes to each household, it is possible to grasp and analyze information on how electricity is used in detail, formulate a power generation plan and demand for electricity. A system that can be used for adjustment, etc. is being built, and in automobile traffic, the inter-vehicle communication that enables the exchange of information between cars and the driving support system are linked to reduce the number of accidents and reduce congestion. We introduced what is expected.Finally, for the students who filled the venue, "Service industry reforms and innovations are making further progress, and IT personnel are expected to continue to suffer a significant shortage going forward.To become an excellent engineer, it is important to develop curiosity, raise interest in different fields, and develop a thinking ability that allows you to see things from a bird's-eye view.Please do your best, "he sent a hot ale to future IT engineers.
KCGI inherited the pioneering spirit of Kyoto Computer Gakuin (KCG), Japan's first computer education institute founded on May 1, 1963, and opened as Japan's first IT professional graduate school.Graduated from the Graduate School of Applied Information Technology. After completing the Department of Web Business Technology, the Master of Information Technology (professional degree), the highest degree in the IT application field, is obtained.In the academic field, in addition to the existing business IT courses, system development courses, and content business courses, in response to the reality that IT application fields are diversifying, there are four areas: medical health IT, agricultural IT, marine IT, and tourism IT. A next-generation industry course consisting of programs was established in FY2016, and a media collaboration course consisting of two programs, communication systems and educational media, was established this year.The enrollment capacity has been increased from the initial 80 people (160 people in total) to 240 people (480 people).We have sent talented human resources with knowledge and technology related to IT, management, and content to the IT industry in Japan and around the world.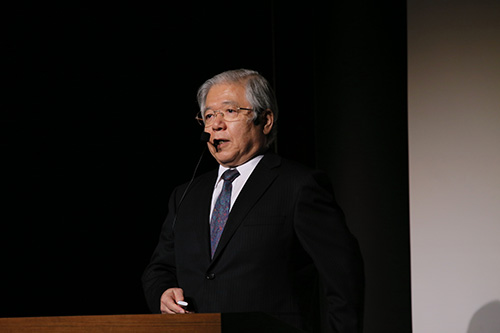 Prof. Yutaka Takahashi from KCGI giving a talk on how to make society smarter with ICT