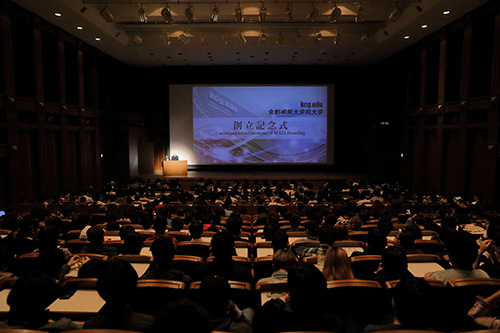 KCGI Kyoto Ekimae Satellite Main Hall where the 14th KCGI Inauguration Ceremony was held
The Kyoto College of Graduate Studies for Informatics (KCGI) will celebrate its 14th anniversary on November 1, 2017.Prior to the ceremony, a commemorative ceremony was held on October 27 at the main hall of KCGI Kyoto Ekimae Satellite, where students and faculty members celebrated and vowed to make further progress at KCGI.At the ceremony, Professor Toshihide Ibaraki, President of KCGI, began by describing the characteristics of the school as having two aspects: a global aspect that attracts international students from all over the world, especially from Asia, and an IT educational institution for the domestic market with satellites in Sapporo and Tokyo.
Prof. Yutaka Takahashi of KCGI followed with a lecture titled "Making Society Smart with ICT" on energy efficiency and risk mitigation, which are advancing in various areas of society through the use of ICT.Professor Takahashi cited smart power and automobile transportation as examples.In the field of electric power, he introduced that a "smart meter" that can measure electricity consumption every 30 minutes is being installed in each household, and that a system is being constructed that will allow detailed understanding and analysis of information on electricity usage for use in power generation planning and electricity demand adjustment, etc. In the field of automobile traffic, he introduced the possibility of reducing accidents and traffic congestion by linking "inter-vehicle communication" that allows information exchange between vehicles with driving support systems.In closing, he said to the students who filled the hall, "Reform and innovation in the service industry will continue to progress further, and a significant shortage of IT personnel is expected in the future.To become an excellent engineer, it is important to develop curiosity and interest in different fields, and to cultivate the thinking ability to see things from a bird's eye view.I wish you all the best," he said, sending enthusiastic encouragement to the future IT engineers.
KCGI was established on May 1, 1963 as Japan's first IT professional graduate school, inheriting the pioneering spirit of Kyoto Computer Gakuin (KCG), the first computer education institution in Japan.The Graduate School of Applied Information Technology offers a major in Web Business Technology, and upon completion, students are awarded a Master of Information Technology (Professional), the highest degree in the field of IT applications.In the academic field, in addition to the existing Business IT Course, System Development Course, and Contents Business Course, the Next Generation Industry Course, consisting of four programs in Medical and Health IT, Agricultural IT, Marine IT, and Tourism IT, was established in 2016, and the Media Correlation Course, consisting of two programs in Communication Systems and Educational Media, was established this year in response to the reality that the application fields of IT are diversifying.The admission capacity has also been increased from the original 80 (total capacity of 160) to 240 (total capacity of 480).We have been sending talented people with knowledge and skills in IT and management, as well as content, to the IT industry in Japan, Asia, and the rest of the world.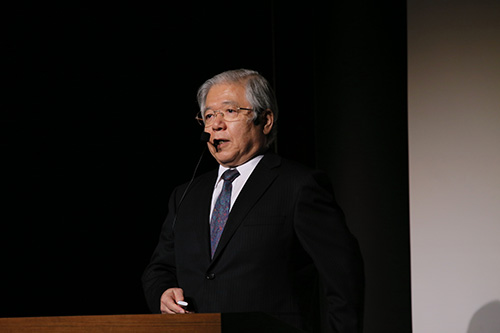 Professor Yutaka Takahashi of KCGI giving a lecture on making society smarter through ICT