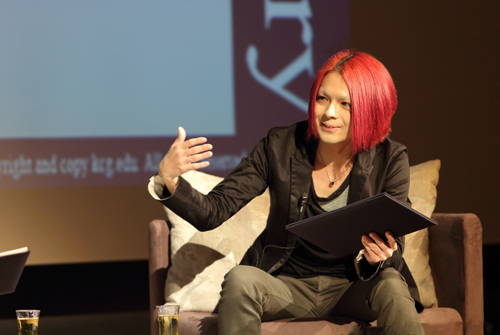 Ayame from popular band "Skyen Opera" that talks about music and IT
In commemoration of the 50th anniversary of Kyoto Computer Gakuin (KCG) and the 10th anniversary of the Kyoto Information Graduate University (KCGI), a talk live on the theme of "I and IT" was held on April 14 at KCG Kyoto Station School Did.
This time, as the first of the talk live "I and IT" series, we invited Ayame, the keyboard manager of the visual band "Skyen Opera," popular with young people. Mr. Ayame talked about the relationship between music, computers, and IT under the title of "Chemical Society and Music".
Many of Ayame's fans, including junior and senior high school students and members of society, gathered to listen to the role of IT in their daily music activities.
Asai says that his father was an engineer for audio equipment, and that his house had various equipment.He helped with such an environment and started DTM (desktop music) in junior high school, and also created a system that could search and store the CDs he had.During the Keio University Faculty of Environment and Information Studies (SFC), he also studied information-related matters.Since then, it has gained popularity through music activities using IT, and has now reached the present.In the lecture, Ayame said to KCG group students that "learning at school is not technology."Technology and knowledge are something you learn and learn by yourself," emphasizes, "What teachers teach at school is how to use knowledge.They are taught how to make knowledge wisdom.Anyone can make a change with just one PC.The hints of the big hits are asleep, so students are encouraged to cut the world from the top and make a change with an interesting idea. "
The main lecture contents are as follows.
・ PC is more interested than music
"I lost my father when I was 3 years old, and since then I lived with my mother.I loved touching computers since I was an elementary school student, and I used it quite often when I became a junior high school student.The person who was interested in the personal computer was ahead of the music.By the way, I started playing the keyboard when I was in middle school. ''
・ SFC wants to study computers
"I went to Keio University SFC because I wanted to study computers.But I got into every genre, not only IT-related, but also cognitive science, economics, Western art, etc. "
・ The longing is Tetsuya Komuro
"When I was in middle school, I was longing for Tetsuya Komuro.Using a computer, playing a synthesizer and singing was cool.I formed a band when I was in college, and my charge was "Making music through programming."I love programming using the C language.I feel like I'm making the world myself.It feels like a god.However, I think that it was one more about technology.There are many people who are good at programming.There are some amazing people who finish what I make over 1000 lines in less than 20 lines. "
・ Same conclusions for music and academics
"When I was in college, I wanted to work on music.I had an interest until then, but I was thinking about going on the academic path.Then I started to feel that the academic world and the music world are very similar.Pursue the truth of the world.The conclusion to arrive is the same. ''
・ The skyscraper opera is surprisingly analog
"My band is surprisingly analog.When someone brings the skeleton of the song, the vocal first sings while playing the guitar.And everyone will write chord progressions on the whiteboard.It consists of rust, intro, etc. and plays all at once.There is no IT at all.It's not that there are no songs made on a computer.After writing on the whiteboard, make full use of IT.First, take a picture of the board, record the sound on your iPhone and place it on the cloud.Members download and share data at their homes. "
・ Activities that combine learning and music
"The number of artists increased with the passage of time in 2000 and 2010, but it is characterized by the appearance of people with multiple specialized fields.Music has also entered an era of diversification.If I replace it, I would like to study various things such as economy and music, Western culture and music, and do activities that combine with music. ''
・ Required thinking and application skills
"Learning at school is not technology.Technology and knowledge are learned and learned by yourself.IT continues to evolve and new things are coming out.So, if you can't remember if you can't teach, it's fine now, but even if you get a job, you will be left behind.Again, be sure to learn the skills yourself.So why come to school?The teacher teaches how to use knowledge.It is an application.They are taught how to make knowledge wisdom.Although it is extreme, programming can be done by children.What you do with it is important.We need creativity and applied skills. "
・ Challenge without fear of failure
"Students make software for about 3 months and submit it to the teacher. Even if it is a major failure, no one will lose.Students can challenge without fear of failure.If this is a member of society, it will be difficult.It will cause great damage to the company. "
・ Typical addiction
"Actually, I am a typical internet / mobile phone addiction, and this is what I have professed.When you get on a plane, you can't be afraid to land. "
・ Hidden potential
"My mother bought a cell phone with a camera that was just released.At the time, the impression that "this camera, I can't use it" was dominant.I bought a mobile phone with a TV.I was happy that I could put TV in my pocket, but the people around me said, "I can't see it".But now it 's a big difference.`` Products that seem to be useful sometimes have hidden hidden potential for innovation. ''
・ Big failure story
"During a recording, I accidentally put a completed song in the trash box of my computer.It was my mistake, human error."I will not return!].When I found the worst result, my face was pale and I sweated away.After that, I rushed to remake without sleeping.I will forget the song over time.I finally made it, but I think that what I lost was better than what I lost.It was good that it happened to be my job.I'm surprised to think that it belongs to someone else.With that lesson in mind, now we have a quadruple backup, including USB memory and cloud, when we can make a song. "
・ Wear wearable
"Mobile phones are an extension of the human senses.In addition, in recent years, eyeglass-type smartphones such as Apple's eye watch and Google Glass will appear, and something more familiar to you will come out.It 's wearable.Humans become cyborgs.Along with that, there will be more and more new lifestyles and ways of thinking "