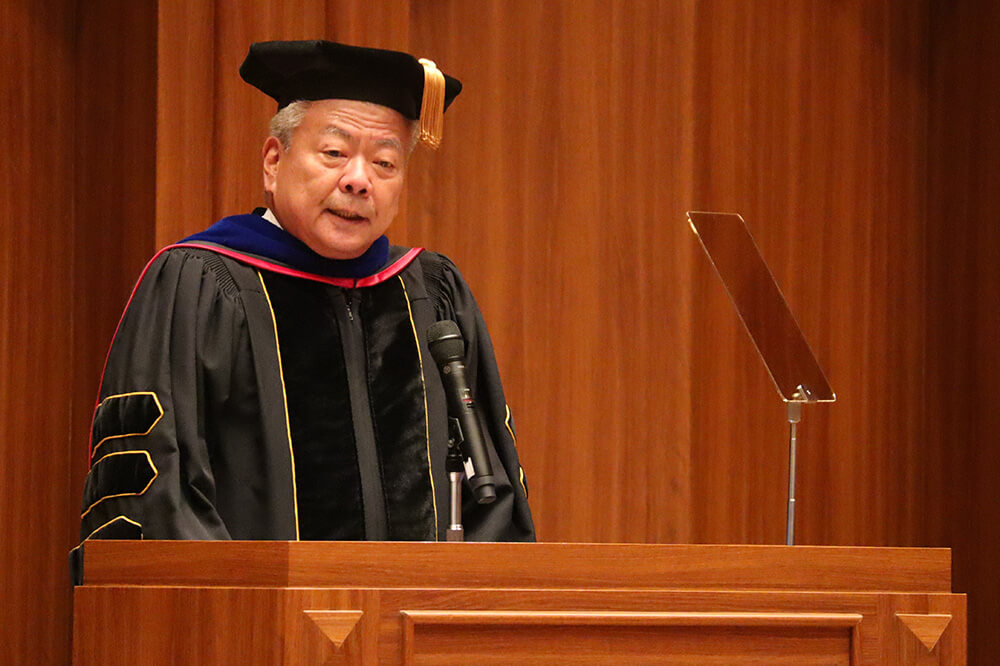 On Saturday, March 18, 2023, Kyoto Computer Guraduate Institute (KCGI), Kyoto Computer Gakuin (KCG), Kyoto Japanese Language Training Center (KJLTC), and Kyoto College of Global Motor Vehicles (KCGM) held their 2022 degree conferment and graduation ceremonies in a hybrid format, allowing participants to choose between cyberspace and face-to-face.The event resumed in the main hall on campus, which had been suspended to prevent the spread of the new coronavirus, and KCG Group President Wataru Hasegawa and KCGI President Toshihide Ibaraki personally offered their congratulations and words of encouragement to the graduating students and graduates.Although the end of the corona is still uncertain and the social situation is unstable, the graduates, who have acquired solid knowledge and skills in IT and automobile maintenance, as well as high qualities for working adults, left the school on a good spring day, the 60th anniversary of KCG, with their hearts filled with pride and hope.Congratulations to all of you!We sincerely wish you the best in your future endeavors.
The in-person ceremony will be held in the main hall on the 6th floor of KCG Kyoto Ekimae Campus and in the large lecture hall of the new Hyakumanben Campus of KCGI Kyoto Main Campus, which was just completed in the summer of 2022.Both venues were connected in real-time online.The new building's main lecture hall, which was used for the first ceremony, has a staircase that spans two floors, the first floor and basement, and has the size, specifications, and facilities to accommodate lectures, concerts, and other multi-purpose use.
In his address at the ceremony, Chancellor Hasegawa said, "You have acquired a variety of IT-related knowledge and skills at this university, which will serve as an axis of society and help people.Everything you have learned and experienced will serve as a solid guide to help you face the hardships of your future and carve out a future for yourselves," he added.He added, "Each of you is a member of the KCG family, a human network of more than 50,000 graduates and alumni.Many of our seniors are active in various fields of society.I sincerely hope that no matter how society changes in the future, you will continue to deepen and cherish the bonds among graduates and alumni, transcending differences in nationality and culture, and that you will enrich your lives by cooperating and helping each other, valuing not only your horizontal ties but also your vertical ties as seniors and juniors.
President Ibaraki, referring to the situation of the new coronavirus infection, said, "Even if this pandemic is over, our lives will not be restored to normal.There are various names for this, such as with-corona, after-corona, and new normal, but all of these suggest that society is essentially changing.He pointed out that "ICT advances are expected to play a greater role there than ever before," and requested that "those of you who have acquired ICT knowledge at this university, as parties to DX (Digital Transformation), must think and act concretely on your own.He added, "Times of change are also times of great opportunity.By sharpening your curiosity, you will not miss the changes of the times, and you will actively challenge the opportunities that come your way with a free mindset.I sincerely wish you all success in your endeavors.
On behalf of the graduates, Mr. Ichii of KCG Game Department said, "I entered the Game Department of Kyoto Computer Gakuin with the intention of becoming a game creator.Over the past four years, we have learned how to plan and conceive games for users, and we have developed games that give shape to these plans by ourselves, one by one.It was an invaluable experience for me to see these daily efforts come to fruition and finally win the prestigious KCG AWARDS for the second year in a row.Tomorrow, we graduates will leave for the paths of our own choosing with the lessons we have learned and the experiences we have gained.I will always remember the pioneering spirit of our university, maintain a constant attitude of learning, overcome the difficulties I will encounter in the future, and work to enrich society," he said in his graduation address.
During the ceremony, the names of the graduates and alumni who had achieved outstanding academic and research results and were selected for the Grand Prize and the Excellence Award were read out.Also announced was the presentation of the President's Special Award to Mr. Toyoda of the KCG Game Department, who has won the Grand Prize and the 60th Anniversary Special Award at the KCG AWARDS for two consecutive years, and has also been very successful in off-campus contests.Each will receive a certificate and a commemorative gift.
After the ceremony, the attendees moved to the classrooms where they were handed the "Master of Information Technology (Professional)" degree, which is awarded to KCGI graduates, and diplomas and title certificates for KCG and KCGM graduates.