On April 22, a special lecture titled "Marine IT now and in the future -Message from Furuno Electric" was given by Furuno Electric at the main hall of Kyoto Station Satellite of Kyoto Institute of Information Sciences.
Furuno Electric is a company that manufactures and sells electronic equipment for ships and industry, and in 1948 it succeeded in commercializing the world's first fish finder.Our head office is located in Nishinomiya City, Hyogo Prefecture.
In the lecture, Mr. Yasushi Nishimori of Furuno Electric Technical Research Institute firstly introduced the background of Furuno Electric's success in commercialization of fish finder under the title of "Research and Development of Furuno Electric: From the birth of fish finder to the present and the future".Mr. Kiyotaka Furuno, the founder of the company, introduced a number of interesting episodes. For example, he believed that the body of a fish should reflect ultrasonic waves, despite the common belief at the time that the body of a fish does not respond to ultrasonic waves.
Mr. Nishimori also introduced that there is a movement in Japan to introduce an IQ system to allocate the amount of fish catch to each vessel from the viewpoint of fishery resource protection. In such a case, the demand for fish detection systems that can identify specific species and length of fish will increase, and we are actively working on the development of fish detection systems with higher accuracy.
Next, Mr. Naoshi Imasaka of the Technical Research Institute introduced the development work at Furuno Electric, starting with the design of both hardware and software, followed by product prototyping, sea trials for quality inspection, and field tests, using actual examples.
He also explained the importance of "open innovation," which means actively seeking partners and ideas from outside the company, in order to improve performance in areas where the company is not strong.
In conclusion, Mr. Imasaka described the characteristics of human resources who are suited to research and development at Furuno Electric as follows, referring to the initials of KCG.K: I like to think, C: I like to communicate, G: I am patient.
The KCG Group will focus on education in marine IT with the cooperation of Furuno Electric, which signed an industry-university collaboration agreement with the Group in 2015.Starting this fiscal year, KCG's Applied Information Department has established a full-time 3-year marine IT course, and The Kyoto College of Graduate Studies for Informatics (KCGI) 's next-generation industry course has established a marine IT program, and is striving to develop human resources who can lead this field. The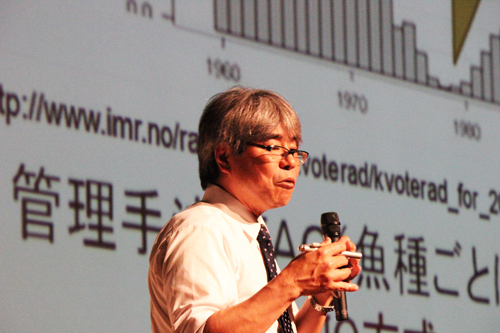 Yasushi Nishimori talks about the development of the fish finder.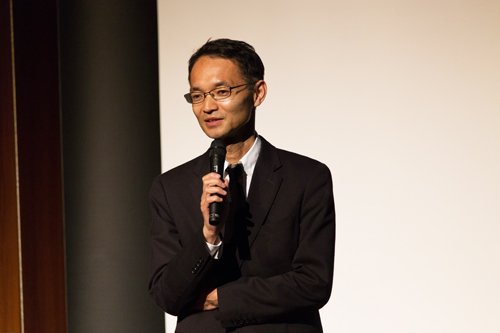 Mr. Naoshi Imasaka talks about the development work flow.