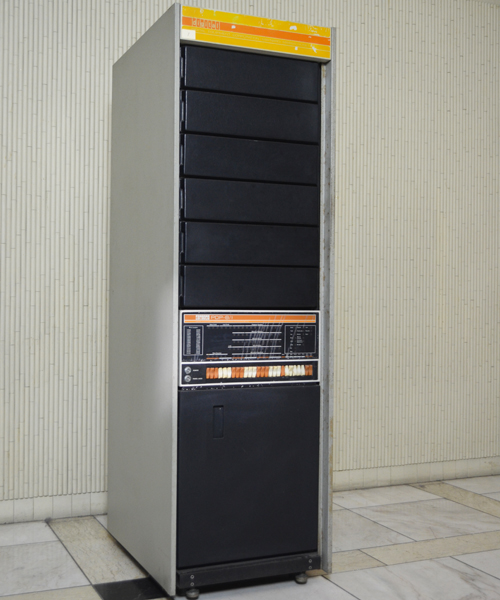 PDP-8/I" certified as a Heritage of Information Processing Technology by the Information Processing Society of Japan (preserved and exhibited at KCG Kyoto Ekimae School)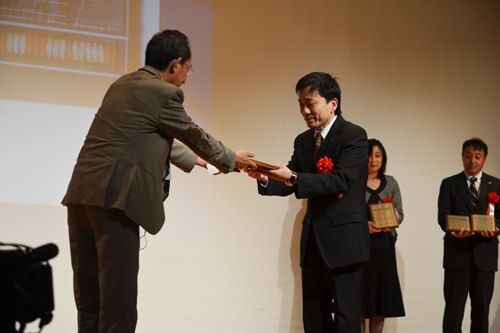 Chairman Akira Hasegawa receives a certificate of Information Technology Heritage from Chairman Kitsuregawa.
The 77th National Convention of the Information Processing Society of Japan (IPSJ, President: Masaru Kitsuregawa) was held on March 17-19, 2015, at the Yoshida Campus of Kyoto University. The "PDP-8/I" mini computer manufactured by Digital Equipment Corporation (DEC, USA) and preserved and exhibited by The Kyoto College of Graduate Studies for Informatics (KCGI) and Kyoto Computer Gakuin (KCG) in the KCG Museum in Kyoto Station, was recognized by the Society as an "Information Processing Technology Heritage.This will be the sixth aircraft legacy from the University.In addition, Dr. Yasuko Hasegawa, Dean of KCG, gave a lecture titled "Progress in Computer Education Creation and Dissemination.As a gold sponsor of the conference, the KCG Group set up an exhibition booth in the venue to introduce the KCG Museum, which was the first in Japan to be certified as a "distributed computer museum" by the conference in 2008, and the group's activities.Faculty members served as guides and explained about the exhibited equipment.
The PDP-8/I, recognized as a "Heritage of Information Processing Technology," is believed to have been manufactured in 1971.After being exhibited at the DEC Museum at DEC Corporation's Akiruno Plant and at the National Institute of Informatics, KCG accepted the request from the National Institute of Informatics to continue storing the equipment, and in December 2010, the equipment was brought to the KCG Museum for preservation and exhibition.The reason for the recognition is that "the PDP-8/I is the model that created the category of mini-computers.The company states that this is due to "the disappearance of the manufacturing company and the small number of items preserved.At the certification ceremony, KCG President Akira Hasegawa received the certificate.So far, the TOSBAC-3400 and OKITAC 4300C systems (both first nationally certified in 2008), the NEAC-2206 (2010), the NEAC System 100 (2011), and the MZ-80K (2012) have been certified at the KCG Museum.
The lecture by Dean Hasegawa was attended by many members of the society.He introduced KCG's more than 50 years of educational activities based on its pioneering spirit, its efforts to preserve computers used on campus in order to pass on the technology that supported Japan's rapid economic growth to the next generation, and its IDCE (overseas computer education support activities), in which used computers are sent to developing countries to train local technical instructors, with some episodes from those days.
Overseas Computer Education Support Activities (IDCE)
http://www.kcg.ac.jp/school_info/idce.html
KCG Computer Museum
http://www.kcg.ac.jp/museum/computer/index.html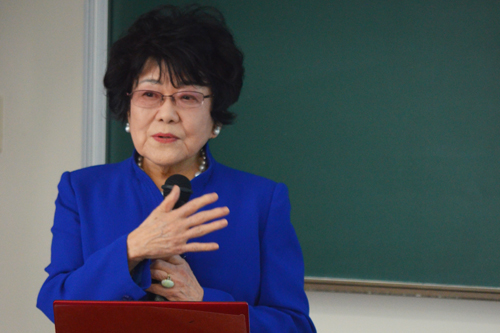 Dr. Yasuko Hasegawa, Dean of the College, gives a lecture titled "Progress in the Creation and Dissemination of Computer Education.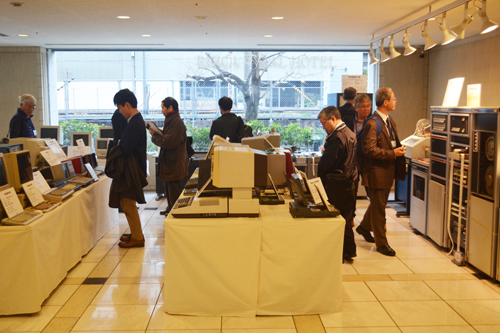 Many people participated in the tour of the KCG Museum