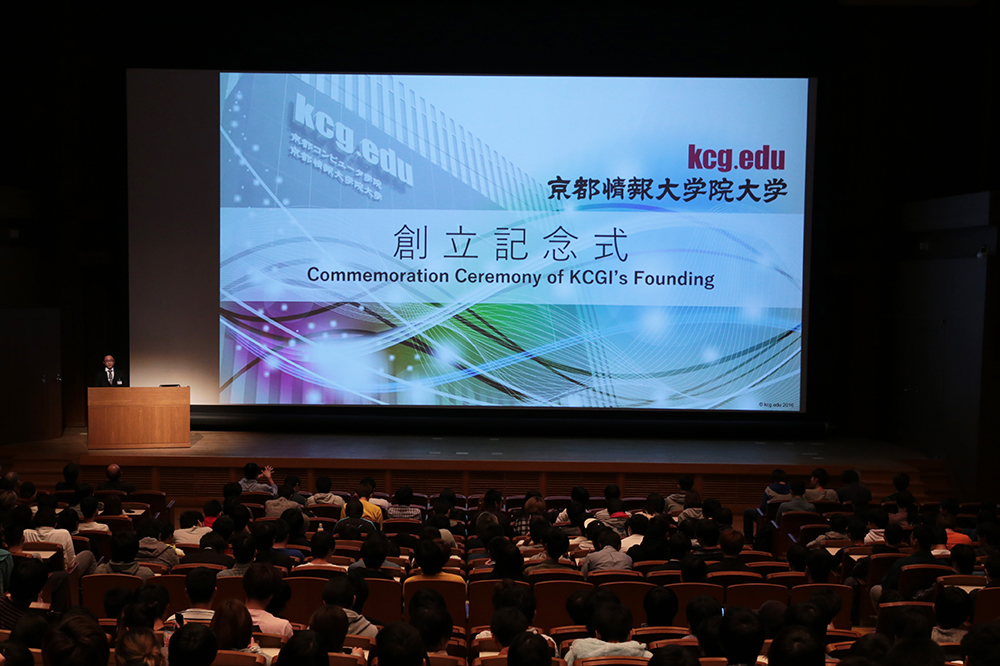 Kyoto Information Graduate University (KCGI) celebrated its 16th anniversary on November 1, 2019.On the same day, a commemorative ceremony was held at the KCGI Kyoto Ekimae Satellite Grand Hall, and all students and faculty members celebrated and promised further development.Toshihide Ibaraki, President of KCGI, said in a ceremony: "In recent years, students from all over the world, including Asia, have been accepted and are becoming global graduate schools.On the other hand, Sapporo Satellite and Tokyo Satellite are established in order to develop local IT education.We are preparing to expand education not only in Japan but also overseas, "he said.
Next, Vice President / Professor Doichi Tsuchimochi gave a commemorative lecture entitled "Learn new ways to learn at Kyoto Information Graduate University".Professor Tsuchimo completed a master's degree and a doctoral degree at Columbia University Graduate School of Education after completing an undergraduate and master's degree at California State University in the United States.He is also a doctor of education at the University of Tokyo.He has been a professor at Hirosaki University and Teikyo University, a visiting professor at Victoria University in Canada, the University of South Florida in the United States, and Nagoya University.He is an authority on pedagogy, and since coming to KCGI last year, he has been working energetically to bring new teaching methods to the University.
Professor Tochimo gave a lecture, "Einstein says," I will not teach students.It just gives students an environment to learn. "My educational philosophy is the same, and I think it is important to prepare an environment for creating classes with KCGI students.I believe that teachers can learn and grow like students. "Professor Dochimo introduced the change in the teaching paradigm in the United States, in which the teachers taught in the classroom and changed so that students can discuss and advance learning in groups. Learning begins with knowing what you are learning.You need to know that how you learn and how you look at it varies from person to person.That leads to the development of autonomous learners. "He said, "Learning how to learn" may not lead directly to university grades, but there is no doubt that it will lead to grades in society and life.
KCGI inherited KCG's pioneering spirit, Japan's first computer education institution founded on May 1, 1963, and opened as Japan's first IT professional graduate school.Graduated from the Graduate School of Applied Information Technology. After completing the Department of Web Business Technology, the Master of Information Technology (professional degree), the highest degree in the IT application field, is obtained.In academic fields, the curriculum has been reorganized significantly since FY2018.In FY2019, as an enrollment course model ▽ ERP ▽ Business data analytics ▽ IT entrepreneurship ▽ Web system development ▽ Network management ▽ IT manga / animation ▽ Sightseeing IT- as an industrial field course model ▽ Agriculture ▽ Marine ▽ Medical and health ▽ Content marketing ▽ Education ▽ Fintech- was established, and students can learn efficiently and step by step by selecting and combining models according to purpose and intention.The enrollment capacity has increased from 80 at the beginning of the school (total of 160) to 480 (840) in 2019.We have sent excellent human resources with knowledge and technology related to IT, management, and contents to the IT industry in Japan and around the world.