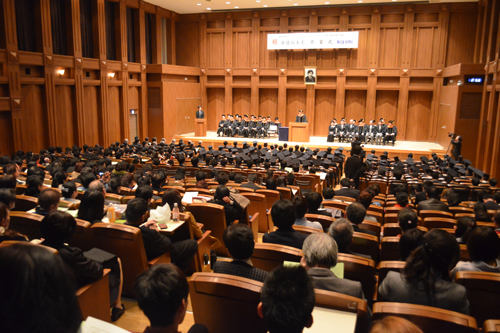 Graduation ceremony for the 2014 Kyoto University Graduate School of Information Technology, Kyoto Computer Gakuin, Kyoto Japanese Language Training Center, and Kyoto Automobile College
The graduation ceremony for the 2014 Kyoto Information Graduate University (KCGI) degree, the Kyoto Computer Gakuin (KCG) and Kyoto Japanese Language Training Center (KJLTC), and the Kyoto Automobile College (KCGM) were held on March 21, 2015. Kyoto Information Graduate University was held in the Kyoto Station Satellite Hall.While the shortage of IT human resources was screamed, the friends who had studied together at the KCG group, with technology and knowledge, fluttered strongly into society.
Many parents visited the ceremony and filled the hall.First, Toshihide Ibaraki, President of KCGI, awarded the degree of "Master of Information Technology (Professional)" to graduates.Mr. Tsuji, the president who received the representative, has decided to work for IBM China.On the other hand, KCG graduates were awarded diplomas by Shohoku, Kamogawa and Kyoto Station principals, KJLTC graduates by Kamogawa school principals, and KCGM graduates by the same principal.After this, KCGI / KCG / KCGM's best award, award certificate and souvenir were awarded to graduates and alumni who were selected for the award.
Mr. Wataru Hasegawa, Chairman of the KCG Group, gave graduates and graduates a list of IT-related topics that they faced, including the My Number system and the 2020 Tokyo Olympics and Paralympics. The country needs a lot of IT human resources, and the country spends a lot of money on these.On the other hand, however, the industry is screaming for a shortage of human resources.It 's your turn now, "encouraging.Introducing the KCG Group's efforts, such as the development of education in the field of cool Japan and applied information, and the start of management and operation of ".kyoto", "Our university aiming for the next 100th anniversary and everyone who will be active in society from now on How wonderful it would be to build a tag, grow together and develop together.I wish you all the best. "
After touching on steady and rapid progress in ICT (information and communication technology) and artificial intelligence, "I would like you to work in the world of ICT after graduation. We can think about how we can use it for human beings, and we can be directly involved in the work to be realized specifically. "" There are lots of interesting jobs and business opportunities in it. Let's do it.I hope that you will fully recognize that you live in such a unique and rewarding era, and work with consciousness and awareness so that the new era will be as friendly to human beings as possible. I hope. "
Next, on behalf of graduates and graduates, Mr. Takashi Araga (going to KCGI) of KCG Management Information Department gave his graduation resignation."In our life, we learned great wisdom from our teachers and seniors.And I could get many irreplaceable friends, and the time I spent together learning and spending together was very meaningful and extravagant, "he said. It is a thing.Proper use of technology and knowledge, and enriching social life, is a major role that has been placed on us who inherit the University's tradition.We will continue to study and challenge every day with the pioneering spirit of our university. "Finally, all attendees sang "Firefly Light".
After the ceremony, the venue was moved to Kyoto Tokyu Hotel and a celebration was held.Graduates and graduates, together with faculty and staff who have shared joy and struggle, blossomed memories and vowed to make a leap forward.
Congratulations to all graduates and graduates.I wish you all the best.