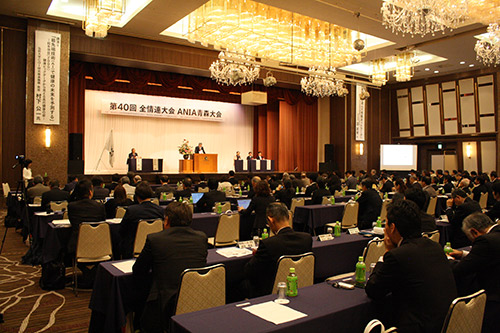 Venue of ANIA Aomori Conference, Aomori, September 27, 2018.
The Aomori Conference of the Association of National Associations of Regional Information Industries (ANIA), chaired by Wataru Hasegawa, President of the KCG Group, which includes The Kyoto College of Graduate Studies for Informatics (KCGI), Kyoto Computer Gakuin (KCG), and Kyoto College of Gear Technology (KCGM), was held on September 27, 2018, in Aomori City, with approximately 210 participants from information industry-related companies and organizations throughout Japan that support ICT in the region.ANIA is an organization that aims to create the society of the future through the development of the local information and telecommunications industry and the improvement of information and telecommunications infrastructure.
At the beginning of the conference, Mr. Keiichiro Wakai, Chairman of Aomori Information Service Industry Association, gave a speech on behalf of the organizers, "The information network carried by the Kitamae Ship! The future of ICT will change from the community!"In his speech titled "Aomori's History of ICT and its Future," Aomori spoke of the importance of further utilization of ICT to "creatively evolve regional society and culture," based on the history of Aomori's presence in the network of Kitamae ships that carried people, goods, and information across Japan in the Edo period and the "ever more advanced and detailed" ICT network that will help solve problems facing regional society today, including low birthrate, aging society, labor shortage, and medical health care.
He then expressed his determination that ANIA would continue to be actively involved in various activities and contribute to the resolution of various problems, including natural disasters.
Shingo Mimura, Governor of Aomori Prefecture, then addressed the audience, saying, "The seeds of innovation are falling here and there.Everyone at ANIA is good at picking up on this and adapting it to the needs of the times.We hope that you will stimulate the Japanese economy through innovation," he said, expressing his expectations for ANIA's activities.At the reception following the conference, Aomori Mayor Akihiko Onodera addressed the audience as a guest of honor, saying, "Aomori, which promotes the creation of new businesses and aims to create a vibrant port city, shares the same aspirations as ANIA members, who are responsible for supporting local communities and expanding the economy through ICT.Let's work together," he encouraged the audience members.
KCGI and KCG have always strived to provide education that incorporates cutting-edge IT, and in preparation for the Tokyo Olympics and the expected worsening shortage of IT personnel, we will continue to strive to develop practical IT personnel who can meet the demands of the times.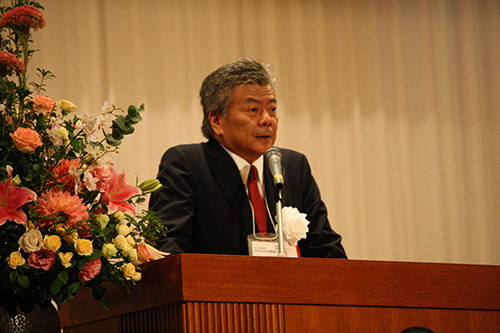 Wataru Hasegawa, President of KCG Group, delivers the organizer's speech.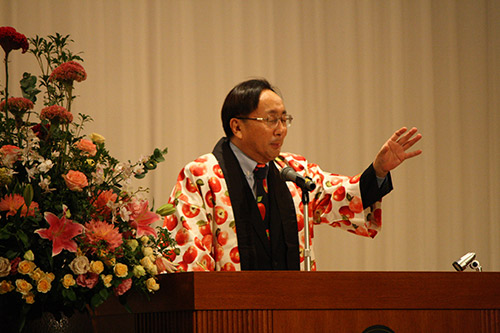 Shingo Mimura, Governor of Aomori Prefecture, addresses the guests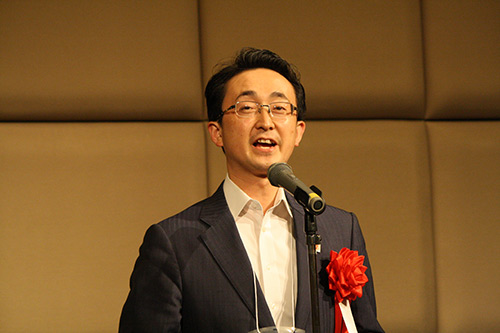 Aomori Mayor Akihiko Onodera addresses guests