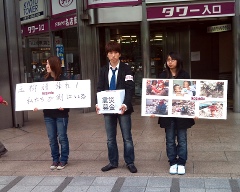 KCGI's Chinese international students visited Shimogyo Ward, Kyoto City, for three days from May 14 to 16, wanting to help the victims of the Great Qinghai earthquake that occurred in April and caused major damage, The goodwill received from the street donation in the Kyoto Tower neighborhood totaled 258,469 yen (a few other foreign currencies).It will be donated to Yushu County, Yushu Tibetan Autonomous Region, Qinghai Province, China through the Japanese Red Cross Society.Thank you very much for your cooperation.
A total of 15 people participated in the activities, and the fund-raising activities were held on the streets for three days.
Mr. Hanyo and Mr. Kim, who were the leaders of the fundraiser this time (both first-year students in Web Business Technology, Graduate School of Applied Information Technology, KCGI) said, "We are away from our country but ignore the country. I couldn't do it, and I thought about fundraising.I am grateful for the donations and encouragement from many people.I would like to continue to support the people at the disaster site in the future. "
We are deeply linked to China through partnerships with many universities and international students / faculty members, etc. Even if we are a member of the kcg.edu group, we pray for the happiness of those who have died, and as soon as possible I sincerely hope for the recovery of the injured and the local reconstruction.We also fully backed up this fund-raising activity.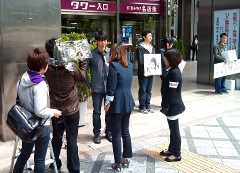 The state of the fund-raising activities was introduced in NHK news, and a great deal of empathy was called for.