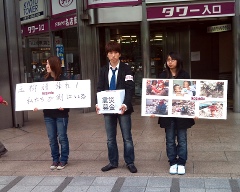 Chinese students from KCGI conducted a three-day street fund-raising campaign from May 14-16 in the Kyoto Tower area of Shimogyo-ku, Kyoto City, to help the victims of the earthquake that struck Qinghai Province, China, in April, and to support local reconstruction efforts in the area.We will soon donate the money to Yushu County, Yushu Tibetan Autonomous Prefecture, Qinghai Province, China, through the Japanese Red Cross Society.We sincerely appreciate your cooperation.
A total of about 15 people participated in the activities, taking turns standing on the streets to raise funds over the three days.
The leaders of the fundraising activities, Han Yeong and Kim Young (both first-year students in the Web Business Technology major of the KCGI Graduate School of Applied Information Technology), said, "We are away from our home country now, but we cannot ignore our country, so we came up with the idea of fundraising.We are grateful for the donations and encouragement we received from many people during our activities.We would like to continue to provide support to those at the disaster site," he said.
The kcg.edu Group, which has close ties with China through partnerships with many universities and mutual dispatches of international students and faculty members, also prays for the souls of those who lost their lives, and sincerely hopes for the speedy recovery of the injured and the reconstruction of the region.We also fully backed this fundraising event.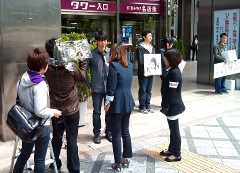 The fundraising activities were introduced on NHK news and generated great sympathy.