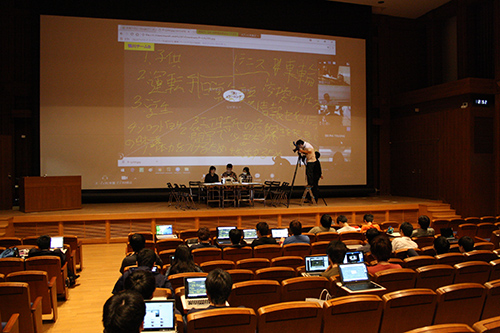 Remote class using desk projection type electronic blackboard system at the main hall of KCGI Kyoto Ekimae Satellite
The Kyoto College of Graduate Studies for Informatics (KCGI) and Kyoto Computer Gakuin (KCG) are using KCGI Kyoto Station Satellite KCG, using the "Desktop Projection Type Electronic Blackboard System" jointly developed in collaboration with industry and academia with Maxell Corporation and the Vegetable Planet Association. On October 10, 2017, we conducted a distance learning experiment connecting the Kamogawa School and KCGI Tokyo Satellite.This system is a state-of-the-art system that has great potential for e-learning applications.
In this remote class, Mr. Shinzo Kobayashi, a part-time lecturer at KCGI and a member of the Vegetable Planet Association, gave a lecture from KCG Kamogawa, and students at the three sites discussed the development of teaching materials for e-learning.Taking advantage of the characteristics of the desk-based model, students looked at each other and discussed with each other, wrote and presented their summarized proposals on the spot, and exchanged opinions with students in the remote classroom.This was the first time for us to practice teaching with this system, and the students actively utilized the equipment.
This desk-top projection electronic blackboard system will be presented by KCGI Associate Professor Keiji Emi at the e-Learning Award 2017 Forum, October 25-27 at the Sola City Conference Center in Tokyo, titled "Active Learning with a Desk-Top Electronic Blackboard System" (October 25, 11:05-11:40).At KCGI, Associate Professor Emi and Professor Kobayashi are conducting research on the development of e-learning materials using this desk-top projection electronic blackboard system in the "Media Collaboration" course, which was newly established in April 2017.Interested parties are invited to conduct research together at KCGI.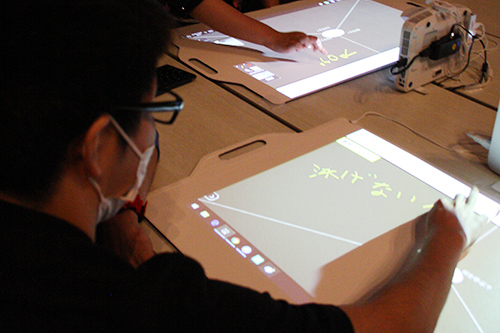 Desk-top projection type electronic blackboard system with the advantage of direct hand writing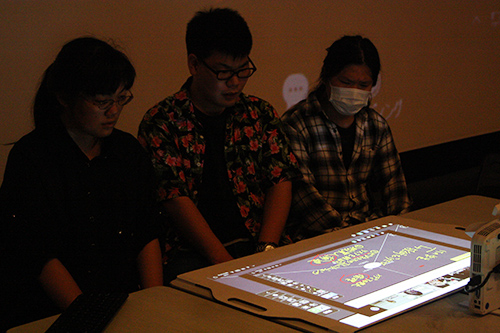 Students from KCG Kyoto Ekimae school looking at the writing of KCG Kamogawa school projected on the desk