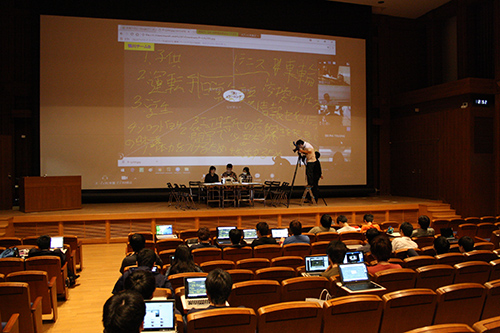 A remote lesson with a desktop-projection type electronic blackboard system at KCGI Kyoto Station Satellite Large Hall
Kyoto Information Graduate University (KCGI) and Kyoto Computer Gakuin (KCG) are using KCGI Kyoto Station Satellite KCG, using the "Desktop Projection Type Electronic Blackboard System" jointly developed in collaboration with industry and academia with Maxell Corporation and the Vegetable Planet Association. On October 10, 2017, we conducted a distance learning experiment connecting the Kamogawa School and KCGI Tokyo Satellite.In this system, the video projected on the desk is shared at three points via the Internet, and the lesson is carried out. The contents of the teaching material can be reproduced on the spot, and the video can be directly written by hand. Progress is accumulated in the cloud one by one, and it is the latest system with great potential for e-learning applications.
In this day's distance class, KCGI part-time instructor, Prof. Shinzo Kobayashi of Vegetable Planet Association gave a lecture from KCG Kamogawa School, and students from three locations discussed e-learning materials development.Students took advantage of the characteristics of the desktop model, discussed each other face to face, and presented and presented their proposals on the spot, exchanging opinions with students in remote classrooms.Although this was the first time the class was practiced, students were actively using the equipment.
Regarding this desktop-projection type electronic blackboard system, at the e-Learning Award 2017 forum held at the Soracity Conference Center in Tokyo from October 25th to 27th, Associate Professor Eiji Koji KCGI stated, "Active using desktop electronic blackboard system.・ It will be announced as "Learning" (October 25, 11: 05-11: 40).At KCGI, in the "Media Collaboration" course newly established in April 2017, Prof. Emi and Prof. Kobayashi are conducting research on the development of e-learning materials using this desktop-projection electronic blackboard system.If you are interested, please do research together at KCGI.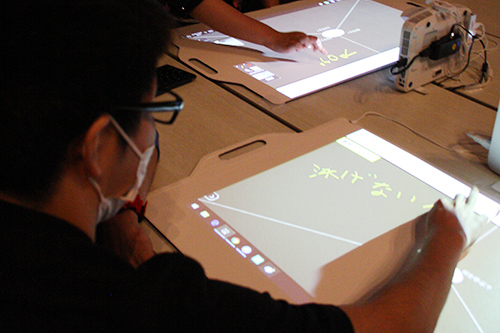 Desktop projection electronic blackboard system with the advantage of being able to write directly by hand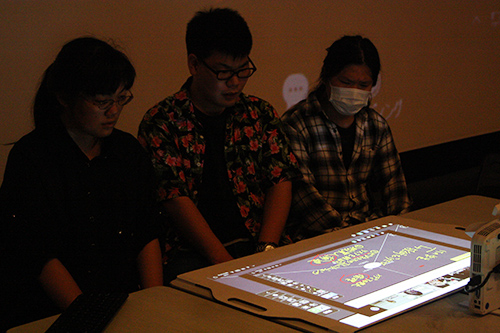 Students at KCG Kyoto Station in front of KCG Kamogawa School's writings projected on the desk