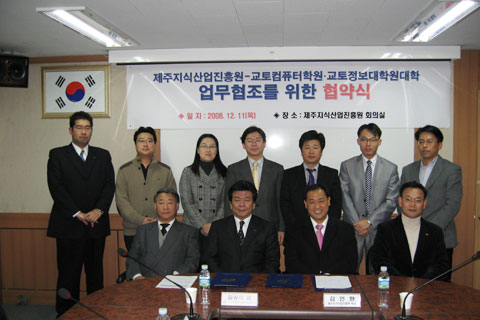 On December 11, 2008, kcg.edu group signed a partnership agreement with the Jeju Knowledge Industry Promotion Agency, an ICT-related organization in Jeju Special Self-Governing Province, Korea. The purpose is to develop the ICT industry in both Japan and Korea through mutual exchange and cooperation, and to develop cooperative projects such as information sharing, implementation of joint projects, and joint holding of joint international seminars, which are necessary for this purpose.
Specifically.

Joint research activities in regional strategic industries in the field of ICT
Mutual technical support for research and development, mutual provision of material resources, personnel exchange, and joint construction of databases
Education and training in the ICT field
International joint seminars in the field of ICT were held.
Mutual cooperation in the acquisition, management and commercialization of intellectual property rights
Support for business start-up and marketing in both Japan and Korea through joint development of new technologies
Mutual provision and joint use of books, materials, and technical information
The agreement includes eight other items to be decided through consultation between the two organizations.

At the signing ceremony held at the Jeju Knowledge Industry Promotion Institute, Mr. Kim In-hwan, President of the Institute, and Mr. Wataru Hasegawa, Chairman of the Board of Directors of the TOYO INK Group, exchanged a letter of intent.
Jeju Knowledge Industry Promotion Agency
Opened in March 2003, the center aims to develop Jeju Special Self-Governing Province as a center of advanced knowledge-based industries such as information and communications, digital contents, and cultural contents.The company is promoting research and development related to ICT-related facilities, information, technology, and human resources, as well as the fostering of enterprises.He has experience in telematics demonstration projects, Samsung Electronics 4G trial demonstrations, and RFID/USN demonstration projects.