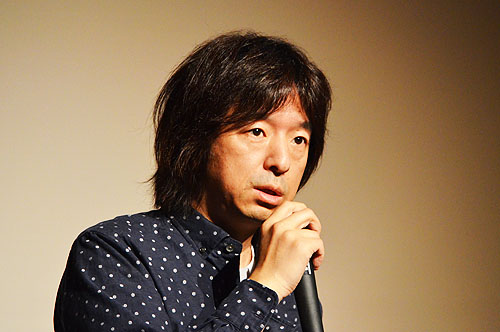 Prof. Hiroyuki Ito, KCGI (Kyoto Graduate University of Information Sciences, Kyoto Station Satellite Hall) talks about the history and thoughts of HATSUNE Miku.
Produced and raised the vocaloid "Hatsune Miku" at Kyoto Information Graduate University (KCGI) Hiroyuki Ito A special lecture in Kyoto by Mr. Krypton Future Media Co., Ltd. (Head office: Sapporo City) was held on December 6th at the The Kyoto College of Graduate Studies for Informatics, Kyoto Hall.Professor Ito introduced the history of Hatsune Miku's worldwide popularity, her collaborations with various genres, and her new software, Hatsune Miku V3, which was released in September of this year."I hope that Hatsune Miku will continue to contribute to the international community through her creative activities," she said.The students of KCGI and KCG listened intently to the lecture of Prof. Ito, who has attracted attention from all over the world and has become a person of the hour.
Hatsune Miku, who is 158cm tall, 42kg in weight and 16 years old, was born in 2007.With 100,000 songs, 1 million videos posted on YouTube, and more than 1.6 million official Facebook users, the band is so popular that tickets are always sold out for their 3D concerts held around the world.Professor Ito said, "The technologies of electronic music and speech synthesis themselves were not new, but there were no examples of fusing them with characters.It was a kind of interface" (Ito), Hatsune Miku was a secondary creation, and then a tertiary creation, and as a "chain of creation", the way of expression expanded from videos to cosplay, from illustrations to figures, and from 3D models to animation.
Initially, there were issues regarding copyright, and Professor Ito said, "We felt that it would be too much of a burden if we had to obtain permission from Crypton and secondary producers every time a third party wanted to use a secondary work.Then, I set up "piapro", a site for posting contents, and made it possible to use them freely only for non-commercial purposes, as long as we express our gratitude to the creator as a manner.We worked hard to create a place where creators can actively create without feeling deflated," he explained.This freedom is a major reason why the game has become popular with creators around the world, and why its fan base has expanded.
Since then, "Hatsune Miku" has been commercialized in many ways, including books such as illustration books, figurines, tie-ups with convenience stores, racing teams, and games.At a concert held in Tokyo in August 2009, the 3D avatar "Hatsune Miku" appeared on stage for the first time using a transparent screen.The event was reported on TV news around the world.In terms of generation, she is popular among 13-17 year olds, and in terms of gender, she attracts a lot of support from women.In Hokkaido (where Crypton is headquartered), Hatsune Miku has appeared at the Sapporo Snow Festival as SNOW MIKU, at the New Chitose Airport exhibition corner, in train wrapping, and at other events such as music and movie festivals, playing a role in attracting visitors and livening up the local community," said Professor Ito.
Speaking about the newly released Hatsune Miku V3, he said, "Six years have passed since the release of Hatsune Miku V3, and the strongest request from the fans has been, 'What should we do other than sing?▽Please support Mac - two points."With the development concept of "anyone can be a music creator", we have succeeded in releasing an all-in-one software that meets these requirements.After that, the English version of the game will be released, and we hope that it will generate more creations around the world than ever before," he explained.After showing a video of his concert in Taiwan, which he filmed mainly from the audience's side, he said, "Currently, there is political friction with neighboring countries, but it has nothing to do with creators and creations, or activities at the private level.I want to continue to make international contributions through my creative activities," he stressed.In the question and answer session, the students asked many questions, and Professor Ito answered each one carefully.
Professor Ito took office in April of this year.He was awarded the Medal with Blue Ribbon in autumn for his international activities and technical innovations.KCGI and KCG have a system of mutual exchange of classes and students can audit each other's classes.I am sure that I will have opportunities to learn various things from Professor Ito at the Contents Business Course at KCGI and the IT Voice Actor Course in the Information Processing Department of the KCG Computer Science Department, which will open in April 2014.