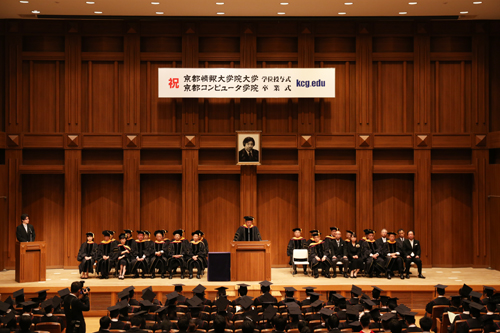 KCGI Degree Conferral Ceremony and KCG Graduation Ceremony for the first semester of 2014 = September 17, 2014, Kyoto Ekimae Satellite Hall, Kyoto Institute of Information Science
The Kyoto University of Information Science (KCGI) Degree Ceremony and Kyoto Computer Gakuin (KCG) Graduation Ceremony in the first half of 2014 were held on September 17 (Wednesday) at the Kyoto University of Information Sciences Kyoto Ekimae Satellite Hall.The representatives of the graduating students made a strong pledge: "With the tradition and pride of our alma mater in our hearts, we would like to play an active role by utilizing our specialized skills while reaffirming the role that ICT (information and communication technology) should play in society.
KCGI President Toshihide Ibaraki presented each graduate with a "Master of Information Technology (Professional)" degree, and the principals of Rakuhoku, Kamogawa, and Kyoto Ekimae schools presented each KCG graduate with a diploma.Afterwards, KCGI alumni who were selected for the Grand Prize and Excellence Award for outstanding academic and research achievements were presented with certificates and commemorative gifts.
In his address, KCG Group President Wataru Hasegawa pointed out that the social situation awaiting graduates and alumni is very severe due to economic turmoil, conflicts around the world, and territorial disputes in Japan, and encouraged them to "analyze and judge the situation, never forget to learn, and always look forward, no matter what the times.He also mentioned "Cool Japan," which has recently been highly acclaimed around the world, and that Tohoku University will start operations as the registry operator of the top-level geographical name domain ".kyoto" within this fiscal year.
President Ibaraki cited "globalization" and its opposite, "localization," as key words in today's society, and said, "Globalization and localization, which preserves our culture, are not adversaries in a life improved by ICT.We believe that collaboration between the two will create a more materially and spiritually enriched society.I hope that all of you will actively take on the challenges of the new possibilities of the ICT society," he said.
Then, Mr. Li Qian, a graduate of KCGI's Graduate School of Applied Information Technology, representing graduates and alumni, said, "Since entering KCGI, we have had various experiences that cannot be summed up in one word, such as the joy of learning and the anxiety of studying in a different culture as international students, and we have made many friends.In his "Graduation Address," he stated emphatically, "From now on, I will strive for self-improvement while making use of the highly specialized skills I learned at this university, and aim to become a specialist in various fields of ICT.At the end of the event, all attendees sang "Hotaru no Hikari" (Light of Fireflies).After the ceremony, a celebration party was held at the Rihga Royal Hotel Kyoto with the KCGI graduates.
Congratulations to all graduates and alumni.We sincerely wish you continued success in your future endeavors.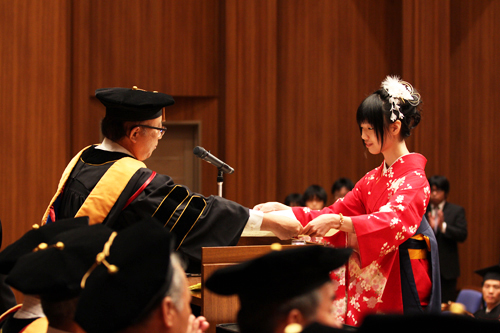 KCGI Degree Conferral Ceremony and KCG Graduation Ceremony for the first semester of 2014 = September 17, 2014, Kyoto Ekimae Satellite Hall, Kyoto Institute of Information Science