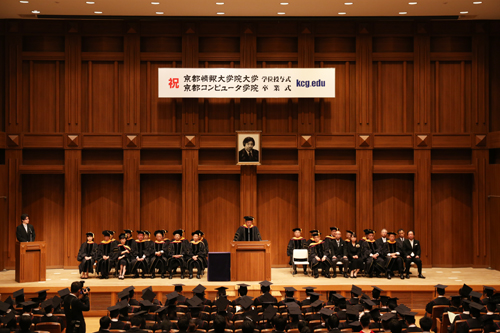 KCGI degree award ceremony, KCG graduation ceremony in the first half of 2014 = September 17, 2014, Kyoto Information University University Kyoto Station Satellite Large Hall
The Kyoto University of Information Science (KCGI) Degree Ceremony and Kyoto Computer Gakuin (KCG) Graduation Ceremony in the first half of 2014 were held on September 17 (Wednesday) at the Kyoto University of Information Sciences Kyoto Ekimae Satellite Hall.The alumni and alumni representatives have a strong oath that "I want to play an active role by utilizing specialized technologies while reaffirming the role that ICT (information and communication technology) should play in society, with the tradition and pride of my mother 's school" The fellows who completed the study continued from the school building filled with memories to the front-line stage.
KCGI President Toshihide Ibaraki awarded the degree of "Master of Information Technology (Professional)" to graduates, and the principals of Shohoku, Kamogawa, and Kyoto Station Schools each awarded a diploma to KCG graduates.After this, awards and memorabilia were awarded to the graduates of KCGI who were selected for the best award and the award for excellence.
At the ceremony, KCG Group President Hiroshi Hasegawa pointed out that the social situation awaiting graduates and graduates is extremely difficult due to economic turmoil, conflicts around the world, and territorial issues in Japan. I would like you to analyze and judge the situation, always remember to learn, and always walk forward. "In addition, "Cool Japan", which has been highly evaluated in the world recently, and that the University will start its business as a management operator (registry) of the geographical name top-level domain ".kyoto" during this fiscal year. "I want to grow and develop together as a member of the largest" KCG family "in the IT industry, as a member of the University of Tokyo that will aim for the next 100th anniversary."
President Ibaraki cites "globalization" as a keyword of modern society and "localization" at the opposite end of the word, "In a life improved by ICT, globalization and localization to protect our culture are not hostile.We believe that the collaboration between the two will create a richer society both physically and mentally.Everyone, please take on the challenge of new possibilities in the ICT society. "
Next, on behalf of graduates and graduates, Mr. Inui Li, web business technology major at the Graduate School of Applied Information Technology, KCGI said, "We have been happy to learn since admission and to study in different cultures as international students. I had various experiences that I couldn't say in a word, such as anxiety, and many friends.In the future, I would like to strive to be a specialist in each field of ICT by taking advantage of the advanced expertise I have learned at the University.Finally, all attendees sang "Firefly Light".After the ceremony, a celebration was held at the RIHGA Royal Hotel Kyoto that surrounded KCGI graduates.
Congratulations to all graduates and graduates.I sincerely wish you success in the future.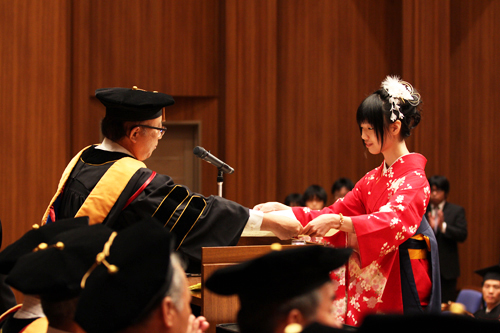 KCGI degree award ceremony, KCG graduation ceremony in the first half of 2014 = September 17, 2014, Kyoto Information University University Kyoto Station Satellite Large Hall