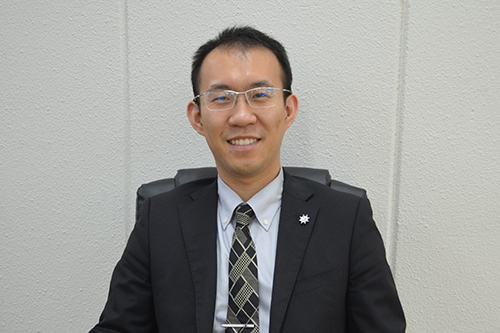 Mr. Liu Cheng, KCGI graduate in September 2013 (President of Ming Dong Co., Ltd.)
Liu Cheng (President of Mingdong Corporation, from Qingdao, Shandong Province), who graduated from The Kyoto College of Graduate Studies for Informatics (KCGI) in September 2013 and established a forwarding business company in Osaka, was recently featured in the "Chinese World," a news program on CCTV introducing people who are active outside of China.In addition, Ms. Liu was selected as one of the "2018 Ten Overseas Chinese in Japan" by the Kansai Huabun Jiji, a newspaper published for Chinese residents in the Kansai region, and was widely reported on the front page of the December 15, 2018 edition.It has been five years since he founded his company after learning about e-commerce at KCGI.In the fiscal year ended August 2018, sales exceeded 2 billion yen, and Mr. Liu, who has grown and expanded his company year after year by fully utilizing the knowledge he gained at KCGI, seems to be greatly appreciated in China as a representative person who studied in Japan and succeeded in his field.
The main business of Mingtung is to provide a Japanese address to customers, mainly in China, when they shop on Japanese mail-order websites, collect the goods once, pack them well, and ship them to China.The amount of international mail used is the highest in the Kinki region and the second highest in all of Japan, and we received a letter of appreciation from Japan Post Co.The huge distribution center, which includes a 2,500-square-meter facility in the Osaka Higashi Post Office (Nishi Ward, Osaka City), as well as other locations in the city and two newly secured locations in Kanda Jimbocho, Tokyo, and Kobe City, is constantly overflowing with products.We want to enhance our credibility as a forwarding company," he says, adding that he has installed two X-ray inspection machines and does not neglect checking before shipping.In addition, the cross-border shopping (EC) business, which was started as a new business field, is getting on track, and the scale of business is expanding further with the establishment of an affiliated company in partnership with a leading Chinese logistics provider and government administration, a local subsidiary in China that handles customer system development, and Meidong Solution Co.Many employees of group companies are graduates of KCGI.
Mr. Liu dreamed of studying in Japan and majored in Japanese at university.While working as a front desk clerk at a local hotel in Qingdao after graduation, she became friends with a regular Japanese customer who ran a trading company, and as she listened to his stories, she strongly felt that she wanted to be involved in Sino-Japanese trade in the future.I had knowledge of programming, which I had taught myself since elementary school, so when the opportunity to study in Japan arose, I chose KCGI as my school of choice because of its business administration studies in conjunction with IT.
After entering the school, I enjoyed learning about financial accounting system development, business administration, web business, and other interesting courses," says Liu.After completing the program, he honestly wondered whether to find a job in Japan or return to China, but decided that he should make use of what he had learned at KCGI and decided to start his own business.The name of the company, Ming Dong Co., Ltd. was chosen to express the company's desire to "make a name for itself in its hometown in the east of China.
In the beginning, I had a hard time gaining the trust of the people concerned because I am not Japanese," said Liu.Mr. Liu is making steady progress, applying what he has learned at KCGI to his practice.In the future, I would like to establish bases not only in China but also in Taiwan and Korea, and work to deliver Japanese products to the entire world.And we want to be listed on the first section of the Tokyo Stock Exchange within 10 years.We are finally looking at going public, and it is changing from a dream to a goal," he says, looking even further ahead.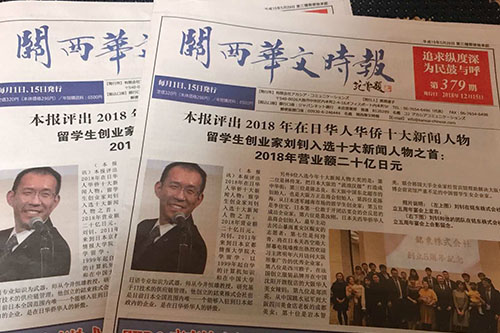 Selected as one of the "2018 Ten Chinese Overseas Chinese in Japan" by the Kansai Huabun Jiji, and widely reported.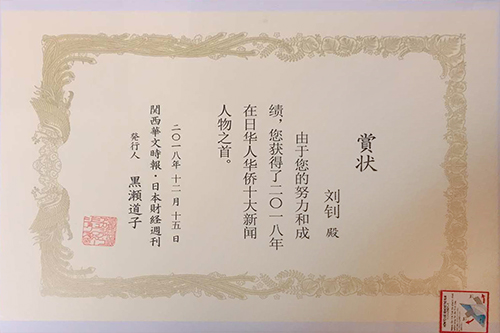 Mr. Liu received the "2018 Ten Greatest Overseas Chinese in Japan" award.
CCTV's "Chinese World" introduces Ms. Liu.