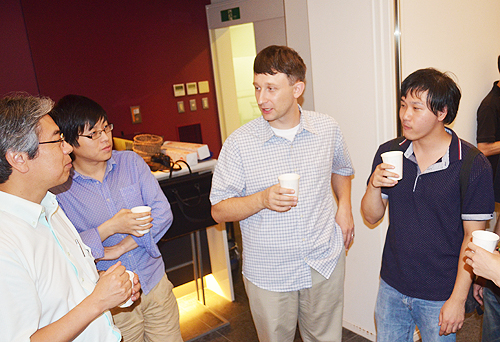 Dr. Baru Koleshnikov (center photo) interacts with students and faculty at the "Welcome Coffee Hour.
From August 1-12, Associate Professor Baru Koleshnikov, head of the Computer Science Department at Manhattan College, is offering an "Introduction to Game Creation" course for students of The Kyoto College of Graduate Studies for Informatics (KCGI) and Kyoto Computer Gakuin (KCG).
The "Introduction to Game Production" course aims to introduce topics in game programming and improve students' ability to use the C++ programming language.The students will also work on their assignments, and the best work will be selected on the 12th, the final day of the program.
After the first day of classes on August 1, a "Welcome Coffee Hour," a get-together with Prof. Koleshnikov, was held at KCGI Kyoto Ekimae Satellite and KCG Kyoto Ekimae School.Not only the current students, but also many faculty members and other students joined in to welcome Dr. Koleshnikov and talk about games and other topics.
Mr. Koleshnikov said, "I am happy to be able to teach with you all.I hope you will enjoy making games and acquire knowledge and skills that will lead to your future," he said.Dr. Harufumi Ueda, Professor and Chief Academic Officer of the Kyoto Institute of Information Science, gave a welcoming speech.Following the toast, the students were enthusiastic in their interaction with Dr. Koleshnikov.