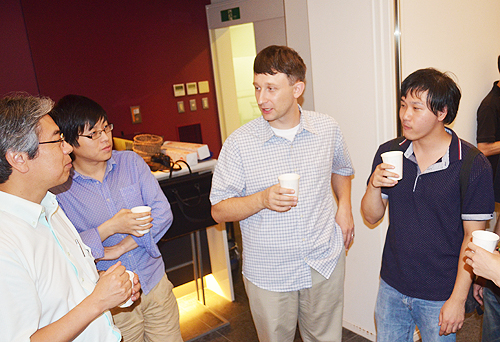 "Welcome Coffee Hour" by Bar Koreshnikov (center), interacting with students and faculty
On August 1-12, "Game Production Introductory Lecture" by Associate Professor Bar Koreshnikov, Head of Computer Science at Manhattan College, was held for students of Kyoto University of Information Studies (KCGI) and Kyoto Computer Gakuin (KCG). It is.
In the "Introduction to Game Production" course, we will introduce the topics of game programming and aim to improve the ability to use the programming language C ++.We will also work on the assignments and choose the best work on the last 12 days.
After the first day of August 1 classes, a social gathering "Welcome Coffee Hour" was held at KCGI Kyoto Station Satellite / KCG Kyoto Station School.Many faculty members and other students joined as well as the students who were attending, welcomed Dr. Koreshnikov, and blossomed the story of the game.
"I'm glad that I could have a class with you.I would like you to enjoy the making of games and gain knowledge and skills that will lead to the future. "Prof. Harufumi Ueda / Professor of Education at Kyoto University of Information Studies gave a welcome word.Following the toast, they entered a chat, and the students were eager to interact with Dr. Koreshnikov.