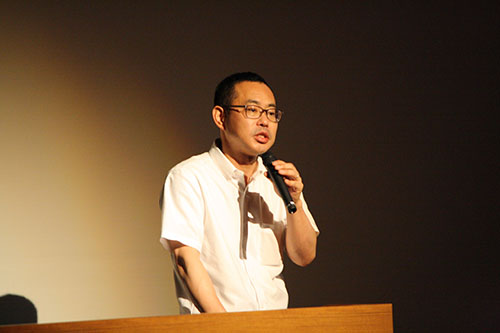 Mr. Kenji Hiranabe, President of Eiwa System Management Co., Ltd. giving a lecture on the forefront of agile development (June 8, 2018, KCGI Kyoto Station Satellite Main Hall)
On June 8, Kenji Hiranabe, president of Eiwa System Management Co., Ltd. (Head Office: Fukui City, Fukui Prefecture), gave a lecture titled "The Front Line of Agile Development: Building Collaborative Teams of Business and Engineers" at the Kyoto Station Satellite Hall of Kyoto Graduate Institute of Information (KCGI).Ltd. is a company that specializes in agile development, and its subsidiary, Affrel Corporation, is also a sponsor of the ET Robocon Kansai Tournament, which KCG and KCGI cooperate in organizing to help elementary and intermediate engineers acquire planning and development skills through robot production.
Agile development is a method in which the business side and the development side of the order place an order together to form a team, divide the work process into short cycles, and then analyze, design, and implement the system to make it work for the time being.The most important parts of the system are selected first, and then the system is developed to work. Users and developers collaborate to verify the system, share ideas, get feedback, and make improvements.It has been widely adopted in recent years as a method that overcomes the shortcomings of the conventional "waterfall" development method, in which the design is carried out according to the initial specifications all at once until completion, such as a long construction period, difficulty in changing the design during the course of development, and unnecessary functions that often remain as a result.In the lecture, he also introduced the recent popularity of "Scrum", a method of agile development in which the work is carried out by a team consisting of a "Product Owner", a "Development Team", and a "Scrum Master" who supports both.In the IT development field, the analogue management method of visualizing the flow and progress of work by pasting a sheet of paper with each person's tasks on a whiteboard was also presented as a surprisingly effective method.Mr. Hiranabe concluded by saying, "I hope that you will join the company with the determination to change it, and that you will continue to make proposals and make changes.In that case, knowledge of agile development will be a strong weapon," he said, encouraging the students who are expected to be active in the IT industry in the future.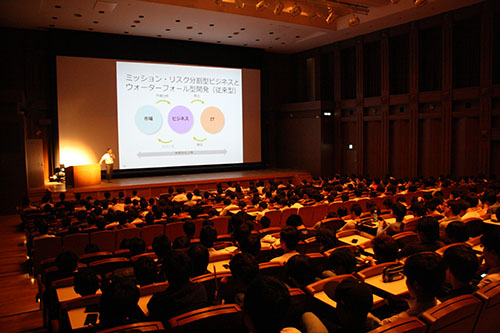 Lecture held at KCGI Kyoto Station Satellite Main Hall