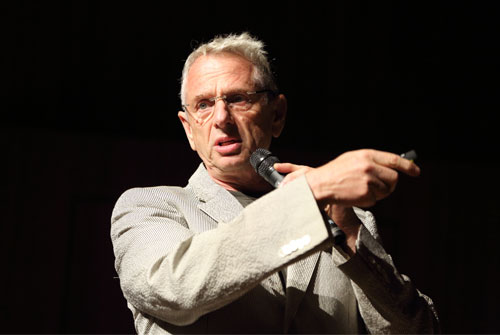 Scott Ross discusses the appeal and challenges of VFX at the KCG Group's 50th anniversary lecture.
On Friday, May 24, as part of the KCG Group's 50th anniversary commemorative event, a lecture entitled "VFX and the Shifting Global Paradigm" by Scott Ross, a digital media pioneer and founder of Digital Domain, Inc. in the United States, was held at the Kyoto Ekimae Satellite Hall of the Kyoto Institute of Information Science.Mr. Ross talked about the appeal and challenges of special effects and VFX using computer graphics (CG), while introducing the videos he has worked on.He also emphasized to the students in the audience that communication is one of the most important elements of a successful career, including filmmaking.
Mr. Ross introduced the current situation in which the advent of new technology and digital distribution has reduced the number of "movie stars" that have been central to the film world in the past, and films that make full use of CG and VFX are higher in the box office.However, while filmmakers around the world are perfecting new works one after another to meet the needs of the new era, he is concerned about the current state of "Hollywood," which cannot hide its decline, and says, "As competition is intensifying worldwide, Hollywood has stalled in terms of securing funding and human resources.If we don't change the way we do business, including profit sharing, we will fall further and further behind," he said.
He continued to introduce his own works such as "Transformers," including the process of applying VFX.In response, students asked a series of questions such as: "How many people are involved in VFX for a single film?Mr. Ross concluded, "I have worked with Japanese people many times, and I have the impression that they are generally good communicators.I encourage everyone to acquire these skills from their student days, as they will be an important element in group work.
After founding Digital Domain with James Cameron and building it into one of the largest production companies, Ross toured with many bands in the 1970s, including the Miles Davis Group, and became general manager of ILM, founded by George Lucas, in the 1980s.In 1989, I supported organizational reform at NTT under the theme of "creativity.Since then, he has assisted in the establishment of digital media-related faculties at 14 universities in Japan.He had a wide network of contacts, and in Japan he was especially close to the late Akira Kurosawa.He is a member of the American Academy of Motion Picture Arts and Sciences, which presides over the Academy Awards, and the American Society of Television Arts and Sciences, which presents the Emmy Awards, and has lectured on creative methods and technology in more than 20 countries.
Commemorative Lecture "VFX and the Changing Global Paradigm"
http://kcg.edu/50th/events/VFXと世界的パラダイムの変化/