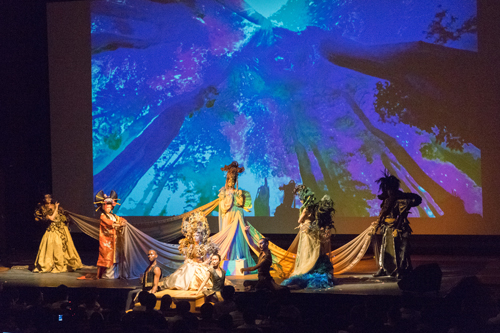 A show that combines performance and CG images on stage.
The Kyoto College of Graduate Studies for Informatics (KCGI) professor and singer-songwriter Nizza Melas MUΣA show, which was the director and vocalist, was held on August 6, 2016 at the Kyoto University of Information Science and Technology Kyoto Hall in front of the satellite station hall. It was.The MUΣA Show is a comprehensive performing arts program featuring songs from the album "MUΣA," created by Professor Nizza Melas to commemorate KCG's 50th anniversary (2013), in collaboration with performances and videos.MUΣA means "goddess" in Greek.This year was the second time the show was held, following the one in January, and eight songs from the MUΣA album were performed.
For this show, Professor Nizza Melas collaborated with a variety of artists from the United States to create an unprecedented and original stage.Lisa Yamasaki, a highly acclaimed hair artist in the U.S. who has been active mainly in Los Angeles, participated in the event and presented her creative hair art and costumes inspired by MUΣA's songs.On the screen at the back of the stage, a fantastic computer-generated image created by Associate Professor Kirill Kosik of KCGI to match the image of the song was projected.The dance was choreographed by Kana Miyamoto, a native of Fukuoka Prefecture who began learning dance at an early age and is currently active as a dance instructor based in Los Angeles, and the make-up was done by ROSHAR, a master make-up artist active mainly in New York and Los Angeles.
On the stage, dancers and models from the U.S. performed brilliant and dynamic dances and performances with Professor Nizza Melas' songs as the centerpiece.It was an opportunity to see the technique of dressing of the first-class artists up close, which is rarely seen, on stage as a part of the performance.The costumes were designed with a strong sense of Asian imagery, such as Buddha and dragons, in mind for performances in Japan.In the song "Moon Goddess", male and female pairs of dancers dressed in the image of courtesans and haori-hakama danced dynamically using the whole stage.In the following song, "Sana", they danced in the back of the stage while dressing in kimono fashion, and in front of them, they danced utilizing red Japanese umbrellas as props, showing us a unique expression of the fusion of Western and Eastern cultures.
At the end of the show, there was an opportunity to see the hair art and costumes up close.The students went up on stage and saw the hair pieces, costumes, and nail art worn by the models, and were amazed at the high level of skill and expression of the professional artists.The KCG Group will continue the MUΣA show and create original IT-based performing arts with Professor Nizza Melas at the helm.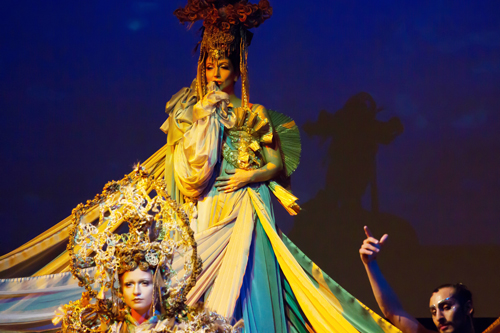 Professor Nizza Melas mesmerized the audience with her crystal clear voice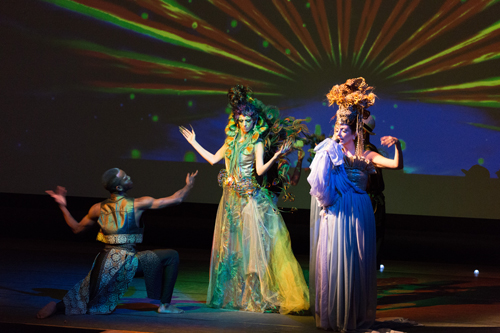 A brilliant collaboration of song and dance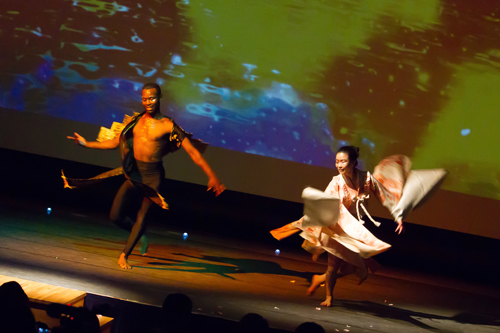 Dance that also incorporates Japanese fashion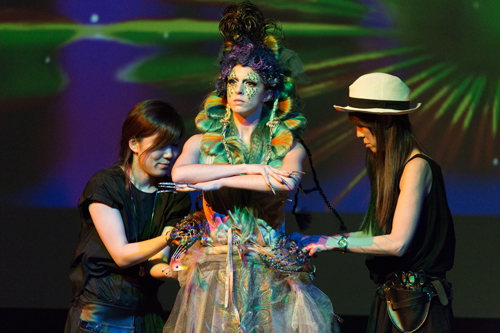 Dressing of the model shown as part of the production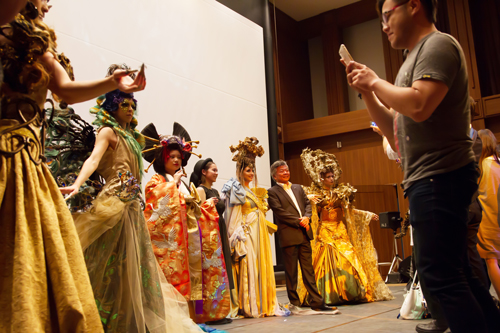 Students get an up-close look at hair art and costumes